The ProForm 590 T is one of the affordable treadmills manufactured by the reputable ICON Health and Fitness company. Though the model is affordable, it has quite a lot of features in its sleeve to make it enticing for home users to lose weight or to stay fit. This basic model from ICON has support for the iFit live technology, so you get some modern features with it.
Image
ProForm 590T Treadmill
ProForm 590T Treadmill
Image
It also has a decent running surface, incline angle, speed range, and more for the price. It is also foldable, so you can keep it neatly in your home when not in use. In this post, let us look at an in-depth review of the budget ProForm 590 T, and see whether it is made for you.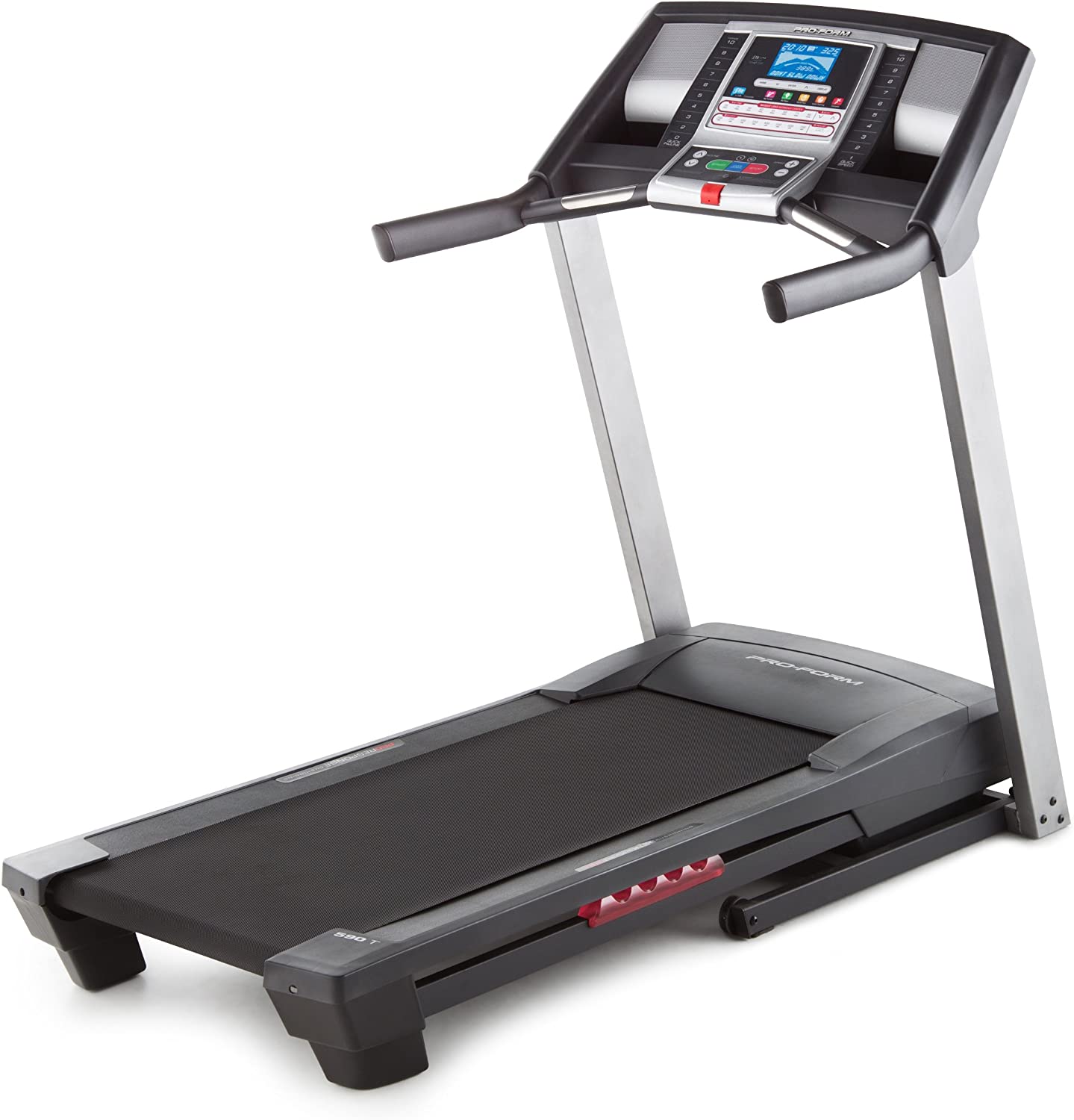 Specifications
Motor power – 2.25 CHP
Speed Range – 0-12 MPH
Incline angle up to 15 percent
Running Belt size – 20 x 60-inches
6-inch Backlit Display
Weight capacity up to 300 pounds
Dual-Grip EKG Heart Rate Monitor
Foldable design
Design
The ProForm 590 T has a compact foldable design with a modern look. The 6-inch modern backlit display present at the front gives you all the information regarding your workout such as speed, time, distance, incline angle, pulse, and calories burned. The display matrix helps you track the progress of your workout session.
There are individual buttons present on either side of the display to change the speed and incline range quickly from 1 to 10. Built-in speakers are present at the far end of either side of the display with storage areas. You can store water bottles, phones, and more in the storage areas during your workout. Below the display, you get 12 calorie burn built-in workout programs to choose from. You can quickly choose your desired program with a press of a button and start burning the calories.
There are iPod and MP3 port connectivity present in this treadmill to connect your device and listen to your favorite music during your workout session. The handlebar is short and the running surface deck comes at a decent size. The design of the ProForm 590 T is pretty good considering the price.
Motor Power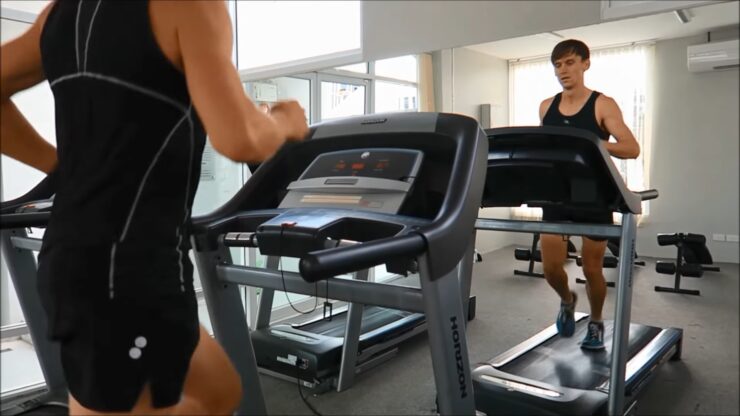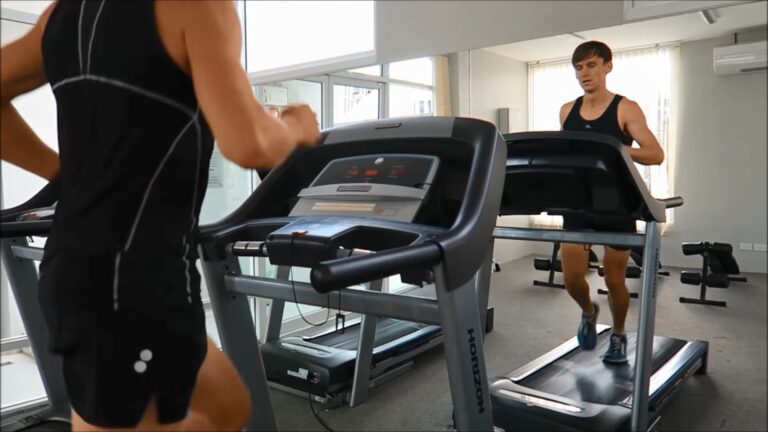 The motor present in the ProForm 590 T is better than other treadmills in its price range. The 2.25 CHP Mach Z motor present in this treadmill has enough power to give you a speed range of 1-12 MPH for a competitive workout. The motor has the capability to power the treadmill reliably and consistently for a long time without any hiccups.
It is due to the fact that the motor comes along with a fan to cool down the motor along with other components. It helps to extend the life of the motor considerably. The motor is always an important part of any treadmill, and the ProForm 590 T has a powerful motor that works better than any of the competitors in its price range.
Running Belt
The running deck of this treadmill comes at a size of 20 x 55-inches. Though it is not large, the deck will be comfortable for most people. For tall people with long strides, the deck can feel a bit short at times. The actual running surface provides a good amount of grip and it also has a good cushioning system.
The integrated ProResponse Cushioning System creates firmer support zones for your feet. The running deck minimizes the impact of the running stress on your joints and feet thanks to the softer support zone present in this deck. The deck can also hold a weight of up to 300 pounds. Though the length is short, the firm grip and the cushioning system of the running deck make up for it.
Workout Programs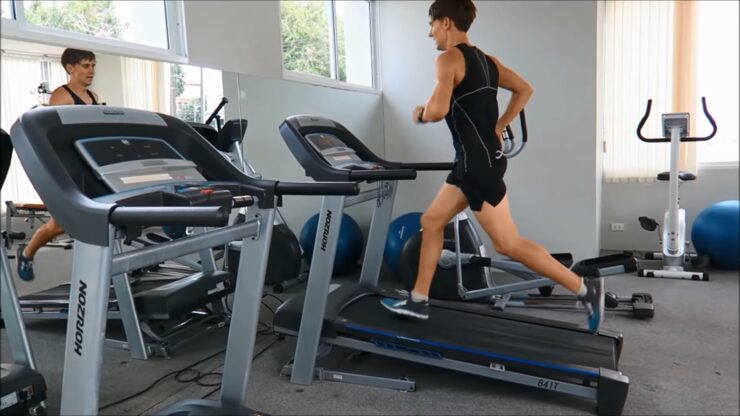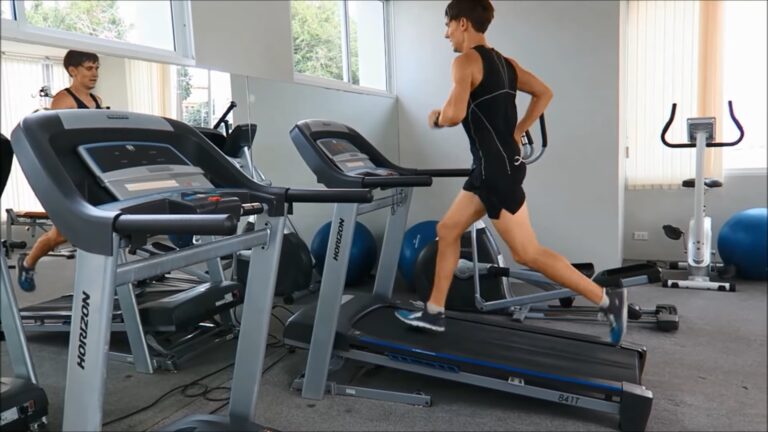 The ProForm 590 T gives you a range of workout programs. There are Calorie burn preset workout programs, a manual workout program, and a wide variety of workout programs from iFit. There are 12 preset calorie burn workout programs present in this treadmill that can be easily accessed from the console of this treadmill.
These preset programs are split based on the speed, incline angle, performance, and calories. As the workout, preset progresses, the speed and incline angle change automatically to the selected preset. You can use this to reduce your weight by burning your calories. The manual workout is the standard program where you can adjust the speed and incline based on your preference.
The 950 T has support for iFit technology. It connects your treadmill to online interactive workout programs. Using this, you can get a wide variety of workouts for you to perform. You can also compete against your friends or become a part of the fitness community to help you to reduce weight or to stay fit. You can also get personalized training with this treadmill. A certified personal trainer will guide you on different workouts to help you achieve your goal.
You also get the option to train with America's Toughest Trainer, Jillian Michaels. The voice of the Jilian coaches you through your unique workout programs and it motivates you to achieve more. If you want, you can also store and track your nutrition level, weight, and other training information on the iFit website. The 950 T also supports workout cards that can be purchased from the ProForm website. This card gives you different preset workout programs that you can use to achieve your goal.
When it comes to speed and incline angle, the 950 T has a good range. With up to 15 percent of incline angle and up to 12 MPH of speed, you can have the ultimate training session along with the different workout programs present in the ProFrom 950 T.
Other Features
As mentioned, this treadmill comes with a set of built-in speakers. You can connect your iPod or MP3 player with this treadmill and listen to your favorite music during your workout session. The 950 T has a compatible port for iPod and MP3 player. There is also a dual-grip EKG heart monitor present to keep track of your heart rate during your workout. This treadmill has a space-saver design. That is, it can be easily folded with a simple push.
A powerful shock will help lift the deck easily for you to store it. As for the assembly, ProForm 950 T comes with a user manual to help you to do the initial setup. The steps are clearly mentioned, so you can easily fit the treadmill in your home. ProForm also offers professional in-home assembly services depending on your location to set up your treadmill. There are a lot of neat little features that come with the ProForm 950 T to make your workout session more enjoyable.
Warranty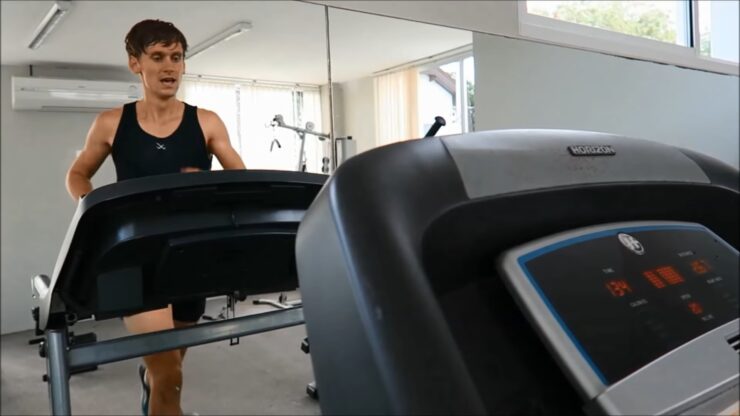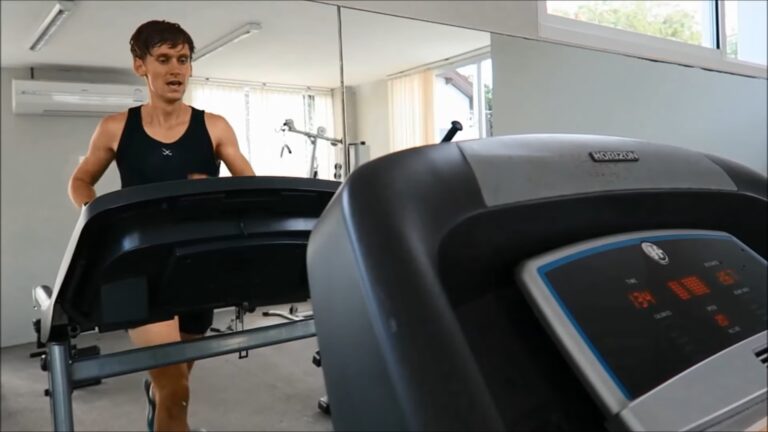 The warranty period with the ProForm treadmills is usually great and the 950T is no excuse to it. It has a solid lifetime warranty for the frame, a one-year warranty for parts and labor, and a 25-year motor warranty. Considering the low price of the ProForm 950 T treadmill, you get an impressive warranty period. With this warranty, you can buy this treadmill without any worries about manufacturing defects.
Conclusion
The ProForm 950T is a basic treadmill with a low price tag. You do get quite a lot of features for the price like iFit technology, powerful motor, impressive warranty period, and more. Though the running surface is a bit short, the good cushioning system with a solid grip makes up for it. The ProForm 950T is one of the best treadmills you can get that give high value for your money.
If you want to have a good treadmill to do workouts from your home and have a limited budget, then you cannot go wrong with the ProForm treadmill 995.
Sale
ProForm Carbon T7 Smart Treadmill with 7" HD Touchscreen, 30-Day iFIT Family Membership Included
30-Day Ifit Family Membership Included; Stream Live & On-Demand Workouts On Your Equipment With Global Workouts & Studio Classes; Add Up To 5 Users; Elite Trainers Adjust Your Equipment
7" Hd Interactive Touchscreen Display Streams On-Demand Ifit Workouts Into Your Home Directly On Your Treadmill; Self-Cooling Mach Z Motor For Effective Running And Cardio Training At Home
0-10% Digital Quick Incline Controls; 0-10 Mph Digital Quickspeed Controls; Adjust Your Speed And Incline With The Touch Of A Button, Or Let Your Ifit Trainer Auto-Adjust Your Treadmill For You
20" X 55" Tread Belt; Recommended For Users Under 6'2", This Spacious Belt Allows You To Stretch Out Your Stride; Folding Spacesaver Design For Compact Storage; Iso Flex Deck Cushioning
Sale
ProForm Pro 2000 Smart Treadmill with 10" HD Touchscreen Display and 30-Day iFIT Family Membership
30-Day iFIT Family Membership Included; Stream live and on-demand workouts on your equipment with Global Workouts and Studio Classes; Add up to 5 users; Elite trainers adjust your equipment (dollar 39 value)
10" HD Interactive Touchscreen Display streams on-demand iFIT workouts into your home directly on your treadmill; Self-cooling Mach Z motor for effective running and cardio training at home
-3 to 12% Digital Incline Controls; 0-12 MPH Digital QuickSpeed Controls; Adjust your speed and incline with the touch of a button; With iFIT, your trainer will auto-adjust your treadmill for you
20" x 60" Tread Belt; Recommended for tall runners, this spacious belt allows you to stretch out your stride; Folding SpaceSaver Design for compact storage; Rebound Pro Deck Cushioning
300-pound user capacity; Protected with a 10-year frame warranty, 2-year parts warranty, and 1-year labor warranty; 59.6" H x 35.3" W x 77.3" L
ProForm City L6 Folding Treadmill with 8 MPH Speed Control, 30-Day iFIT Membership Included
Start Your Complimentary 30-Day iFIT Membership; Stream live and on-demand workouts on your equipment with Global Workouts and Studio Classes; Elite trainers adjust your equipment (15 dollars value)
5" High Contrast Display; Track distance, speed, estimated calorie burn, and more; Stream iFIT workouts to own your tablet or smartphone (not included) using the integrated device shelf
0-8 MPH Digital QuickSpeed Controls; iFIT Trainers auto-adjust your speed through a smart Bluetooth connection for an immersive workout experience; Self-cooling motor powers your treadmill
18" x 47" Tread Belt; Enjoy plenty of space to stretch out your stride; Recommended for runners under 6 feet tall; Folding SpaceSaver Design makes it easy to fold your treadmill up for compact storage
250-pound weight capacity; Protected with a 10-year frame warranty and a 1-year parts and labor warranty; Compact footprint for convenient storage in almost any space
ProForm 305 CST
IFit coach ready; Access iFit account from computer, tablet, or Smartphone; Requires membership, sold separately
5 inch high contrast multi color display, 16 on board workouts, EKG grip Pulse heart rate sensor, 2.5 HP Mach motor
16 x 50 inches tread belt, 0 to 10 MPH digital quick speed control, 0 to 10 percent digital quick incline control
Adjustable proshox plus cushioning, SpaceSaver design, integrated device shelf, audio auxiliary port, out of box easy assembly
The 305 cst is protected with a 5 year frame & motor warranty, and 90 day parts & labor warranty; Built with the whole family in mind, the 305 cst treadmill accommodates upto 300 pounds
NordicTrack T Series Treadmill + 30-Day iFIT Membership
30-Day iFIT Membership Included; Stream live & on-demand workouts on your equipment with Global Workouts & Studio Classes; Elite trainers adjust your equipment (15 Dollar value)
10% OneTouch incline control; 10 MPH SMART OneTouch speed control; With iFIT, your trainer auto-adjusts your speed and incline through a smart Bluetooth connection
SMART-Response Motor for effective speed, interval, and endurance training; 20" x 55" tread belt offers plenty of leg and elbow space as you run; FlexSelect deck cushioning protects your joints
Innovative SpaceSaver design with EasyLift Assist means your treadmill can fold up after your run for compact, simple storage; Auxiliary music port and dual 2-inch speakers provide entertainment
300-pound user capacity; Protected with a 10-year frame warranty, 2-year parts warranty, and 1-year labor warranty; 54" H x 36" W x 73.5" L
XTERRA Fitness TR150 Folding Treadmill
Large 16" x 50" walking/running surface accommodates users of many sizes and stride lengths
Intuitive 5" LCD display is easy to read and keeps you updated on speed, incline, time, distance, calories and pulse
12 preset programs and 3 manual incline settings offer unmatched variety for your workouts
Easy pull knob releases the deck to fold or unfold for convenient storage when not in use
XTERRA Fitness TR300 Folding Treadmill
Large 20" x 55" walking/running surface accommodates users of many sizes and stride lengths
Intuitive 5.5" Blue Backlit LCD display is easy to read and keeps you updated on speed, incline, time, distance, calories and pulse
24 preset programs, heart rate control, and manual program offer unmatched variety for your workouts
Lift Assist and Safe Drop folding deck technology makes setup and storage safe and easy
Handlebar mounted speed and incline controls provide you with a secondary location to change your workout intensity - they are right where you need them for a comfortable and secure workout
Folding Treadmill for Home Small Space 2.5 HP Electric Treadmills Workout Running Machine Incline Treadmills 12 Preset Programs
➽Soft Drop Platform & Manual Incline:Electric treadmill is designed with a soft drop system, you don't need to worry about damaging your floor.Also,this folding treadmill is equipped with adjustable 3-levels manual incline which helps you personalize your workout for better results. Ideal for you to run, walk and do aerobic exercises at home.
➽Strong & Quiet Motor:This treadmill has a powerful 2.5 horsepower motor and noise reduction system.The speed ranges of treadmills from 0.5 to 9.0 MPH can meet a variety of fitness needs-walking,jogging,and running.The motor of electric treadmill also keeps low noise,allowing you to exercise without being worried about disturbing others.It is a great treadmill for home.
➽Large Running Belt & Shock Reduction Deck:Treadmill with Multi-layer running belt , the upper layer of treadmill is a high-elastic rubber running beltand the bottom layer of treadmill is a silicone shock-absorbing layer.Multi-Layer shock absorption cushioned deck of eletric treadmill reduces the damage to knees and ankles.
➽Multi-Functional Display & Handrail Control:The screen of treadmill for home will display data about your exercise,including speed,distance, calories burned,time,heart rate,and so on. The acceleration/deceleration buttons,built-in armrest of folding treadmill controls to adjust the running speed easily.Also, Connect the walking treadmill to your phone through Bluetooth, so you can play music while you are exercising.
➽Space Saving & Easy Transport:Foldable design with a compact size, the folding treadmill takes only a small space. Convenient wheels of folding treadmill at the bottom provide easy and simple transport, and also better protect your floor. Compact foldable treadmill is easy for storing at the corner. ( Please Install the Safety Lock,When Using the Treadmill. )
SUNNY HEALTH & FITNESS Asuna SpaceFlex Electric Treadmill with Auto Incline, LCD and Pulse Grips, Speakers, Tablet Holder, 220 LB Max Weight, Folding and Portability Wheels - 7750P, Pink
SLEEK LCD CONSOLE: The modern console has 6 separate LED screens that display calories burned, duration, heart rate, steps taken distance, speed, and recline—all at the same time. Use the speed quick buttons to adjust the current speed to 3 and 5 mph.
LARGE RUNNING DECK: Run on the sizable (49L x 17.5W in) running deck. The treadmill utilizes shock absorption technology to minimize the impact on joints while running. The console also displays data collected by the built-in pedometer. The running deck supports up to 220 lbs.
PERFORMANCE: The 2.5-peak horsepower motor can handle speeds up to 8 mph. Use the automatic recline (12 levels) to increase the intensity of your workout. Customize your workout with 8 pre-designed workouts that predetermine speed and recline.
EASY STORAGE: The portable treadmill can fold flat when not in use. While folded, the exercise equipment can remain on the floor or can be leaned against a wall. Easily move the treadmill by using the transportation wheels.
BUILT FOR PERSONAL DEVICES: Rest your favorite devices on the large device holder. Charge your devices during your workout via the on-console USB port. Connect a device to the AUX port to listen to your favorite tunes through the treadmill speakers.
LifePro Folding Treadmill for Home - Smart Motorized Portable Treadmill with Incline, Bluetooth Speakers & Modern Display - Easy Assembly Compact Walking Treadmill Incline for Cardio & Weight Loss
FOLDABLE TREADMILL 2.0: We listened to you! The new & improved Folding Treadmill with hydraulic folding for easy storage. This home exercise machine boasts a powerful 1.75 HP motor & handles 220lbs.
TREADMILL FOLDABLE WITH AUTO INCLINE: Incline treadmill goal & progress tracking app, Bluetooth speakers & smart heart rate monitor sensors make this the top treadmill folding design on the market.
36+ TREADMILL EXERCISE MACHINE PROGRAMS: Dozens of training, exercise & heart-rate presets, & unlimited custom programs for workouts that fit your needs! Easily adjust speed & incline via handrails.
HEALTHY MIND & BODY: Improve mental and physical health by running on the compact treadmill at least 15 minutes a day. Pro treadmills & small treadmills for small spaces boost cardiovascular health!
HEALTHY WEIGHT LOSS: Done with the excuses! Folding treadmills for small spaces are fantastic for weight loss, fitting anywhere you may be! Hello desk treadmill! Small treadmill for big changes!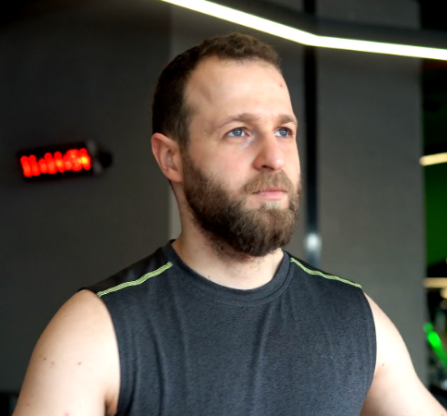 Working out is my life. I love to help others see the potential of their bodies as they transform into their best selves.