If you wake up someday to exercise, and your treadmill turns on but won't run, then there is an issue somewhere that needs to be identified and fixed as soon as possible.
Treadmills are excellent exercise equipment in a home gym. They are known to provide an effective and safe way of improving your cardiovascular system.
Just like other workout equipment or machines, you may encounter some issues with your treadmill occasionally, especially if you make use of it regularly.
Irrespective of the design, size, shape or other related features you can think of, any treadmill can stop functioning at any time.
In the end, the most important thing is how quickly you can identify and get the problem fixed.
This is the only way you can avoid an extended period of downtime and eliminate extensive damage.
This article discusses what could possibly go wrong with your treadmill (why it may not start), and how to troubleshoot the possible problems and get them fixed as soon as possible.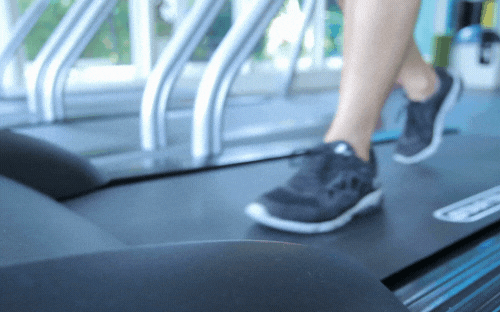 Benefits of Treadmill
The surface is soft, and the newest designs are equipped with a shock absorption feature to ensure your joints take less impact to avoid pains
Running on a treadmill keeps you in control. You can program this equipment according to your fitness needs and level
Improves your mental health by ensuring your brain function better and grow healthier. This eventually contributes to making you feel much better and happier
When you exercise on the treadmill regularly, it enhances the strength of your heart and guarantees unrestricted circulation of blood in your body
Lowers your blood pressure and keeps the arteries free of blockages
Convenient and safe means of exercise. You can comfortably workout in the comfort of your home
Running on a treadmill enhances weight loss by ensuring you burn calories easily
Build the muscles in your legs and improve your core strength
Enhances joint flexibility and guarantees higher bone density
Treadmills are not difficult to operate
Keeps your overall body in a good state and shape
Common Problems of Treadmill
The treadmill may fail to start
The treadmill display may fail to come on
Speed varies as you run on the treadmill (irregular pace)
The sensor may display an error code
Slipping belt
An issue with the treadmill motor (not working)
A burning smell coming from the treadmill as a result of the heated belt
The Treadmill Turns On But won't Run
Suppose you turn on your treadmill's switch someday, make the necessary settings in an attempt to start your exercise for the day, and nothing happens.
In that case, you will need to troubleshoot the possible issue by inspecting various parts and components of your machine.
Why this may occur (the causes)?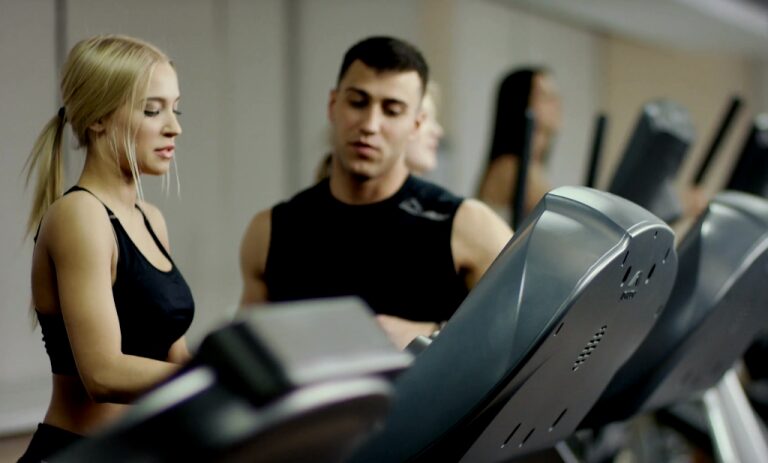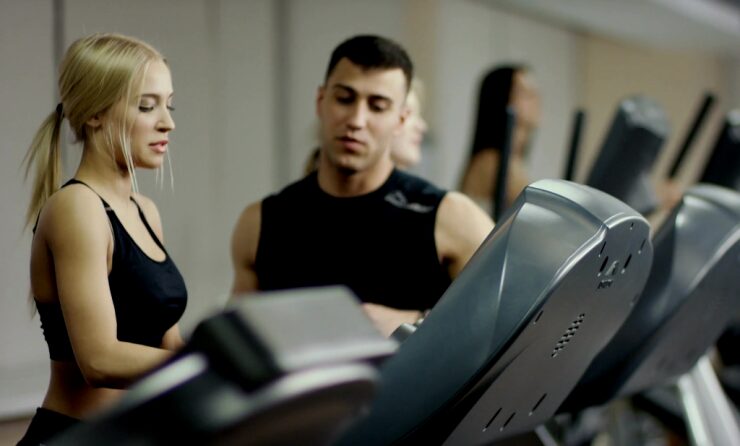 The following are possible reasons why your treadmill may fail to start even though the console display comes on.
1. The safety key is not inserted correctly
If the safety key is not rightly inserted, the treadmill may fail to run.
Solution: Check the console to confirm if the safety key is rightly inserted.
2. Broken wires
If the safety key is rightly inserted and the treadmill fails to start, you may want to check the cables for possible damage.
Solution : Unplug your treadmill from the electrical socket, and inspect the wire harness connections for loose or broken wires.
The harness connections can be found between the motor control board and the console display. In case you identify any faults with the connection, get it fixed.
3. The console display does not detect the safety key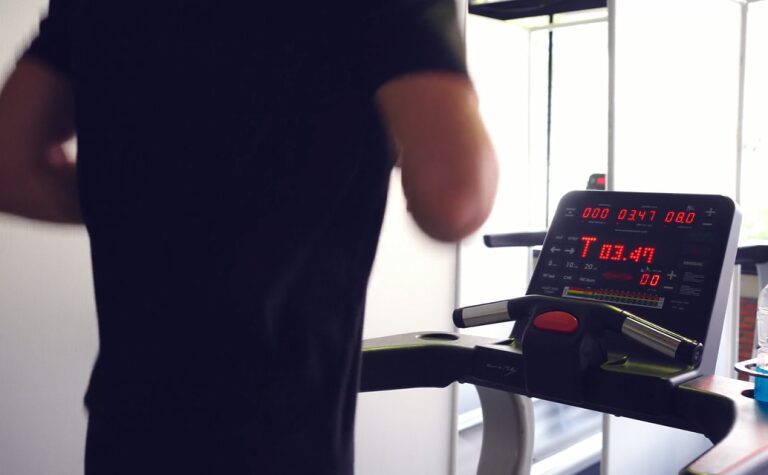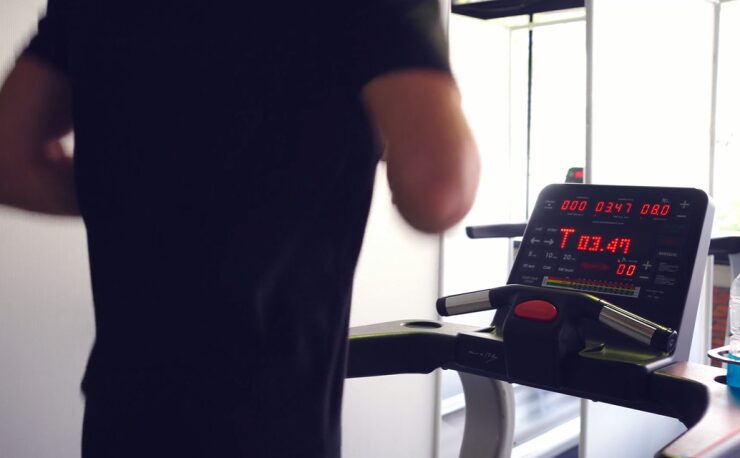 If the wires are rightly connected, it may be that the console doesn't recognize the safety key.
Solution: You may need to call a technician to carry out live voltage tests to ascertain if the display console still detects or synchronizes with the safety key.
If it is not detecting the key, you will have to get the console replaced.
4. The drive motor is faulty
The drive motor is controlled by the control board. In a situation where the drive motor fails to run after being activated by the control board (you will hear a buzz), this is a strong indication of a faulty motor. There is no way your treadmill will start.
Solution: Get the drive motor replaced as soon as possible if it fails to work.
5. Belt tension
If the belt is extremely tight, it could result in so much pressure that the motor might find it difficult to turn the belt.
Solution: If you conduct any form of adjustment to the belt tension recently due to slippage, you may want to check if the belt is not too tight.
Try and raise the edge of the belt to about 2 inches off the walking deck. If the belt is too tight, you might find it difficult to lift it up to that level.
You can loosen the belt by following the steps as indicated in your user's manual.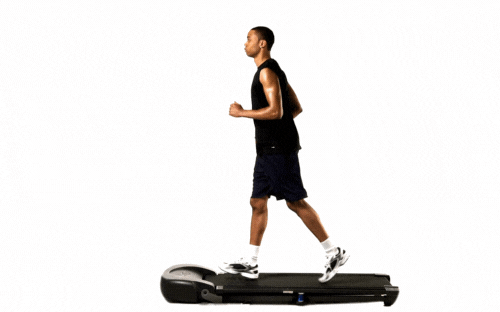 6. Displaced belt
The treadmill belt can be displaced over time. This is when it shifts to either direction (left or right).
If the belt shifts or gets displaced extensively, the belt will stop moving.
Solution: Inspect the belt from the back end of the treadmill to confirm if it has been displaced. In case the belt has shifted or not sitting correctly.
You will have to turn the rear roller adjustment bolt to adjust the centering of the belt and regulate the tension.
7. Poor maintenance
Just like other machines, the treadmill needs regular checks and maintenance. The top reasons why your treadmill may fail to move is a bad belt or a faulty motor.
A damaged or poorly placed belt won't turn as normal. In this situation, the belt needs to either be changed or lubricated.
Solution: Ensure you check the essential parts and components of your treadmill regularly.
This is the only way you can detect possible issues, correct them before they become a disaster, or render your machine idle.
The belt should be lubricated from time to time to lower the friction between the deck and the belt.
ProForm Treadmill Features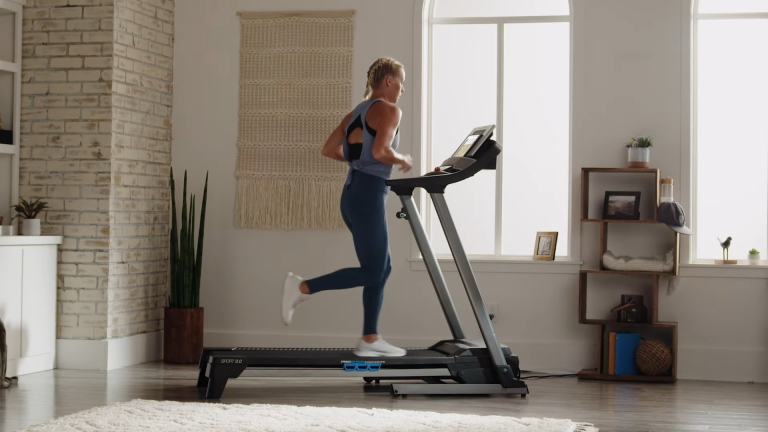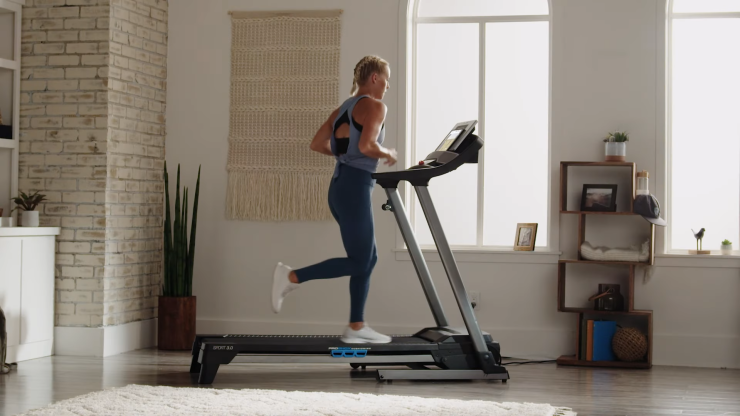 Built-in, high-definition touchscreen
ProShox™ Cushioning
Hydraulic system
EKG heart rate monitor
Mounted tablet holder
Audio port
Incline or decline automatically
Compact Design
ProForm Treadmill Turns on But won't Run
If your ProForm treadmill fails to run even when the console display is still lit, follow the steps below to fix the possible issues.
Check if the console display shows any details of malfunction. If yes, make necessary adjustments.
Check if the safety key is rightly inserted into the console.
Check for loose or damaged wires. Once found, get the affected wires replaced or repaired as soon as possible.
Check the belt for excessive tightness, possible wear or damage, displacement, or misalignment.
You can adjust or correct belt-related issues with the aid of the hex wrench.
This tool comes with your treadmill. Ensure you remove the safety key from the console and unplug the treadmill from the electrical socket before you perform this adjustment.
Go through the user's manual for possible steps to take in a situation like this.
Suppose, after troubleshooting your treadmill, you still can't figure out the potential problem. In that case, you may need to invite an expert over for a comprehensive evaluation.
If your warranty is still active, you may contact the manufacturer to determine how you can have your treadmill repaired by a professional.
NordicTrack Treadmill Features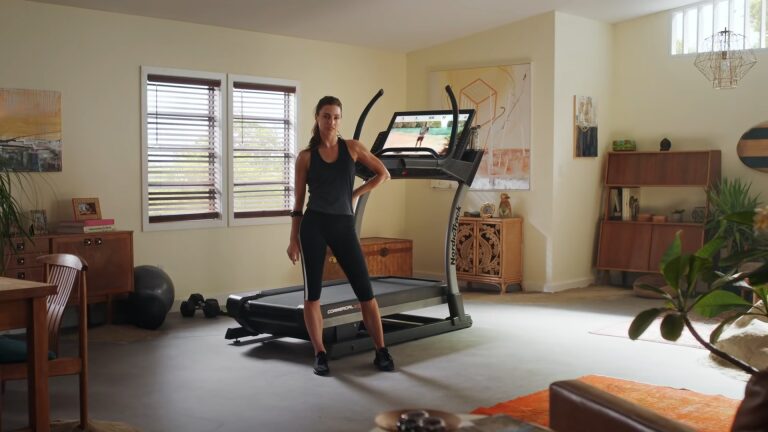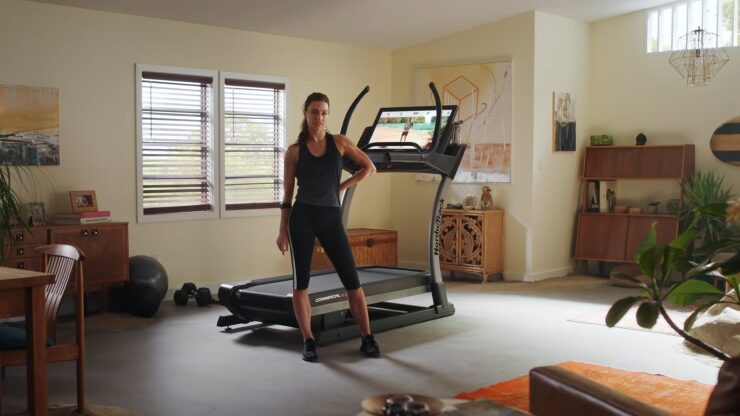 Onboard workout programs
iFit® workout capability
300 pounds weight capacity
Smart HD Touchscreen
0%-12% incline range
Bluetooth compatible/Connectivity
SpaceSaver Design with EasyLift Assist folding
WhisperQuiet™ design for noise reduction
NordicTrack Treadmill Turns on But won't Run
If your treadmill turns on but fails to start or run, you will need to troubleshoot this machine to identify the possible problems and get these issues fixed.
Reinsert the safety key to see if the treadmill will start. The treadmill might fail to run when the key is not rightly placed or inserted.
Unplug the treadmill from the electrical socket, and leave it for about 5 minutes, and then plug it back in.
Check if the belt is in excellent condition. If the belt is tight, slipped, or displaced, the treadmill may fail to start.
To check if the issue is with the belt, make sure the treadmill is disconnected from the electrical socket.
Lift the belt and make the necessary adjustments until it is centered.
You can as well recalibrate the incline system.
Go through the owner's guide to check how best to handle specific issues with your treadmill.
FAQ's Treadmill Stopped Working Suddenly
What is the average repair cost of a treadmill?
Components such as treadmill motor, tread belt, and drive belt can be replaced if damaged.
If you are getting a damaged treadmill motor replaced with a new one, this will cost you about $500 on average.
Other components such as the tread belt and the drive belt cost around $250 and $100, respectively.
What is the average lifespan of a treadmill?
On average, a treadmill should last for about 10 years. With proper care and regular maintenance, this timeline can be extended to about 12 years.
How hard is a treadmill repair?
In most cases, when a treadmill stops working, the issues only require minor fixes or adjustments. Suppose your machine fails to come up.
In that case, this doesn't mean you should call in a technician immediately to come and diagnose the possible problem.
You can check the various parts to see if there are disconnections, signs of damage, or wear, and repair them yourself.
The good thing is that each part of your treadmill is easily accessible and easy to comprehend. In addition, you can as well consult your user's manual for guidance.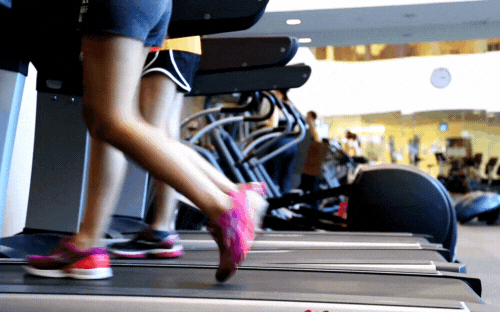 How do I know my treadmill belt is due for replacement?
Check the belt for signs of excessive wear. You can conduct this simple test by running your hand along the belt (the top and underside).
Some of the common signs of a weak, damaged, or worn-out belt include discoloration (appears almost black), and the belt becomes too smooth when you touch it.
Why should I lubricate the treadmill belt after purchase?
Before you start using your treadmill after purchase, ensure you lubricate the belt first.
This maintenance routine is recommended by treadmill manufacturers to ensure the smooth running of your machine.
This has become a common practice considering how long the treadmill might have been kept in the warehouse.
In most cases, treadmills may sit in the warehouse for months before getting delivered to the final customers.
How can I adjust a slipping belt?
If your treadmill belt is slipping away from its usual position, then you need to re-center it. You need to tighten the roller bolt on the particular side the treadmill belt is slipping to.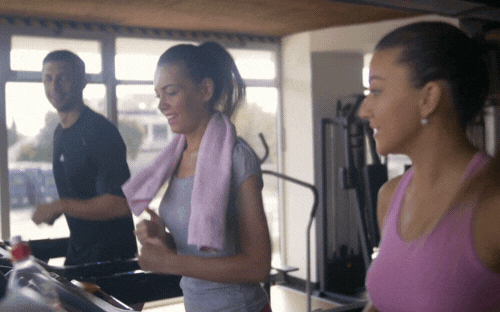 Verdict
When a treadmill turns on but won't run, the experience can be frustrating and tiring. Unfortunately, there is no specific reason why this may occur.
Your machine could fail to start for a few reasons, and this is not always clear until you troubleshoot and find out precisely what the issues are.
We have listed several possible reasons why your treadmill may fail to start and how to handle or correct these issues on your own.
In case you have tried all of these troubleshooting techniques, and still, your treadmill doesn't start. You may need to invite an expert to come and have a look and get it fixed professionally.
A treadmill technician will diagnose the issues properly and get the damaged parts or components replaced accordingly.
Although the cost of repairing a faulty treadmill may be a bit expensive, it is more economical than getting a new treadmill.
Don't just stop at fixing the issues; you can also ask the engineer to get the treadmill serviced at the same time.
A good maintenance culture goes a long way in keeping your treadmill in a good state. Maintenance can be conducted weekly, monthly, and even quarterly. Although this looks like a lot of work, it's always worth the stress.
Remember how much you have invested in your treadmill. You don't want to spend such a huge amount on a new treadmill anytime soon because of a lack of maintenance.
References:
https://www.livestrong.com/article/406896-why-wont-my-treadmill-start/
https://www.verywellfit.com/home-treadmill-repair-3436635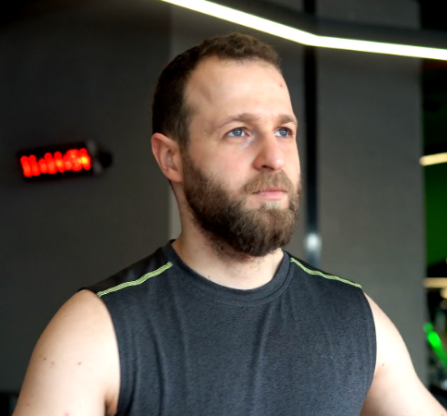 Working out is my life. I love to help others see the potential of their bodies as they transform into their best selves.