If you are among the people that would like to enjoy the comfort of working out at home, before grabbing any rack you should know the basic Half rack vs full rack hacks.
Most certainly you want to purchase adequate equipment for your training sessions.
So, when it comes to finding the ideal rack, which one is best? Should you go for a half-rack or full rack? Having a rack is, without a doubt, one of the biggest advantages when working out at home.
This piece of equipment will allow proper training of your upper body part, which includes shoulders, arms, back, and even core area, with the right exercises.
Thus, it is worth reading this article as it will help you make an informed choice regarding the best rack for you.
Half Rack or Full Rack, Which Is Best For Beginners?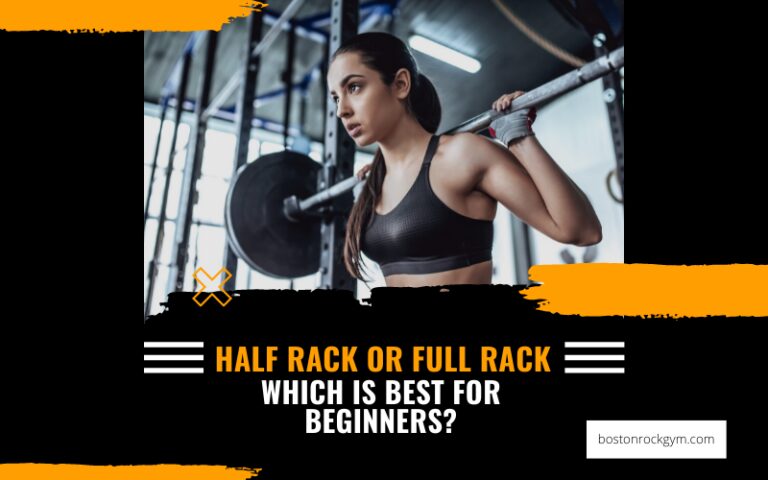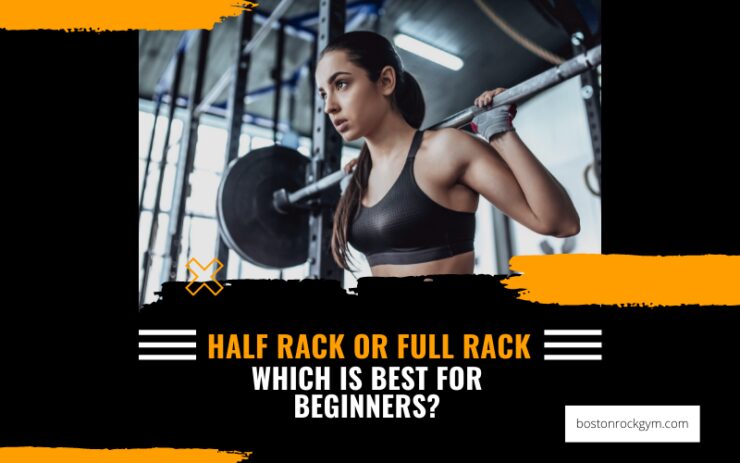 In case you're just looking to start, a full rack may appear like an intimidating option, as it seems complicated when it comes to use.
So, beginners are tempted to go for the simpler version, which is the half rack.
While it is true that half-racks allow simpler exercises and won't pose any troubles in terms of usage, they can limit you time.
In other words, if you'll want to move on to more complex exercises, the half-rack will offer limited options.
Also, not all half racks are made out of solid materials, so you may end up getting in trouble if you want to use heavier weights for training.
On the other hand, a full rack gives you the chance to evolve, even if you won't use its full potential at first.
So, you may see it as a long-time investment in your fitness and wellbeing, as it will cost you more than a half rack.
Half Rack Vs Full Rack: Differences & Similarities
The half-rack is a more economic version, both in terms of price and space. So, if your budget and room are rather restricted, a half-rack may be a better option.
The full rack is, however, sturdier, and more versatile in terms of available exercises, although it is more costly.
What is Half Rack?
A half rack consists of two parallel metal bars, positioned on a solid and stable base, which can be a complete square or shaped like a "U".
The main bars are also stabilized at the top part with an additional metal base.
This way, they won't wobble when you'll be using the installation. The half-rack is not as large or wide as a full rack.
So, it is more suitable when the available space is rather limited.
To reduce the risk of getting injured when training with weights, the half-rack will have metal bars on each side, allowing you to place your weights there.
This way, the risk of dropping the weights from your arms, due to muscle fatigue, is almost inexistent.
So, even if you'll choose a half rack, you can rest assured that you will be able to train in safety at home as well, without the need to have someone supervise your exercise.
01. Half Rack Exercises
Because the half rack is not that large and has a rather simple design, the number of exercises you can perform is not that generous.
Still, it will help you cover a set of exercises that are ideal for training and developing your arms, shoulder muscles, back muscles, and even core and legs.
Thus, lunges and squats can be easily performed with the help of a half rack. You can enhance the action of these exercises by adding adequate weights.
Also, because a half rack is made, after all, to help in weight training, you can enjoy a series of bench presses.
If you would like to exercise by using barbells, it is worth mentioning that not all half racks have proper supports for this kind of weight.
Some of them do, while some of them don't, so you should check it out before making a purchase.
And you should also bear in mind that in some cases such an option may become available for an extra fee.
02. Weigh
A half rack is lighter than a full rack, weighing around 110 lbs. While a light piece of equipment can mean an easier installation, you don't want it to be too light.
Half racks that are too light are made out of thin or poor-quality materials. Since you intend to work out with weights on a half rack, you don't want it to wobble or even bend as you train.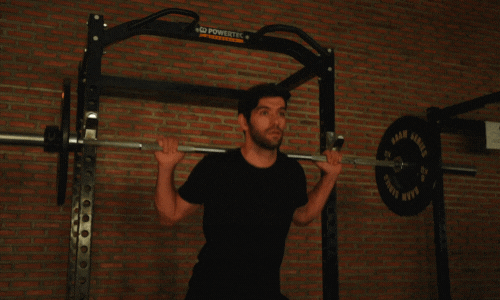 03. Price Range of Half Rack
The reduced size, lighter weights, and smaller number of accessories make the half-rack the more affordable option, compared to a full rack.
So, if you are okay with the limitations that come along with a half rack, you'll end up spending just a couple of hundred dollars on this piece of equipment.
The cheapest versions can be around $400, while the most expensive half racks can go for as much as $800.
04. Configuration of Half Rack
Made out of steel, the sole purpose of the half rack is to provide the support you need during weight training.
Thus, the half-rack features a solid base, capable of holding up to 800 lbs.
Then there are the two main bars of the rack, which will support a pull-up bar at the top and a pair of spotter arms or dip bars.
This way, you will be able to safely place your weights down when you wish to stop or use them as support for your dip sessions.
Two plate posts should also be part of the rack, so you can have your favorite weights in handy at all times.
05. Accessories of Half Rack
When it comes to accessories, half racks don't give you too many options. Usually, the spotter's arms are available on the rack, due to safety reasons.
So are the plates holders, because they occupy very little space and are extremely practical and convenient.
But, if you need a barbell accessory, you may have to purchase it separately, as well as other accessories you may wish to use during training.
06. Maintenance/ Repair
Little maintenance is required if the half rack is made well and you use it correctly.
A damp clean cloth should be sufficient to keep the half-rack clean and free of dust.
From time to time, it is recommended to check its joints, making sure there's no damage to it.
Repair is needed only if the rack is faulty or if you used weights above the support limit of the rack.
07. Durability
If you use it correctly and take good care of your half-rack, you will be able to use it for years.
Of course, buying a half-rack made out of quality materials also counts when it comes to its durability.
Pros
It occupies less space in your home, so it is a good option when space is limited or when you don't want something large and bulky;
You will be able to move it and store it with ease, as it is light and has a fewer number of components;
A half rack is more affordable, so it won't challenge your budget too much;
If you enjoy working out with barbells, you will love the flexibility the half rack will offer in this case;
You will enjoy the possibility of exercising outside the rack as well, as it is only half of a cage;
Cons
It is worth paying attention to quality, as some half racks are made out of less sturdy materials, which makes them less reliable;
The half-rack features no safety bars. However, you may be able to purchase them for an additional price;
The number of exercises you can enjoy with a half rack is rather limited, so you may end up feeling like you reached a plateau in your training routine;
They may be insecure if you lose your balance during training and grab the rack all of a sudden because it is not as solid as a full rack;
List of Top Table of Full Rack vs Half Rack
1. CAP Barbell FM-8000F Deluxe Power Half Rack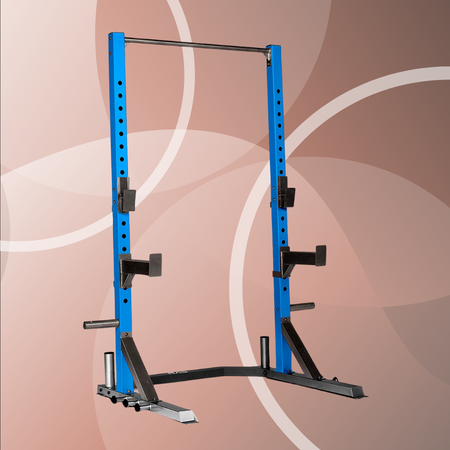 Made out of tubular steel of the highest grade, this half rack features a reliable configuration without being too large.
The thickness of the steel used for its making is of 12 and 14 gauge, so you can be sure that this rack will be more than stable.
The powder finish of this half rack will not just ensure prolonged durability, but will also reduce maintenance to a minimum. Just wipe away the dust with a cloth and you're all done.
To enjoy a versatile training session, the rack will provide three different posts for elastic bands.
On each side, two posts for your plates, two safety catches, a pull-up bar, and bar holders, and two J-cups that will help you place your bar safely.
So, even though it is just a half-rack, this item offers everything you need to work out safely and enjoy a good range of exercises each time.
2. HulkFit Multi-Function Adjustable Power Rack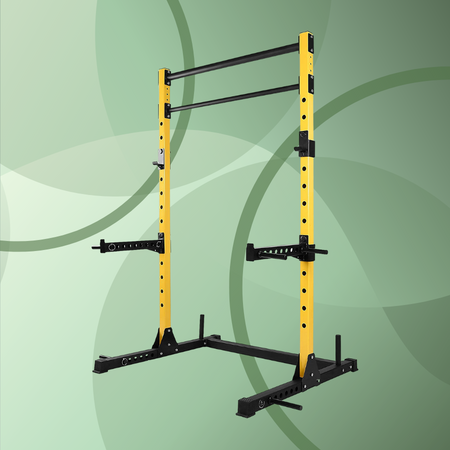 Featuring a slim design, this half rack is made out of 12-gauge steel, so it is solid enough to withstand your training session.
In regards to the weight, it can support, you can use weights of up to 800 pounds without a problem. Its assembly is also rather simple, so you should have no problems setting it up.
In comparison to many half racks, this model offers two pull-up bars, instead of just one.
Each bar has its own diameter and offers you the possibility to adjust the desired height so that you exercise in your own terms.
Also, two spotter arms or dip bars are available as well. This will increase the safety of your training and allow you to enjoy a variety of exercises.
Two plate holders are available as well, so you store your weights in a convenient manner during and after the workout.
What is a Full Rack?
Also known as power racks, full racks are shaped like a metal box, as they have four support vertical bars made out of solid metal.
Due to this, the full rack will always have a rectangular or square shape.
More stable than the half rack, the full rack has two additional bars at the top, which maintains its balance at all times.
Thus, this is why it is preferred by those who look for a sturdier piece of equipment.
However, this benefit comes for a price, as the full rack is more expensive.
Also, it is larger too, requiring more space to have it installed to its full size.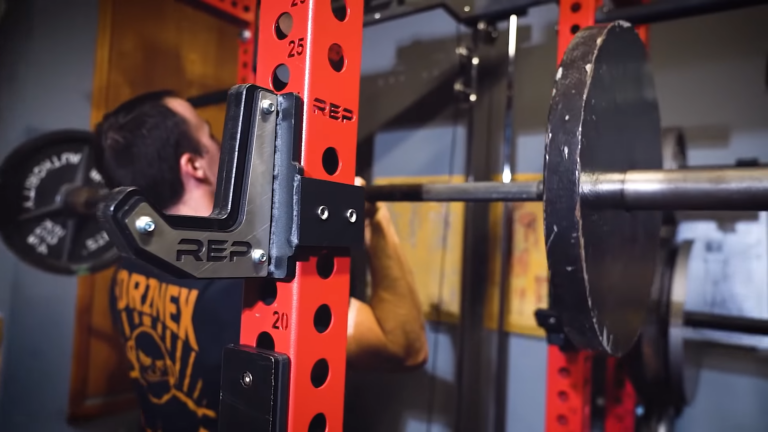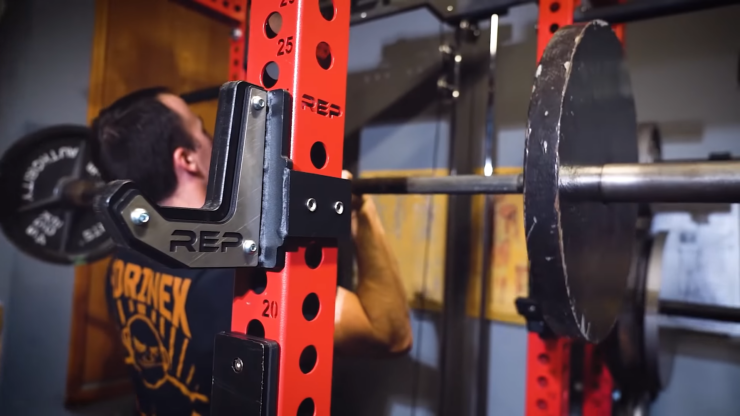 01. Full Rack Exercises
When it comes to the exercises you can do with the help of a full rack, their number is without a doubt more generous.
So, starting with barbell lifts, deadlifts, lunges, squats, and many others, the full rack can answer a wide range of requirements.
Also, if you want, to could even fit a bench inside a full rack, which will add more benefits to your weight training.
Also, because it has the same functions as a human spotter, your training sessions will be safe, even if you enjoy training alone.
If you have the budget and space for a full rack, it may be worth taking it into consideration.
02. Weight
The weight of a full rack is slightly larger than the weight of a half rack because it contains additional metal bars meant to offer a bigger degree of support and stability.
However, it is possible to find full racks that are quite light, with weights of up to 60 lbs.
These will provide a slimmer design and will be less bulky than others.
But, the weight of a full rack is usually over 100 lbs., especially if you want to get an item that is solid and can withstand heavyweights.
03. Price Rang Full Rack
Because more material is used for the making of a full rack and its thickness is also higher, the price tag of a full rack is higher.
This is also triggered by the fact that a full rack is more versatile and offers more opportunities when it comes to training. It provides more accessories and a higher degree of protection as well.
So, the price of a full rack can start around $700 to $800 and can go up to as much as $2000.
It all depends on how the item was made and how many accessories and features it offers.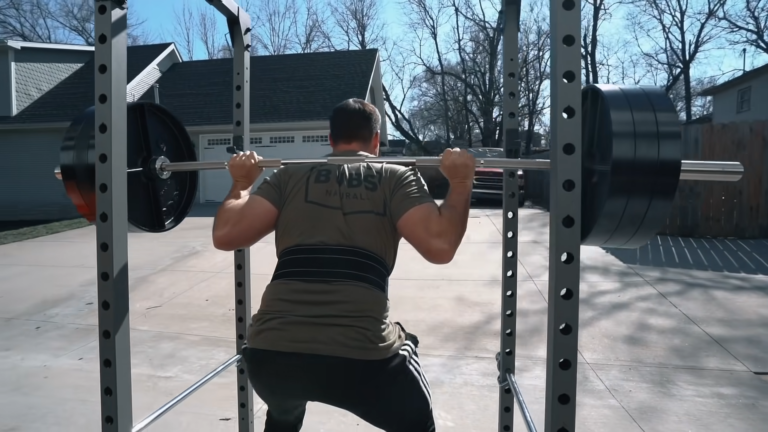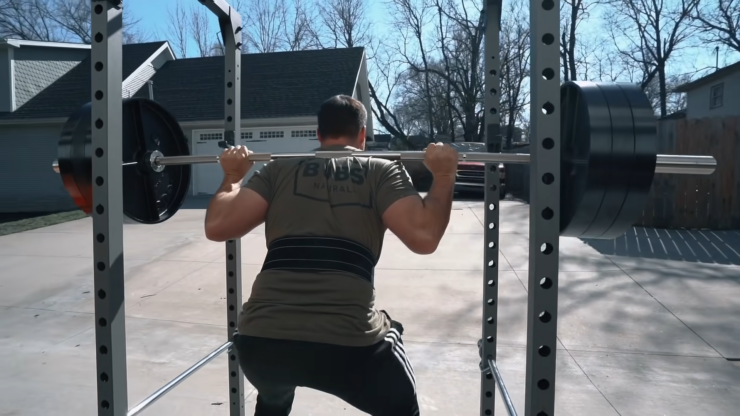 04. Configuration of Full Rack
The full rack has a solid base that makes sure the installation doesn't move as you exercise, even if you choose to perform pull-ups.
Four vertical metal bars compose its structure, also giving it a cage-like appearance.
These bars specially drilled holes on their surface allows you to make the necessary adjustments.
For additional resistance and balance, metal bars are added to the top part, uniting the four vertical bars. This way, you will be able to exercise in complete safety.
Then, to this main structure, accessories can be added. Safety bars, J-cup hooks, dip bars, pull-up handles, cable crossover attachments, and others can be added.
Some may be shipped with the full rack, while others will be available for an additional fee and will have to be purchased separately.
05. Accessories
When it comes to full racks, you can choose for a simpler version, which comes along with just a few accessories, or a more complex version, already equipped with a wide range of accessories.
The best part about a full rack is that you can personalize and equip it as you go.
So, even if you go for a version that has just the J-cup hooks, pull-up bar, and safety bars, you will have the possibility to add more in time.
Thus, you don't have to go for the most expensive version right from the start, but buy accessories as you gain more experience with the full rack.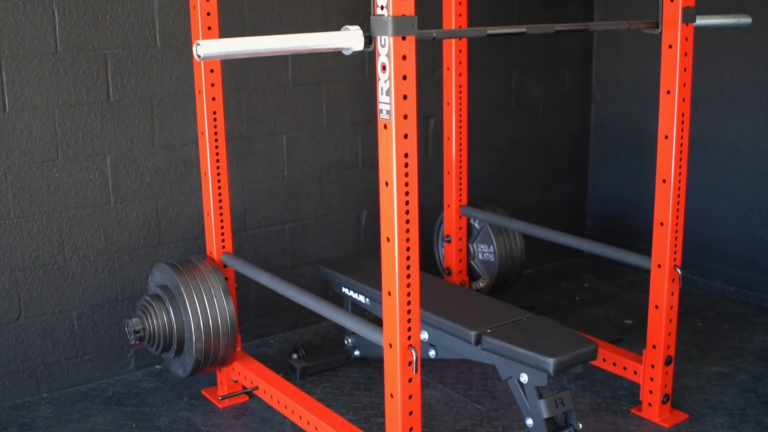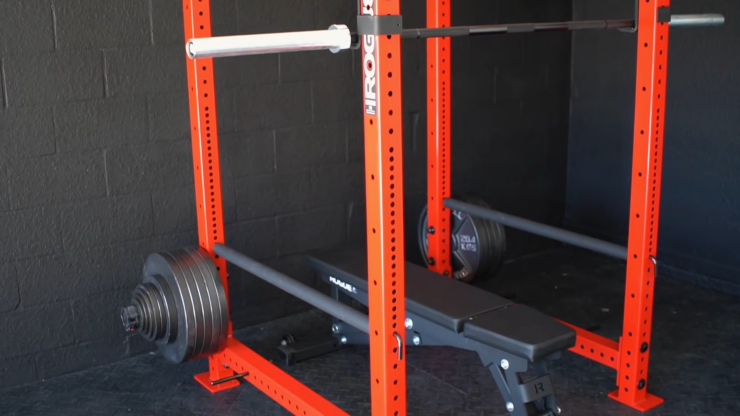 06. Maintenance/ Repair
Maintenance is almost inexistent if you use the rack according to the specifications of the manufacturer.
To keep it in a good functioning state, it is important not to exceed its weight limit.
In terms of maintenance, keeping it clean by wiping away dust with a cloth is all you need to do.
Periodically, it would be recommended to check the bolts, especially those that aren't used too often, to see if they suffered any damage, like rust.
07. Durability
If you choose to buy a high-quality full rack, made out of quality materials with the right thickness, your piece of equipment will last for a very long time.
More precisely, you can use a full rack for a good number of years without any kind of repair or intervention.
Pros
The full rack does offer, without a doubt, the possibility to enjoy a higher number of exercises. If you are already familiar with full racks and you want one for home, then you will appreciate the versatility of a full rack;
It is much safer as it has the same functions as a human spotter. Getting injured is not a possibility when using a full rack. Also, it is more stable than the half rack;
Lifting weights inside a full rack is much safer, so you can practice weight lifting and weight training without any worries;
It will help you evolve in time when you will need more complex or challenging exercises to obtain the desired muscle mass growth;
Cons
This option is rather space-consuming, so it may not be that great for an apartment. Always check its size when fully installed before buying it, to make sure it fits inside your home;
There the possibility for the top bars to damage the walls inside your home. So, check the maximum height of the rack and see if you can install it in a way to minimize this possibility;
Once installed, the rest of the workout space in the room may be restricted, so you won't be able to perform other exercises you may like;
You will have to get more money out of your pocket to get a full rack version, especially if you want to enjoy more accessories;
3. HulkFit 1000-Pound Capacity Multi-Function Adjustable Power Cage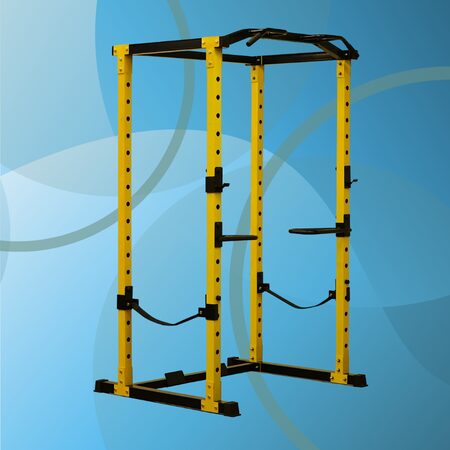 This is a rather affordable full rack option, as its price tag is toward the lower limit. But, in spite of its affordability, the rack is more than sturdy.
The cage alone weighs 165 pounds, without any accessories added. This is all due to the fact that it was built with 11-gauge steel.
Still, the product doesn't come without any kind of accessories, as it has two dip bars, two safety bars, a multi-grip pull-bar, and J-cup hooks.
For beginners who want to enjoy the benefits of working out at home, this product can represent a great choice.
4. Fitness Reality 810XLT Super Max Power Cage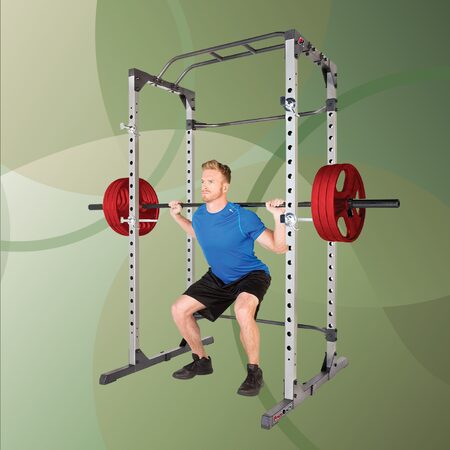 This option ended up in this list because it is accessible, light, and very versatile. It is the kind of attachment worthy of consideration when looking to enhance a power cage.
Made to work with a Fitness Reality power cage, this optional attachment will maximize your training sessions.
With the help of the pulley system, you will build muscles in the back, arms, and shoulders.
In the lower area there's enough space for installing a bench, if you want to enjoy seated rowing exercises or weight training on a bench.
All the features can be adjusted according to your needs and you have the possibility to enhance your training by adding more accessories in time.
Are both the half rack and full rack considered power racks?
Only the full rack is known as a "power" rack because it is sturdier and allows more complex and complicated exercises.
Also, the full rack is capable of withstanding more weight, which makes weight training and muscle building more intense, answering to the needs of those who are already used to this routine.
So, the full "power" rack is the power cage, which features four vertical support bars and not two bars, as it happens in the case of the half rack.
Are both the half rack and full rack both considered squat racks?
If you're into squats and want to make sure they are part of your workout routine, it is worth mentioning that both the half rack and full rack can help you perform squats.
More than this, you can perform a variation of these exercises when you have a rack available and some accessories in hand.
FAQ's About Half Rack and Full Rack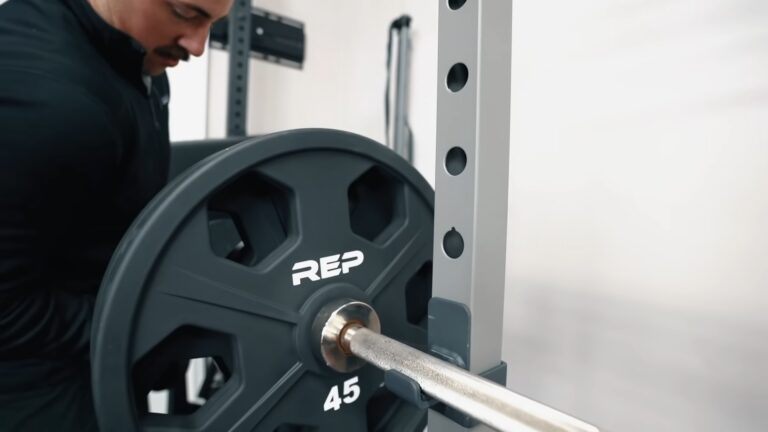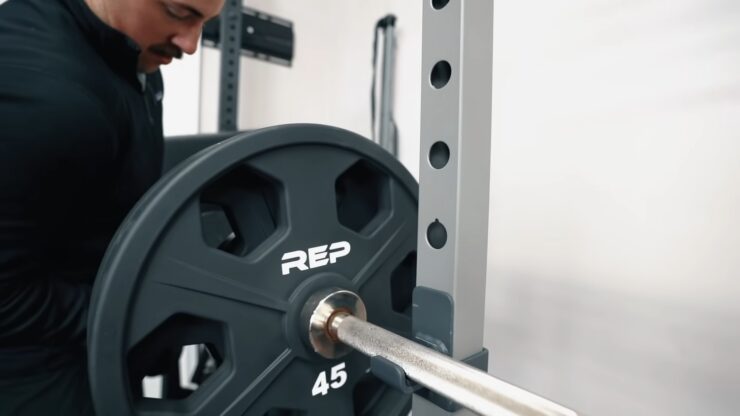 What is the difference between a power rack and a squat rack?
The power rack is the full rack and the squat rack is a term generally accepted for half racks.
In other words, all half racks are considered squat racks. Of course, you can perform squats with a power rack as well, if this is what you want.
What does a half-rack mean?
A half rack means a metal frame consisting of a solid base, two vertical bars, and a top bar that unites them for safety reasons, which is also a bar that can be used for pull-ups.
The term "half" rack comes from the fact that it has only two vertical bars, in comparison to the full rack that has four of them.
How do I use a half-rack?
The half-rack can be used for a number of exercises, such as bench presses and squats, lunges, and even barbell presses if you have an accessory adequate for this type of weight. Also, you can do pull-ups, with the help of the top bar.
Do I really need a power rack?
The power rack is an ideal choice for those determined to do weight training at home because it can help you perform a series of crucial exercises for building muscle mass.
So, if you know for sure you're going to train with regularity, are willing to invest in proper fitness equipment, and you want a nicely sculpted body, then the power rack is a great option.
Verdict
Both the half and the full rack can help you achieve a fitter body and enjoy muscle mass development.
Of course, there is some obvious difference between the two and you will have to take each aspect into consideration before choosing one or the other.
The half-rack is ideal for small spaces, it is more affordable, and can be moved and packed with ease.
But, on the other hand, it can be less stable and will limit the number of exercises you can perform.
The full rack offers a wider and more complex range of exercises, can be enhanced with various accessories, and it is both safer and sturdier.
However, it is much larger, heavier, and more expensive. So, you will need both sufficient space and a good budget to get one.
Also, don't forget to take your goals and requirements into consideration.
References:
https://www.bodybuilding.com/content/training-at-home-power-rack-workout-program.html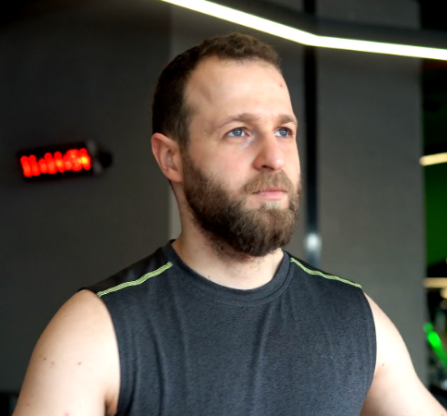 Working out is my life. I love to help others see the potential of their bodies as they transform into their best selves.