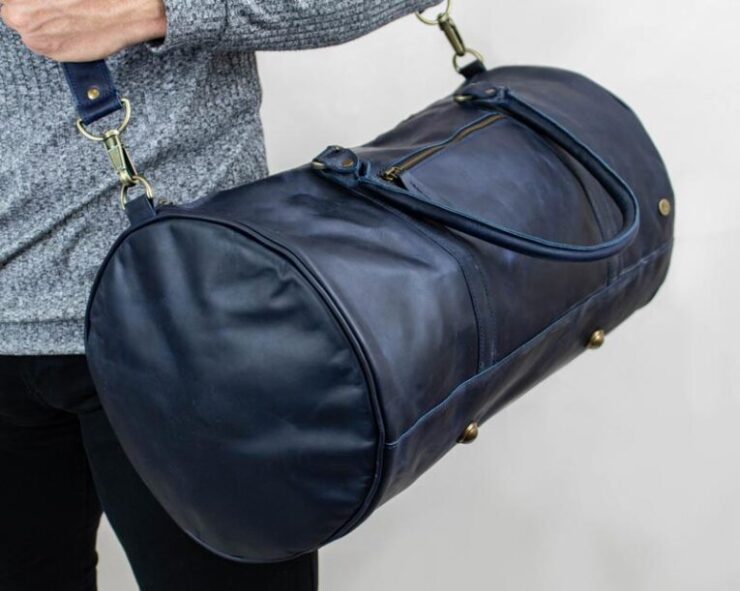 If it's your first time to the gym, you need to know the essentials when going to the gym. What items should you bring with you when you go? What should be in your gym bag that shouldn't be left at home?
This guide will help you out so that you won't forget the important items that should be in your bag, purse, or luggage when you go to the gym. We wrote this article for beginners and maybe even for those returning to the gym after a long hiatus.
Gym Bag Essentials
So, what are must-haves when heading out to your workout place? Here are the items that must be present in your gym bag or luggage:
Phone
We bring our smartphones everywhere due to their usefulness in our lives, especially if we have contacts waiting for us at work, colleagues, and other important events. Moreover, smartphones are important when going to the gym, especially if you have fitness and calorie trackers there.
Going to the gym can be boring if you aren't supported by your favorite Spotify or iTunes playlist. That's why carrying your phone with you to the gym is vital to keep you motivated – it will give you a mood boost when you start burning those calories off a treadmill or some other workout machine.
Padlock
If your gym doesn't provide it, you should keep your essentials safe with a padlock because you never know who could be out there stealing your items. Padlocks are crucial even if you think that the gym is trustworthy because keep in mind that gyms are still public places – anyone can go in and out of it.
Choose a padlock that has a good amount of security features but shouldn't be difficult to unlock for you. However, if your gym does have padlocks available, you can make use of those instead – just ask them for more information about it.
Having padlocks will keep you feeling complacent and focused on your workouts rather than worrying about the safety of your essentials. Always bring your padlock with you to avoid getting victimized by suspicious people in the gym.
Towel
What's a gym session without a towel? Wiping off your sweat is very crucial when you work out because it takes away the discomfort and awkwardness of sweat running through your face and body. However, most trainers do recommend using the towel after all of your workouts have been done.
Moreover, trainers will also tell you that it's better to wipe off sweat later on because it acts as a cooling agent for your body. If you live in an area with less humidity, having sweat can also help moisturize your skin, so why not use the towel much later instead?
If the gym has a shower facility, you can use your larger towels for that. A good shower will help cool down the body after a long and hard workout session, regardless of intensity. Towels can also be provided by the gym, if you don't have one – be sure to ask and know about their policies regarding them, just to be sure.
For those who want to bring their towel, make sure it is super absorbent so that it effectively dries you up comfortably after a workout session. Bring more towels with you in case you want to work out for longer hours or want additional difficulty for your session – in case you sweat more.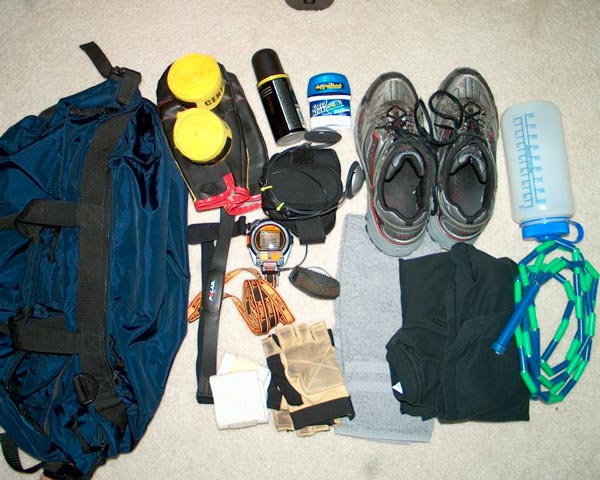 Smartwatch
Most gym-goers bring their smartwatches so that they can count their physical activities. You don't need a super expensive smartwatch – just one that measures basic physical activity, such as running, walking, treadmill, freestyle, and cycling will do.
A smartwatch will track your heart rate, which is important so that you know your limits and if you are going overboard with your workouts. The estimated calories burned can also be found in the smartwatch as you go about your gym activities, which will help you in your fitness journey.
Water
Going to the gym and doing workouts can be exhausting, which is why water is essential. Not all gyms have access to stores or have mini-fridges in their facilities so it's best to grab your water supply and store it in your bag. Hydration is very important when you exercise, especially for the first time.
Some pros might also bring sports drinks but water is still the most essential out of all. Not only does water keep you cool after an exercise or physical activity – it helps your body rest after the workout so you don't strain yourself too much.
Additional gym gear
If you have a specific workout plan in mind, such as using resistance bands, do bring them as well. They are useful for warm-ups so that you don't get muscle strain. Resistance bands and the like don't take a lot of space in your bag, so it's good to include them.
Take note of what gear is available in your gym and what isn't, so that you can bring one for yourself the next time you head there. Talk to the gym owners and trainers about much bigger items so that you can ask permission in case you want to bring extras with you.
Hygiene Kit
A hygiene kit is a quite common sense if you are traveling, but it is greatly needed for going to the gym since you will sweat a lot and your next appointment will not like that kind of smell (or look). Therefore, having toiletries with you is important.
Moreover, as mentioned above, if your gym comes with a shower facility and you want to bathe yourself there, you do need to bring your shampoo, soap, and whatnot. Anything that will keep you looking fresh and clean after a day at the gym should go into your bag as essentials.
For those with long hair, you might also want to bring extra hair ties in case the one you are wearing fails on you. Keeping your hair neat during the gym session is important to avoid distraction and accidents, after all.
Likewise, hand sanitizers and alcohol are also a must since the gym is a public place. You never know who you can come into contact with, especially during these days when illnesses are rampant. Keep your hands safe from viruses and always wash or sanitize your hands.
Clothing
Similar to the hygiene kit and towel above, you will need a change of clothes after your shower in case you intend to do that in the gym's facilities. Pick a set of clothes that will fit your bag just fine – you may pack a bit more if you intend to stay for a long time and work out for a couple more hours.
Food
It could be a healthy fitness bar or something you cooked or prepared at home – anything to help ease your hunger is important after a hard day at the gym. Consider your nutritional needs if you want to bring a healthy snack to the gym.
For those who don't have time, you can just pick up a healthy sandwich or granola bar at the nearest convenience store before you hit the gym. This will help you feel less fatigued once you finished a long workout session.
Conclusion
To wrap it up, bringing essentials to the gym is crucial to maintaining your overall health. Without these, your day at the gym wouldn't be so good and you would feel uncomfortable and fatigued afterward. Always make it a habit to bring these essentials and your gym sessions will be fine.
If you typically use the same bag anywhere, why not set a different bag for when going to the gym? In this way, you'll less likely forget about the essentials since most of your towels and the like.