Working out and caring about fitness seems to be at an all-time high right now as people are exercising more than ever. Gyms and sports centers are full, new ones are being opened constantly, and the whole fashion and lifestyle that surrounds physical activity are very mainstream.
As more and more people are realizing the benefits of working out, they are also figuring out that it can be done very effectively at home. Because of this, the demand for compact gym machines has increased as individuals prefer investing in a few than having to leave their homes all the time.
Having a home gym can save you time and money in the long run because there is no need for gym memberships and commuting back and forth. Before you can do this though, you must first learn a thing or two about these compact machines. In this article, we focus on this exact thing and talk about the best compact rowing machines.
Product Reviews: Our Top Picks
1. Stamina BodyTrac Glider
Are you in the market for a simple and classic rower design? Well, this model is exactly that and very affordable. This machine is also great for beginners as the testing grounds for their fitness. With a slim basic design, it is very reliable. If you are trying to equip your home with a new fitness piece on a budget, look no further.
This rower measures 42 x 58 x 18 inches and weighs only 39 pounds. It supports up to 250 pounds of weight and the resistance type it uses is hydraulic. The seat is padded and comfortable with a textured grip. Footrests could be better as they can feel slippery due to lower traction. The setting for intensity levels is there in the form of a knob. It stores easily since it is foldable.
Pros
Very affordable
Clean, simple design
Foldable for easy storage
Solid, sturdy, robust
Cons
Slippery footrests
Resistance feels jittery at times
2. Circuit Fitness Deluxe Foldable Magnetic Rower
Right from that name a lot of information can be gathered about this compact home rower. Despite its smaller frame and body, it packs quite a punch, which is often the case with magnetic resistance rowers. For a comfy rowing experience on a solid and sturdy machine, look no further than this rower.
It also looks quite cool and professional. The footrests are adjustable, the frame is steel, and the seat is wide and cushioned. The display shows all the basic info you would expect.
Its measurements are 91 x 20.5 x 31.5 and it weighs 90 pounds. Not very heavy, more of an average weight for a compact model. The maximum user weight capacity is great at 300 pounds. When it comes to magnetic resistance, it offers 12 levels of difficulty.
A flywheel is in charge of spinning it and giving resistance. Worry not as it is smooth as silk as well as very silent. There are also two modes of operation, manual and race. The manual is low-intensity for simple, everyday strength training. Race is for advanced users and challenging the limitations.
Pros
Very quiet
Different modes and 12 resistance levels
Comfortable seat and footrests
Cons
The LCD monitor is not backlit and feels cheap
3. CityRow Go Max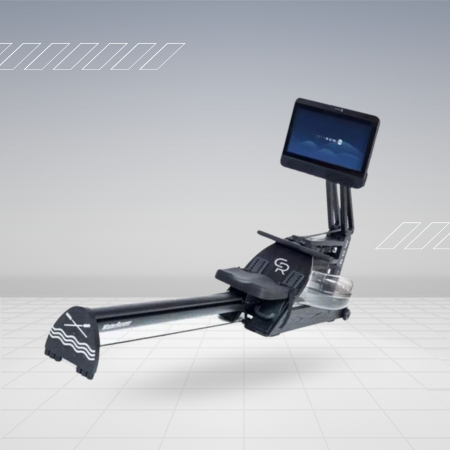 Are you mostly interested in HIIT workouts at home and that is the main reason for this purchase? This rower could be the best option for you then. With a slim design, it really feels like a small boat and will definitely make you feel like you are actually rowing.
On top of that, it is a water resistance model and the swooshing of the water only adds to the immersive feeling. A high-quality model that is strong and sturdy, it can handle even the most high-level sessions.
Its dimensions are 85 x 22 x 45.5 inches and it weighs 112 pounds. It is heavier than the previous two but it also has the highest maximum user weight capacity so far on the list at 375 pounds. If you want effective and optimal workouts on a high-tier machine, this water-resistance system is the right choice for you.
It is very quiet for a water model too. It has a molded backrest, it is adjustable, and the handle has a rubber grip for stability and comfort.
The display is the main attraction of this model and one of the biggest selling points. It is 19.5 inches and mounted on the top. Backlit and rich in preset programs, it is a pleasure to use it while rowing. It interacts with fitness apps and can sync with the CityRow Go app for smartphones. The display alone gives it a very futuristic and modern look and feel.
Pros
Large, beautiful display rich in apps and programs
Realistic rowing experience
A very silent water resistance system with multiple levels
Cons
Requires a subscription for the full feature list
Not very affordable
4. Concept2 RowErg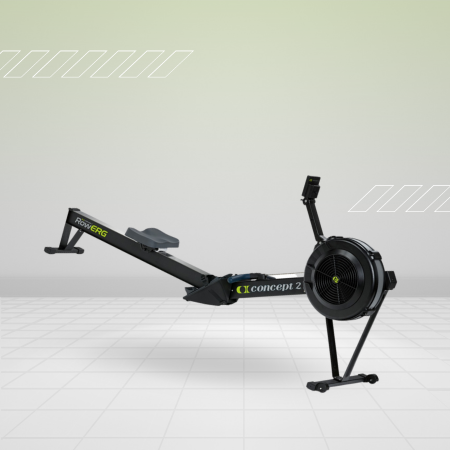 Here we have an air-resistance model with unmatched performance that will make every single customer happy with their choice. Aesthetically, it does not have anything special going on. There is no display, no curves, and no futuristic design choices.
However, it is a very effective exercise machine and that is what you want in the end. There are transport wheels for easy relocating and the machine has a two-tiered monorail.
This home rower measures 96 x 24 x 14 (20) inches. It weighs 57 pounds with its standard legs and 68 pounds with tall legs. Its max user weight capacity is unmatched at 500 pounds. The air resistance system always brings a unique feeling and a challenging workout.
The flywheel offers a steady and efficient intensity as you are pulling and follows your speed very well. The pull bar handle is rubberized and textured, while the cushioned seat has an adjustable backrest.
Pros
A great and trusty brand
2 height options for more user preference
Challenging and smooth rowing experience
Cons
Expensive
The chain-driven flywheel is noisy
5. NordicTrack RW900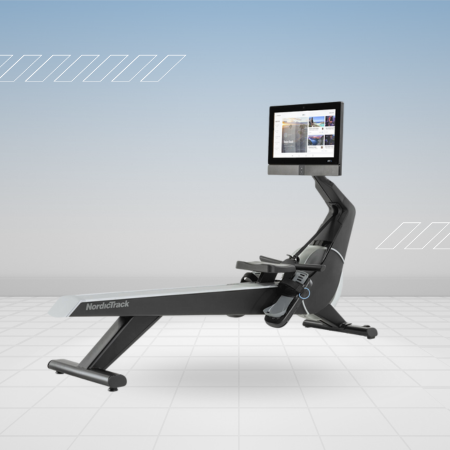 Do you enjoy futuristic designs with your workout machines? Are you a fan of screens? If you answered both of those questions with a simple "yes", this rower is made for you. A top-tier solution and a very compact and capable machine, it has all you need for a comfortable and, dare we say, spoiling home workout. I mean just look at its curvy metal frame, the rich black finish, and the amazing display console.
This beauty measures 82 x 22 x 54 inches. Its weight is 130 pounds making it the heaviest on the list. The max weight capacity it supports is 250 pounds, which is an upper average. The 22-inch display is fully integrated, touchscreen, and full of workout programs, metrics, and analytics. The interface can be optimized and it is very intuitive and responsive. The dials are easy to reach and the viewing angle is sharp.
The seat is contoured, the footplates have adjustable straps and offer a snug fit, and the rowing motion is smooth and satisfying. There is not much noise from the magnets as the flywheel remains relatively quiet.
Pros
Luxury options and premium features
The 22-inch touchscreen display console is amazing and feature-rich
Stable, sturdy, high-quality build
Cons
The console lacks buttons which are sometimes useful
Limited weight limit
Very expensive
Compact Home Gym Solutions
When it comes to home gym solutions, the machines the users are browsing need to be of a certain type. An average gym has a bunch of different machines and equipment, but not everything is convenient or even necessary for home use. Because of this, only a handful of machines are made in compact models for easy transport, storage, and general home use.
When selecting a compact gym machine for your home, there are several factors to consider. First of all, the space. Make sure to measure the space you have available to ensure the machine you choose will fit comfortably. Next up is the budget. Determine how much you are willing to spend on a machine before making the purchase. Not all of their prices make sense.
Features are a very important aspect because of how much they can influence the overall workout. Look for machines with features that align with your fitness goals and preferences. We cannot forget about quality. Investing in a high-quality machine that will last for years to come is usually the way to go.
With the right home gym solution, you can enjoy a full-body workout in the comfort of your own home and never again leave it for fitness purposes. Whether you prefer simpler cardio machines or multi-function gyms that allow more exercise, there are plenty of options to choose from that will help you meet your fitness goals.
Examples of Common Home Machines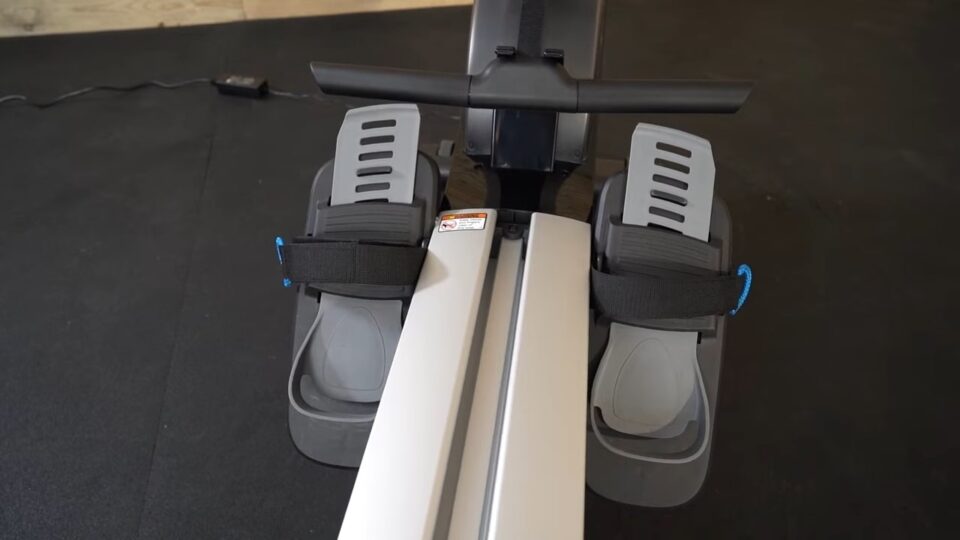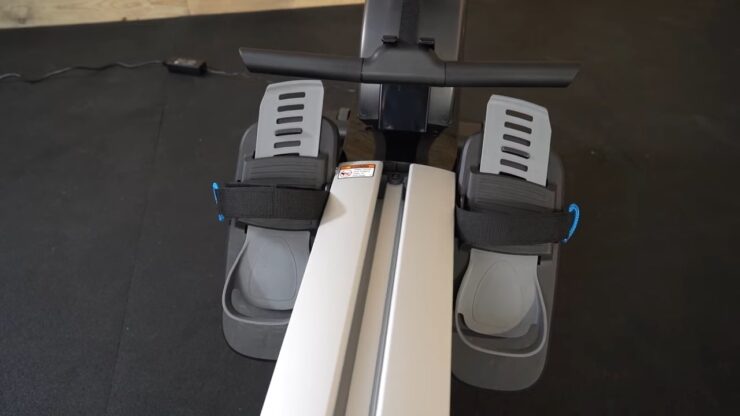 Treadmills: A treadmill is a great option for those who want to do their cardio at home. Many models fold up for easy storage when not in use. Running is great exercise and leaving the home is not always possible.
Ellipticals: An elliptical machine is a low-impact option that provides a full-body workout and great cardio. Some models have adjustable resistance levels to increase the intensity of your workout. Again, this a very useful exercise you can do every day.
Stationary Bikes: A classic in the fitness world, the stationary bike is a great cardio option that helps build lower body strength and stamina. Most are compact and can be easily stored in a closet or under a bed. A great alternative for bad weather when you feel like cycling.
Multi-Function Gyms: The multi-function gym is an elaborate machine that can provide a full-body workout. It has features like weight stacks, pull-up bars, and cable systems that allow dozens of different exercises to be done. Many models are foldable and compact for easy storage when not in use.
The Rowing Machine
The star of this article is the rowing machine, particularly the compact home version made for those who want to take full advantage of rowing as an exercise but still have a comfortable home. Home rowing machines are a popular piece of fitness equipment that provides a low-impact full-body workout.
These machines simulate the motion of rowing a boat and are a great addition to any home gym. Working out the arms, legs, back, and core, there is little that they do not do for the body.
Benefits and How to Use It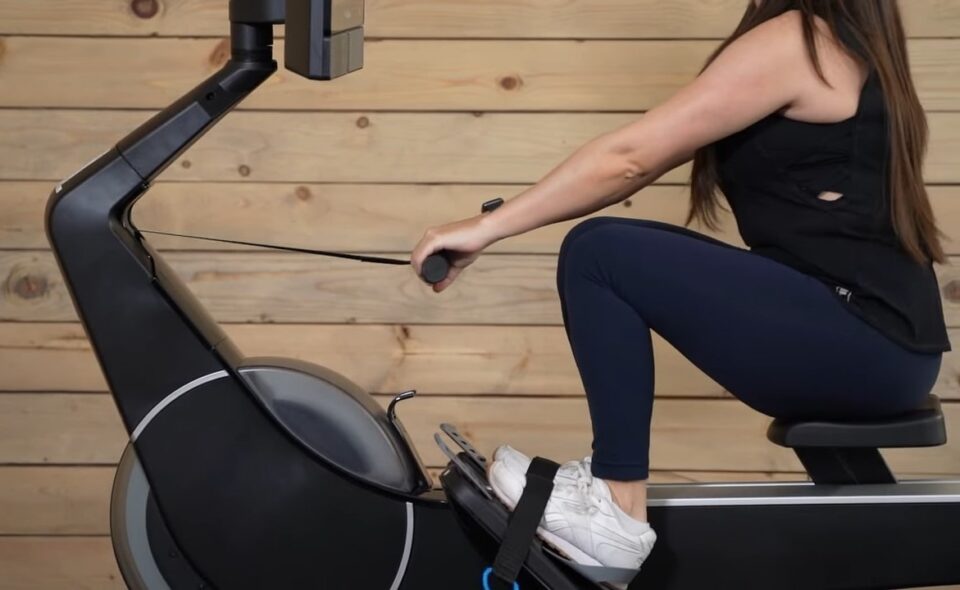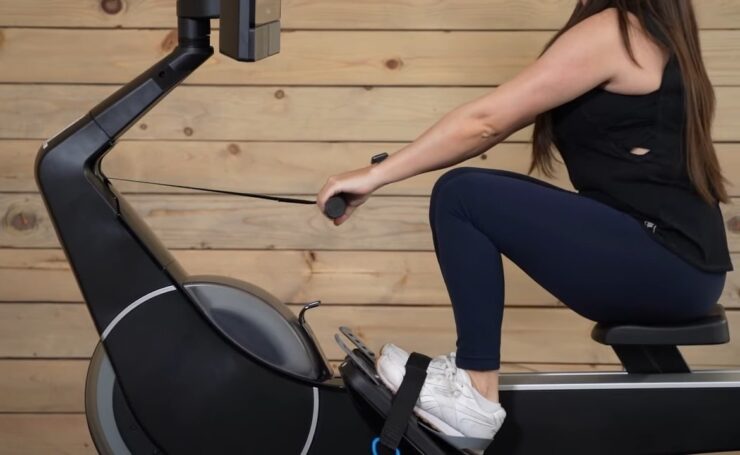 As with most other gym equipment, there is the right way of using a rowing machine. To use it in a home setting, you do the same thing as when at the gym. Start by adjusting the resistance level to the most comfortable setting for your current fitness level.
Next, take a seat and secure your feet on the footrests. Grab the handlebar and start by pushing off with your legs and pulling the handlebar towards your chest. As you do so, lean back slightly. When you have pulled the handlebar towards your chest, release it and return to the starting position.
Do this by bending your knees and leaning forward. This is it! It is rather easy but so satisfying and so good for several important muscle groups in the body.
The benefits of a home rower are plentiful and all are very important for the general health and well-being of the body:
Full-body workout: Rowing machines engage the upper body, lower body, and core muscles, providing a full-body workout every time.
Low-impact exercise: The fact they are low-impact means they are great for people with joint issues or those recovering from an injury.
Cardiovascular benefits: Rowing is an amazing cardio (aerobic) workout that improves heart, lungs, and blood vessel health, as well as stamina and endurance.
Strength training: Rowing is great to build strength in the legs, arms, back, core, shoulders, and abs even.
Buyer's Guide: Choosing the Best Compact Home Rower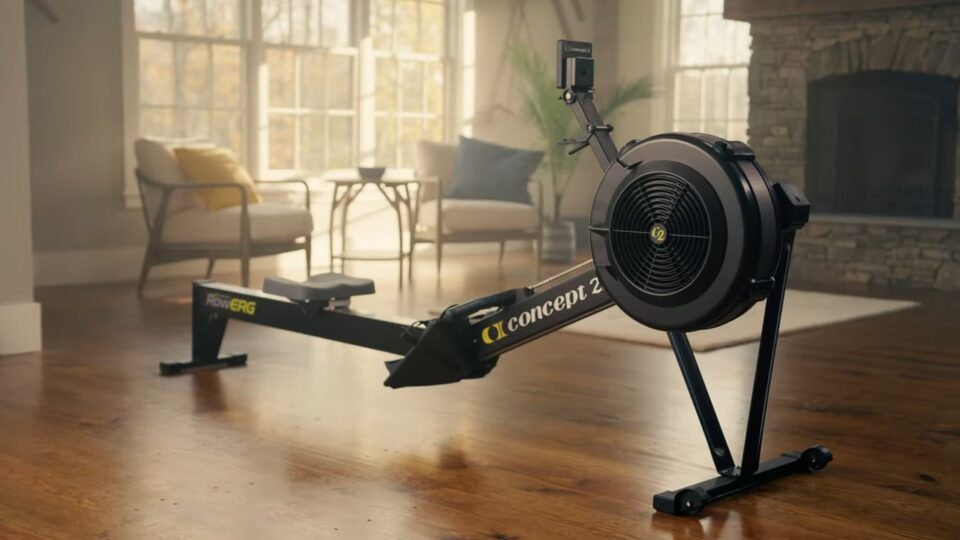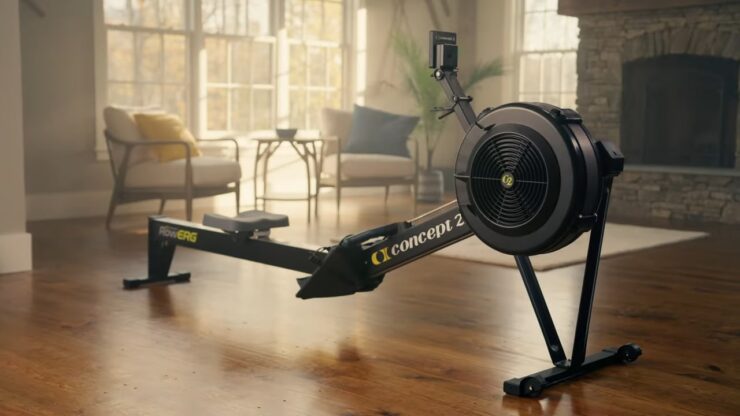 There are a few things that you need to pay attention to before buying a compact home rower:
Resistance
Rowing machines use a variety of resistance types most notably air, magnetic, and water resistance. Consider which resistance type best suits your needs and preferences. There are enough differences between them to make it a crucial decision.
Size
We are talking about compact solutions, but not all of them are equally big or small. Make sure the rowing machine fits comfortably in your home gym space and that it does disrupt the comfort of the room it is in.
Comfort
The machine has to have a comfortable seat, handlebar grip, and footrests. There is nothing worse than exercising on an uncomfortable machine and not being able to do anything about it.
Durability
Make it an investment and purchase a mid-to-high-quality machine that will last for years to come. It is one of those purchases you should really only make once.
Additional Features
Many rowing machines are equipped with all sorts of additional features. Some have built-in monitors that track your progress, preset workout programs, or adjustable footrests. Consider which features are important to you, how you generally like to exercise, and how modern and techy you want them to be.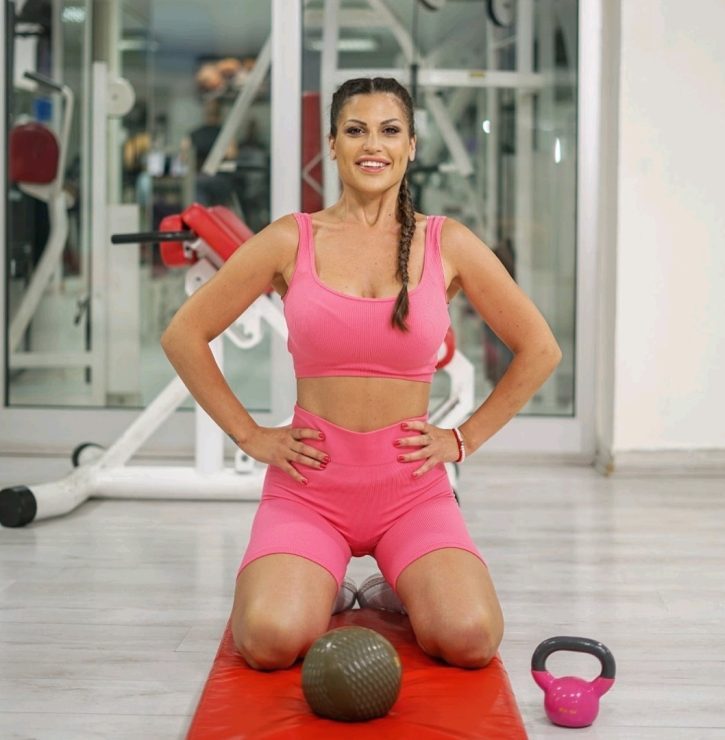 Marija Vitorovic is a dedicated fitness professional with a passion for improving her clients' health, wellness, quality of life, and overall well-being. She is an integral part of our team with her fitness-related insights, reviews, programs, and effective diets.