The best home gym is a perfect solution for everyone who wants to experience all the physical and mental benefits of working out from the comforts of the household. Many people claim that working out using all-in-one workout machines is the most effective way to do so, and it is hard to argue that point. Not only that it will save you some money that you would otherwise spend on a gym membership, but it also keeps you relaxed in a familiar environment.
These all-in-one machines are often referred to as "do it all" machines, and among all the benefits, they also save you some space, which is significant if your home gym space is limited. In this article, we will introduce you to these machines and give you some fine examples of what they are supposed to do.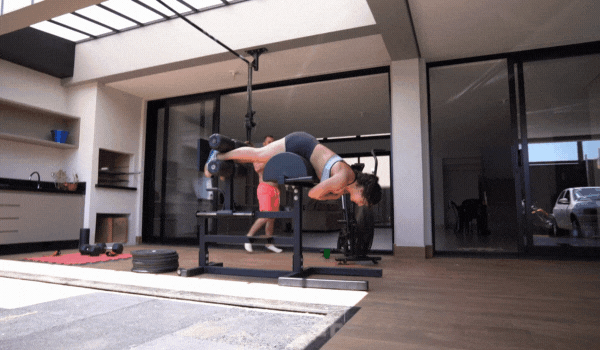 We will also share with you some benefits of home gym workouts and introduce you to some cool options you can go for in terms of seemingly endless possibilities of home gym equipment. We have a lot of ground to cover, so let us get into it without further redo.
Key Benefits of Home Gym
Many fitness enthusiasts claim that working out at home brings too many distractions and that because of that, you get lesser results. However, with a bit of discipline, you can get the most out of your home workout sessions because exercising in a familiar environment brings multiple benefits that you might not be aware of. Here are some key factors in that equation.
1. You Feel Much More Comfortable Because It Is Your Space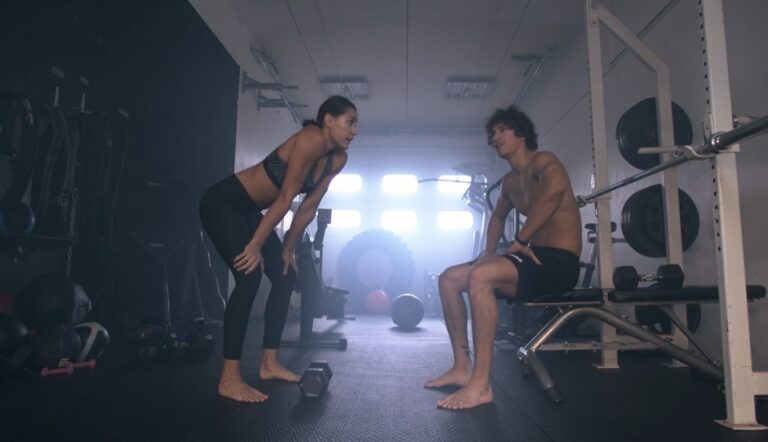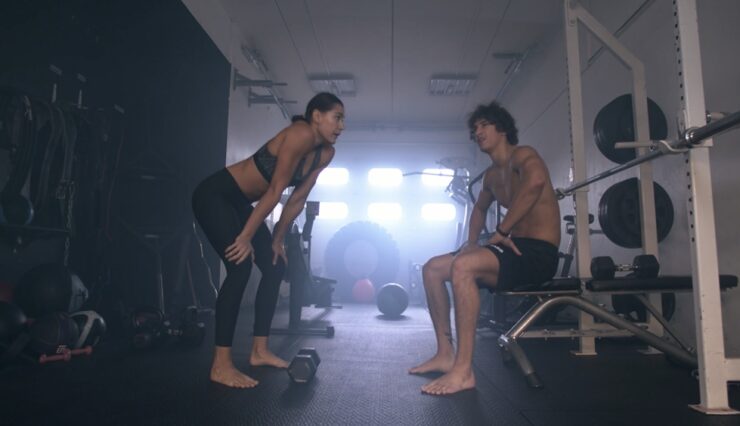 Walking into a gym with numerous unfamiliar faces and weird equipment that you never had a chance to see or exercise on can be very uncomfortable for many people. Working out and breaking a sweat in front of strangers can bring out insecurities in some people.
You might feel like everyone is watching how you perform certain movements and feel judged by it. This is, of course, just paranoia since everyone is mostly focused on themselves and concentrated on performing their exercises as best as they can.
However, if you feel you cannot overcome this anxiousness and that it starts affecting your performance, there is nothing to be ashamed of, and maybe opting for a home gym is the best way to go for you. It will do your exercise much more effective, and you will be able to focus on yourself and get better results.
2. It Will Save You Some Time
Getting better results in the gym and working out, in general, is a lot about willpower. Now, if you have to travel even shorter distances to your gym, it can be quite a drag, especially if you have had a rough day at work and want to save some time.
The home gym brings enormous advantages in this aspect since all you have to do is drive home, prepare yourself and start working out immediately. We are all busy people, and sometimes that ten or fifteen-minute travel to and from the gym can be utilized better, perhaps even prolong your training sessions and get better results.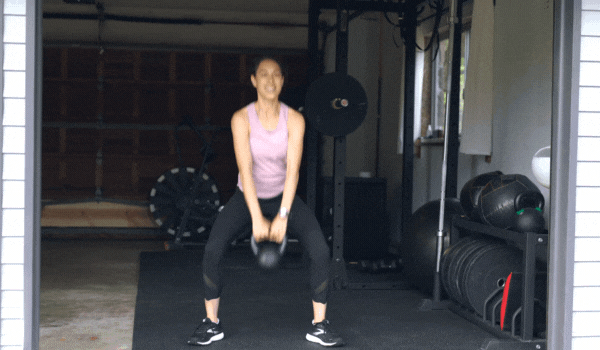 3. You Can Fit Home Workouts in Pretty Much Any Schedule
Working out is not obligatory, especially if you need to juggle a tight schedule that takes a lot of your energy. On occasions, life is very busy, and you sometimes just want to sit back and relax after a rough day. However, if you want to squeeze in some workouts in your jam-packed schedule, then a home gym may be the perfect solution for your needs.
Anyone with a busy schedule that has difficulties justifying a gym membership fee, but wants to exercise on a regular basis, should consider a home gym as a viable option since it will cut down their expenses and grant some extra workout time. When the gym is just a few steps from you, it gets much easier to squeeze some exercise and stay in shape.
4. There Is a Reduced Chance to Catch Some Germs
Given the fact that not everyone sanitizes the equipment they use in a gym, it can quickly turn into a germ-infested cesspool. This is where the comforts of a household gym truly shine, as you can ensure and know for a fact that the environment in which you are working out is spotlessly clean.
When you own a home gym, you are more likely to clean up the exercise space and keep it that way. Moreover, you do not have to think about if the person who worked out before you cleaned up after himself or washed his hands, for that matter.
5. You Can Take Some Time While Exercising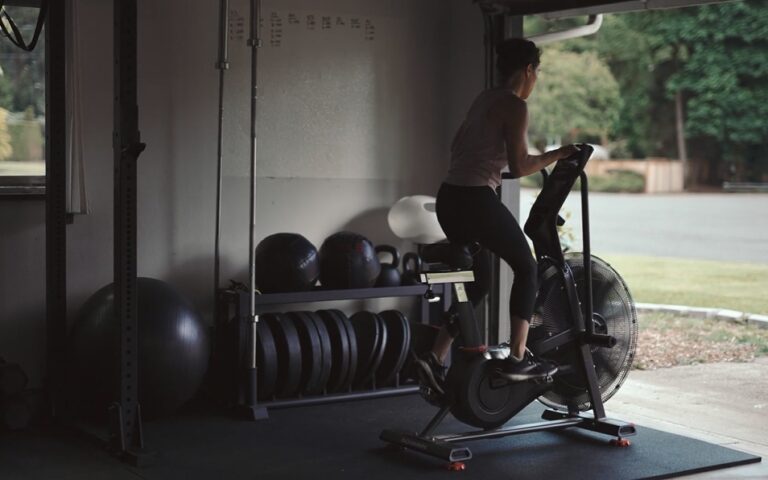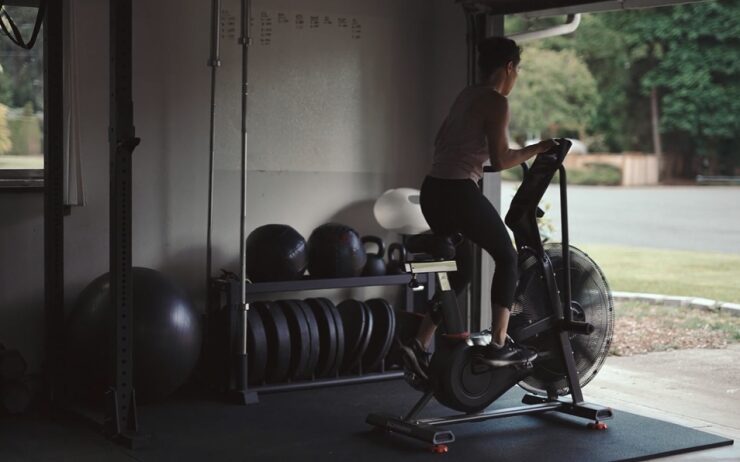 You certainly had a situation in the gym when someone impatiently waited around your exercise space to hop on the machine you are using. It can be quite a drag, and no one likes to feel rushed, especially if the exercise they are performing is rather difficult and requires some concentration.
The good thing is that you will forget about it in a nick of time if you start working out from the comforts of your home. When you work out in such an environment, you can take your sweet time and go slowly, based on your ability and goals. Not only that home gym exercise will help you see your results faster, but it will also help you avoid any unnecessary injuries that might occur if you rush things.
6. Your Workout Results Might Improve
Even though there is much more to fitness than aesthetics, if you are interested in seeing faster changes to your body, in some situations, you might actually see better results being a product of home gym workouts. Even though there is a wide arsenal of machines in the gym, each is focused on one muscle group, and all-in-one workout machines that are designed for home gyms can also bring excellent results.
We will talk about these machines very soon. Still, for now, it is worth mentioning that this type of exercise setup can help you focus on multiple muscle groups each time you train. It will start aesthetically showing, likely even faster than with standard gym equipment.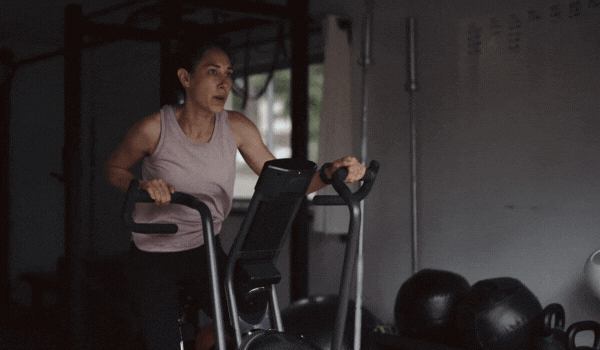 7. You Only Compare Your Progress With Yourself
When you go to the public gym, you often find yourself comparing your own workout progress to someone else, which is a huge mistake and a trap into which many people fall. Truth to be told, if you do not know the person to which you are comparing yourself on a more personal level, you really do not have any idea how long it took them to achieve their goals.
Not everyone can progress at the same level, and making comparisons such as this is a waste of time, and it shifts the focus you would otherwise have for your own exercises.
You will not encounter this issue in the comforts of your household gym, as the only thing that will stand in the way of your progress will be you. You will be much more realistic about your workout expectations and will be able to focus entirely on the quality of your exercises.
8. No More Excuses
Many would-be exercisers, more often than not, fall into the trap of making excuses for avoiding the workouts. When you decide to start working from the comforts of your home, you should be done with these excuses.
Even when your schedule is tight, you can squeeze in at least a few minutes to exercise a bit since all you have to do is walk several steps to the machine. You do not have to worry about who is watching, what you are wearing if the gym is full, or what equipment is available to use.
How Do All-In-One Workout Machines Work, and What Are Their Benefits?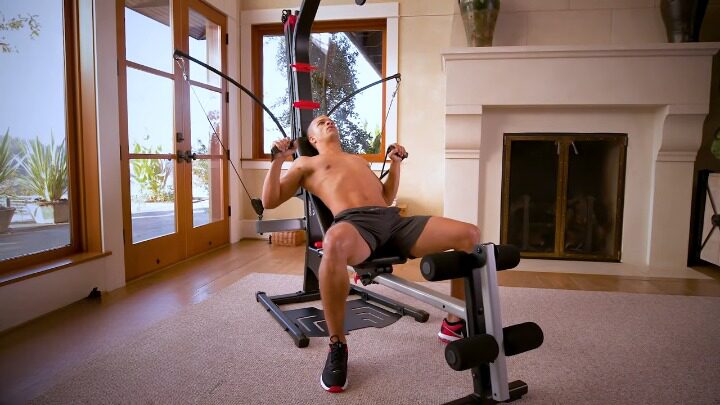 With the recent COVID-19 pandemic, many fitness enthusiasts were forced to look for workout solutions they could implement in their homes. This is something that actually turned out great, as many people realized they could get even better results from the comforts of their households.
Some of the best solutions for home gyms turned out to be all-in-one workout machines, as they could provide multiple exercise elements while not occupying much of your space, which is very important for people that do not have much room to spare for gym equipment.
In the section below, we will break down some of the cool benefits that come with these machines, explain how they function, and why you should consider purchasing some of them.
1. You Can Get a Full Body Exercise
The biggest benefit of all-in-one workout machines is that you can perform many different exercises that can cover multiple muscle groups. To put it simply, you will be able to work on your abs, arms, chest, back, shoulders, and legs by using only one of these machines and get excellent results on the whole body.
2. You Can Burn Fat and Build Some Muscles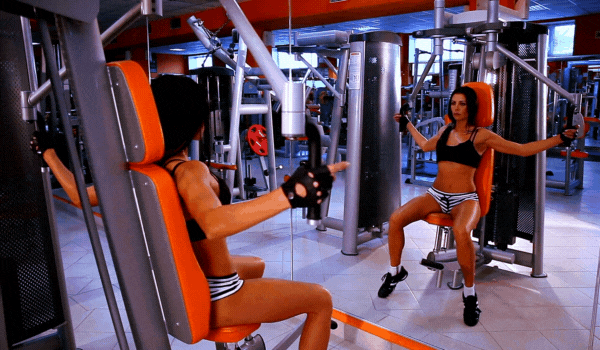 All-in-one workout machines are a win-win solution regardless of your fitness goals. These machines use weighted resistance for all of the exercises and are typically equipped with weight stacks and some type of pulley system so that you can slowly increase the resistance as you start to progress.
This is highly effective for strength training, but as you probably already know, this type of exercise can also promote burning fat as well, so you have another excellent benefit that will effectively help you achieve your fitness goals.
3. Take Your Fitness to the Next Level
Even though all-in-one gyms are perfect for improving your strength and gaining some muscles, some of these machines include at least some type of cardio section that will help you improve your fitness too.
One of the better examples is a built-in rowing station that is included in some models. It has a sliding seat that will grant you a pretty good rowing workout and enhance your stamina and fitness even further.
4. You Will Save Some Money on Gym Memberships
Considering the fact that the gym membership costs around 60 USD monthly on average in the United States, it takes a substantial sum to cover it on a yearly basis. If you were to take this amount of cash and spend it on a good all-in-one workout machine, you would save yourself a considerable amount, and it would work out a lot cheaper in the long run.
5. All-In-One Workout Machines Are an Ideal Choice for Home Use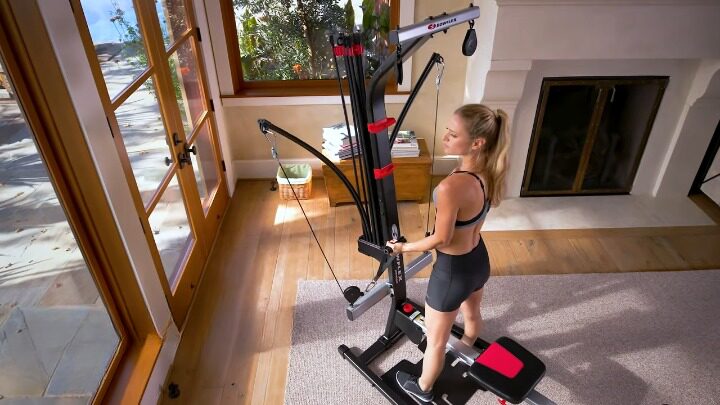 One of the most important benefits of all-in-one exercise machines is that they do not necessarily take much of the space in your home. Granted, there are models that are quite substantial in terms of length, height, and weight, but they can still be installed in the corner of your room or garage.
The drawback of this setup is the fact that you will likely have to spend several hours assembling this machine, but once the whole process is done, you are all set up and can keep it at the same place all the time.
6. You Can Pick Your Workout Hours and Train Whenever You Want
If you are a gym member, you likely experienced at some point that the working hours of the gym do not always fit well with your schedule. Perhaps you enjoy training early in the morning when the gyms are yet to open, or evening when they are very busy, and you need to wait for a long time to get to a machine you would like to.
All of these problems are easily resolved with a home gym and all-in-one workout machines, where you will be able to work out whenever you like or whenever your busy schedule requires you to.
7. You Can Train in a Stress-Free Environment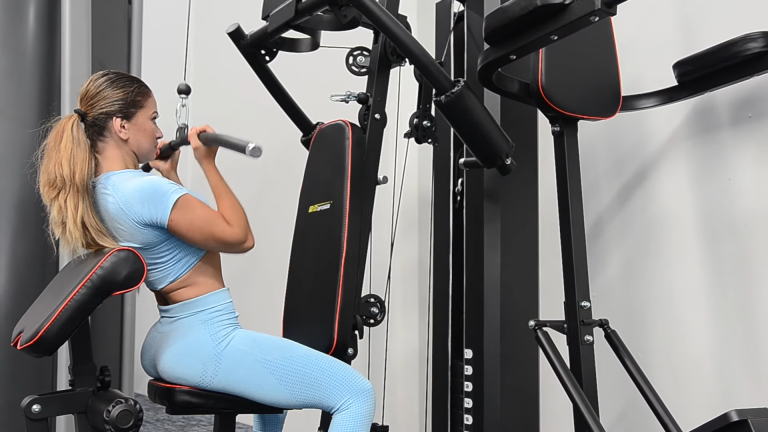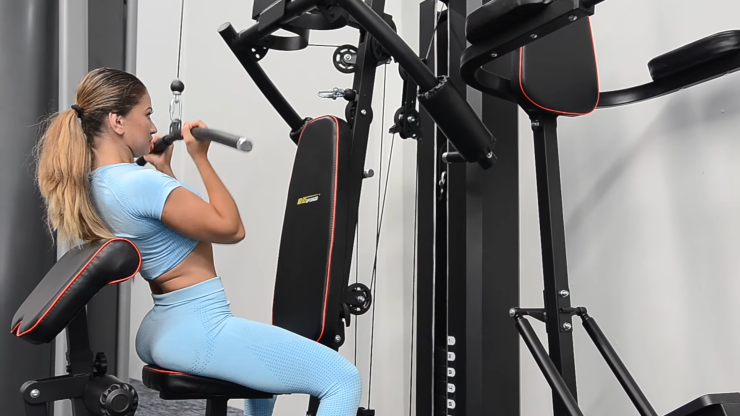 As we already mentioned, training in a public gym can be a source of stress for some people. It can be very frustrating when you are waiting for your turn to get on the machine that you want or when you are working out, and someone impatiently lurks around waiting for you to finish.
Both of these situations are rather stressful and can significantly impact your performance and your training routine. With all-in-one machines, you do not have to worry about these things and can complete your workout at your own pace, which will improve the results and keep you clear-headed and stress-free.
8. Multi-Purpose Gym Machines Are Safe and Easy to Use
One of the greater things about all-in-one gym machines is that they are perfectly safe and very easy to use. Conventional gym equipment can be rather punishing if your form is not right or if you try to lift too much weight. This can lead to a series of uncomfortable injuries and can be very dangerous.
Such inconveniences have significantly less chance of happening if you are using a multi-purpose gym. They require a lot less coordination and balance than conventional gym machines but still provide you with wanted results.
9. All-In-One Workout Machines Are Very Durable and Sturdy
Although these machines vary in quality and price, if you decide to opt for a top-of-the-line home gym that uses top-notch weight plates and components, you will find that they are very sturdy, durable, and made of high-quality materials that are built to stand the test of time.
10. These Machines Are Built to Be Used by Multiple Users
If you decide to purchase one of these machines, you will find that they are suitable for the whole family to use them. They are designed to suit different training routines and, as such, are a great multi-purpose fitness tool that your whole family can enjoy.
11. You Do Not Require Professional Help in Using All-In-One Machines
As we already mentioned, these machines are very easy to use, so you will not require any professional help in learning how to exercise. All-in-one machines are self-explanatory, and getting the hang of how the machine works take little to no effort.
Which Are the Best All-In-One Workout Machines?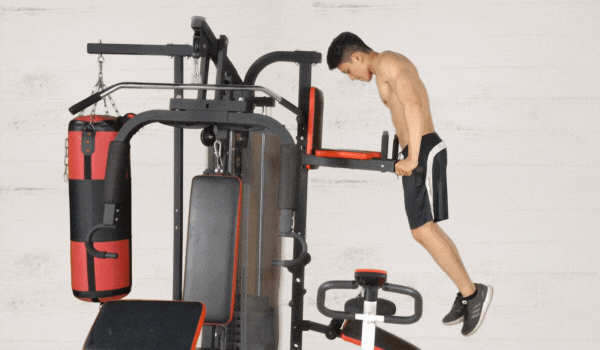 Now that you had a chance to see all the benefits that home gym exercise and all-in-one workout machines can bring to the table, you might be wondering which one you should buy. Today's market is packed with such products that picking the right one can be quite a challenging endeavor.
But worry not, because we did a bit of research and came up with the list of some of the best units the money can buy. Our research was based on the overall build of the products, materials used in the manufacturing process, and customer satisfaction. There are also options that cover different budget limits, so there will be something for everyone. Here are some of the finest all-in-one workout machines you can go for:
1. Bowflex PR1000 Home Gym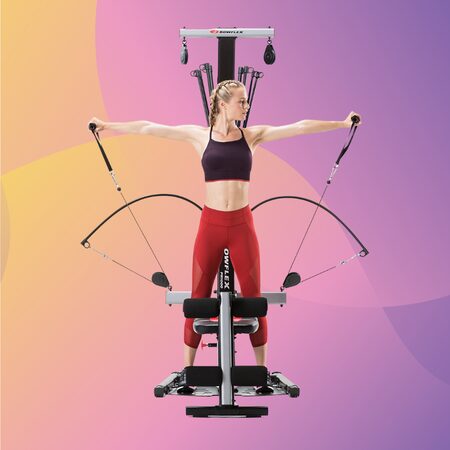 Bowflex PR1000 is an ideal home gym solution for anyone who does not want to break the bank too much but still gets to enjoy the results the all-in-one workout machine can deliver. You can perform over 25 different exercises on this machine, which is more than enough to get a full-body workout.
You get a pretty good 210 pounds of resistance with this product. It is equipped with power rods rather than weight plates or a weight stack, which will have a relatively low impact on your body and will grant you the results you desire from every fitness perspective.
Pros
Simple design
Cost-efficient
It does not occupy much space
Great warranty
Cons
It is mostly suited for beginners
2. NordicTrack Fusion CST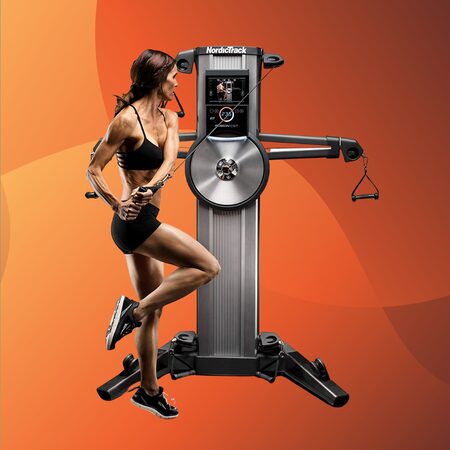 This unit is not your regular all-in-one gym. It is a futuristic addition to the NordicTrack line of machines, and it represents a fantastic mixture of strength-focused training and other forms of cardiovascular fitness. It comes with a 10-inch Android tablet with a system that features high-energy LiveCast pre-recorded studio workouts that can assist you in your exercises and give more context to your fitness plan.
You get a personal iFit robo-trainer that automatically sets up resistance levels of the machine, which ensures you get the best possible effect from your workout session and helps you achieve your goals. It has a sleek, versatile, and modern design that will not occupy much of your household space.
Pros
Beautifully designed
Versatile
Interactive training
Suitable for a wide variety of workouts
Cons
Limited resistance levels
3. XMARK Functional Trainer Cable Machine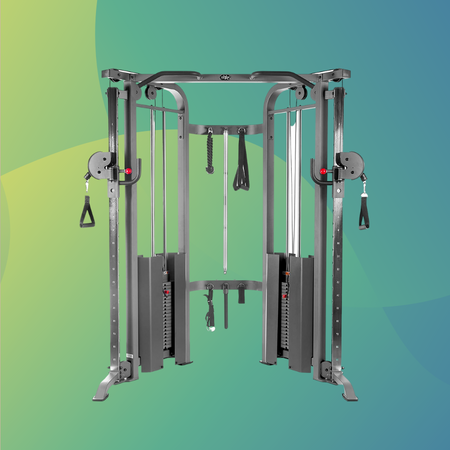 Xmark Functional Trainer is a top-of-the-line cable machine that can provide you with a wide variety of exercises with its dual 200 lb stacks. It is also equipped with a commercial pull-up rig, dual adjustable pulleys, and an assortment of attachments. This is a highly versatile piece of equipment with lots of adjustability options.
The whole construction is made of high-quality materials and is a very durable home gym machine that is designed to last you for a lifetime. The frame is very sturdy and is made with some excellent anti-corrosion and anti-scratch properties. It is an amazing piece of equipment with a wide variety of features that are more than enough to provide you with a suitable full-body workout experience.
Pros
Numerous training possibilities
Strong and durable steel frame
Adjustable pulleys
200 lb of weight stacks
Extra accessories are included
Cons
It takes a lot of time and effort to assemble the machine
4. Bowflex Blaze Home Gym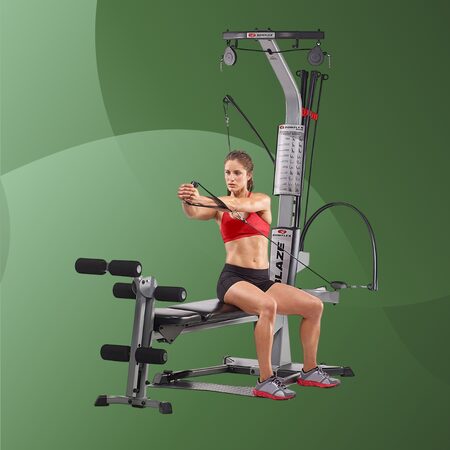 Bowflex Blaze is an exceptional and versatile piece of home gym equipment. It is designed to provide its users with over 60 different workout options, which is more than enough to activate all of your muscles and get the best out of your training session. Whether you want to do a leg extension or a lat pulldown, this unit has everything you require for satisfying exercise.
If you are just a beginner, worry not because this machine has a 20-minute workout video and a comprehensive manual on how to perform each exercise that is possible with this unit. This product stands out as a great substitute for weight stack home gyms or home gyms with a pulley system.
Pros
You can add extra power rods to it
Pretty good warranty
Comprehensive manual
210 lb of resistance
Great for beginners and advanced fitness enthusiasts
5. Powerline by Body-Solid BSG10X Home Gym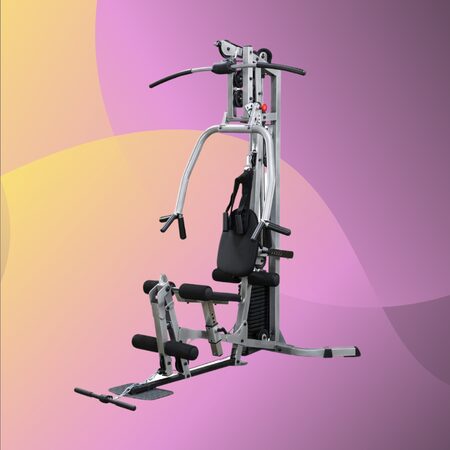 The Powerline is one of the more affordable models of home gym that still performs amazingly in terms of versatility, quality, and overall build quality. It has a small footprint, 160 lb weight rack, and offers a possibility to perform a wide range of exercises for the whole body.
For a huge home gym workout machine, this unit is rather easy to assemble, and it does not take much of your time, as is the case with some other products in a similar price range. It is a machine for light fitness, so if you are into hard strength training or bodybuilding, you might want to opt for something different. For what it does and its general purpose, this is an excellent all-in-one unit that is among the more affordable ones in the class.
Pros
Multiple included accessories
Exercises that are effective for a number of muscle groups
Multi-grip vertical chest press
Training for the whole body
Easy to assemble
Cons
The weight stack cannot be upgraded
The short warranty period on moving parts
6. MiM USA Hercules 1001 Commercial Smith Functional Trainer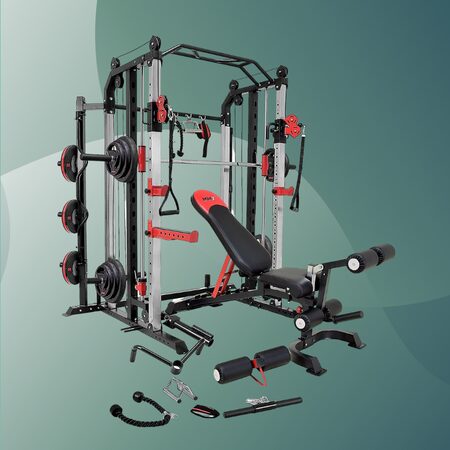 This all-in-one workout machine is an excellent lifting rig that is equipped with a combination of cable and pulley systems with weight plates that provide superb heavyweight capacity. It is jam-packed with cool accessories, including a smith machine, functional trainer, power cage, vertical leg press, and adjustable weight bench.
This machine covers all the important features that allow you to expand your workout without the need to buy extra equipment. It is a tough, durable, and well-constructed product, perfect for full-body workouts from the comforts of your household. Hercules 1001 is suitable for different training intensities as well, so you can use it regardless of your skill and fitness level and slowly work your way up to the perfect body you dream of.
Pros
Durable and sturdy construction
A great choice for heavy lifters
Arrives with multiple accessories
Suitable for beginners as well
7. Total Gym XLS Men/Women Universal Total Body Training Home Gym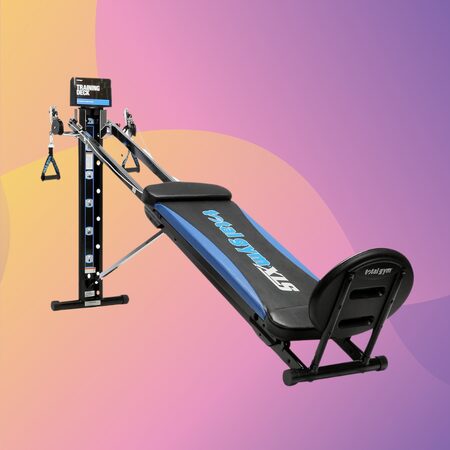 If this model looks familiar to you, it is not by accident since it was popularized by Chuck Norris for providing excellent full-body home workouts and all of that in minimal space. Although this seems like a robust piece of equipment and can handle a weight capacity of a whopping 400 pounds, you can easily fold it and store it under your bed.
The glide board is built in a way you can set it at six different incline options, which will enable you to increase resistance according to your workout needs easily. You also get a cable pulley mechanism that makes it easy to incorporate some difficult exercises for your upper body muscles. This equipment supports more than 80 different exercises, which is more than enough for active athletes and their all-around workouts.
Pros
Easy to fold and store
Huge capacity range
Safe for all fitness levels
Highly versatile
Excellent set of exercises for upper body
Cons
Set-up is a bit complicated and takes more time to complete
8. MiM USA Giant 1001 Multi-Functional Weight Machine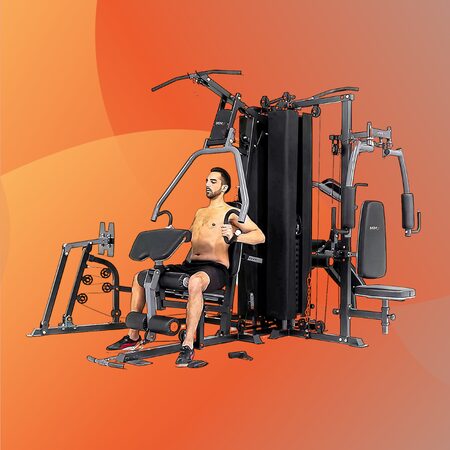 Strength, versatility, and quality are the words that neatly describe this unit as it checks all the important boxes required for a top-notch all-in-one workout machine. Its main job is to promote an all-around full-body workout, and it does it in a fantastic manner. This is a product that tones, trains, and strengthens all the essential muscles in your body.
Although this unit is a bit pricier, it is a great replacement for buying multiple pieces of equipment for exercising different muscle groups. With this machine, you can easily perform workout sessions with a wide array of exercises, from basic squats and lunges to advanced strength training for intense bodybuilding.
Pros
Lifetime warranty on frame
Highly durable
Suitable for numerous exercises
Every piece of equipment is adjustable
Great for fitness enthusiasts and experts
9. Marcy MWM-988 Multifunction Steel Home Gym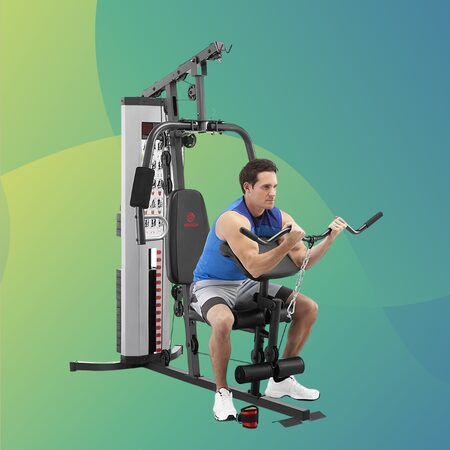 The Marcy MWM-988 Multifunction Home Gym is one of the most affordable ways to get a solid all-in-one workout system. It is a very sturdy unit built from steel, yet the price remains pretty low for such a huge and useful product. If you have enough space to store it, this is a great alternative to going to the gym.
This machine allows you to gain access to over 36 different exercises with up to 150 lb of weight, and all of that from the comforts of your household. This unit is a great example of easy to use, well-built machine that offers numerous exercise options for different body parts and muscle groups. Although it is limited to 150 lb stacks of weight, it still offers quite a lot for such an affordable unit.
Pros
Affordable
Sturdy and durable steel construction
Compact
Weight stacks come with protected shielding
Things You Should Consider Before Buying an All-In-One Workout Machine
Now that we have presented you with some of the finest all-in-one workout machines, it is time to point out some of the key features you should pay attention to before deciding to spend your money. In the section below, you will find some guidelines that should help you get the best possible value.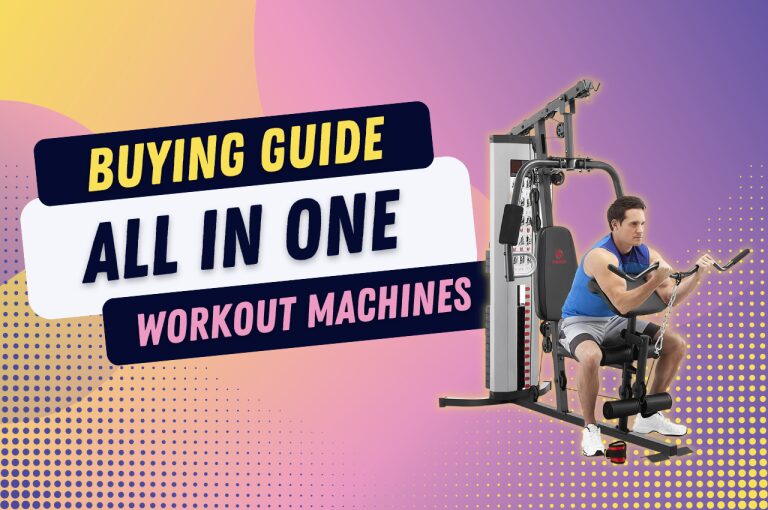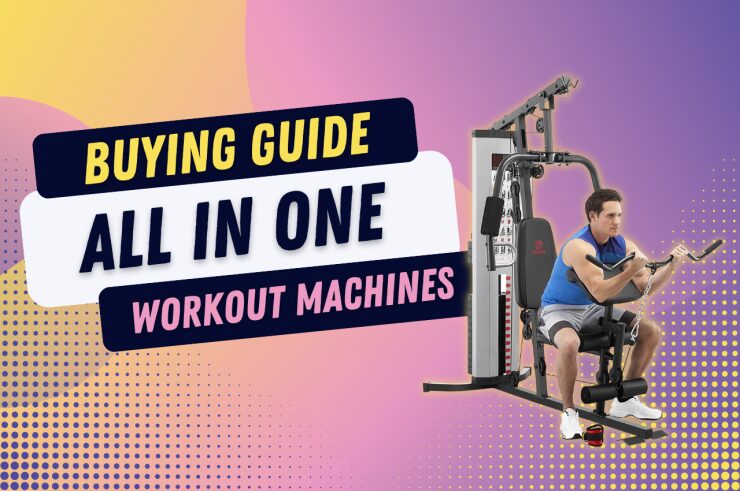 Versatility
The versatility of your all-in-one machine is one of the key things that determine how much value you get. Some of these machines can be used to perform 20 different exercises, while others enable you to perform over 80. This is also directly linked to the price; the more exercise options, the higher the price gets.
Maximum Weight Resistance
In terms of maximum weight resistance, you should choose according to your workout needs. These resistance settings on quality all-in-one machines are usually challenging enough for most exercisers.
However, if you are a "die-hard" type of lifter, pay close attention to this because if the machine you want to buy does not have suitable maximum weight resistance, you will likely have to purchase additional weight plates, free weight bench, or a rack.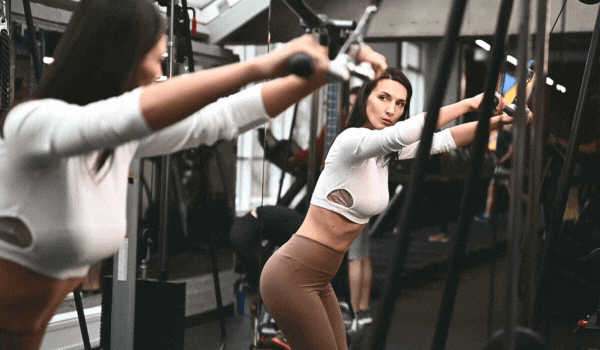 Size
The size of your workout machine bears huge importance since it will likely be a central part of your home gym. It is essential to do the measurements correctly, as you will require sufficient storage space, which can be tricky if your home gym space is minimal or has other limitations in width or length.
Style
The style of your all-in-one machine entirely depends on the type of exercises you plan to perform on it. For example, a senior that looks to improve his joint strength does not require a massive and expensive multi-functional machine with extremely high weight resistance. On the other hand, bodybuilders that look to maximize their strength and muscles should look for these exact features.
Frequently Asked Questions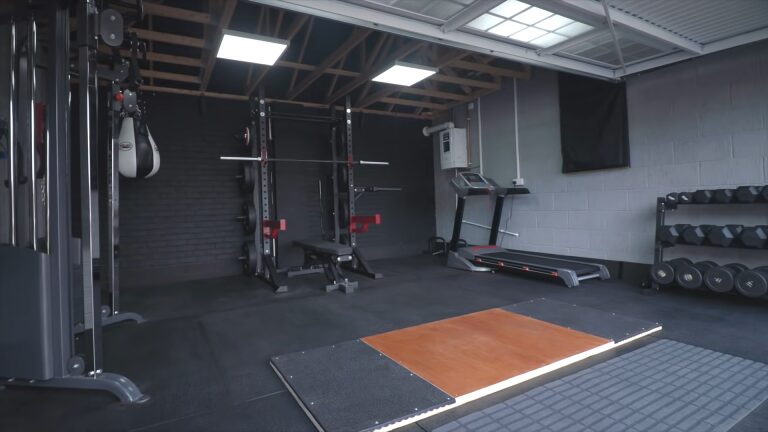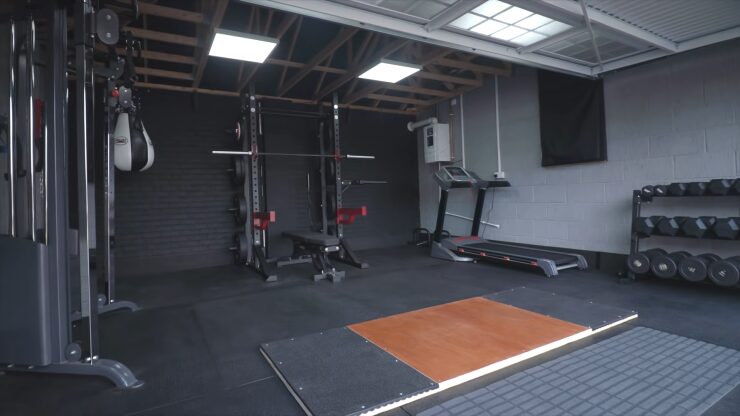 1. Is a home gym worth it?
Yes, absolutely. As we already mentioned, the home gym setup will save you some money and time in the long run. You will always have a multi-functional workout machine just a few steps away, and it will help you create workout habits since it is so accessible and convenient every time you feel like exercising. Moreover, you will save some money on gym memberships while still staying fit and in shape.
2. How much money do I need to buy an all-in-one home gym?
Prices for these products vary depending on the overall quality of the product and its versatility. You can get more than a decent multi-functional workout machine in the price range between 400 and 6000 USD depending on your needs.
3. Can I build muscle using an all-in-one gym?
Yes, you can. As long as you put up enough work, building muscles is possible with such machines. You can build your muscles with both weight lifting machines and free weights. The only thing that is important is to check the maximum weight resistance of the machine you want to buy to see if it fits your workout needs and goals.
Final Words
This concludes our guide about the home gym and all-in-one workout machines. As you can see, there are numerous benefits that come with this setup, both in terms of value and money-saving in the long term, so it is a highly viable option if you want to exercise from the comforts of your home.
Although gyms are great, the long waits to use the equipment and membership fees can take quite a toll, and with the busy lives we are leading, it can become a challenge to maintain the workout routines. With all-in-one machines, you can forget about these issues and indulge in effective training in a comfortable and familiar place where you can work at your own pace.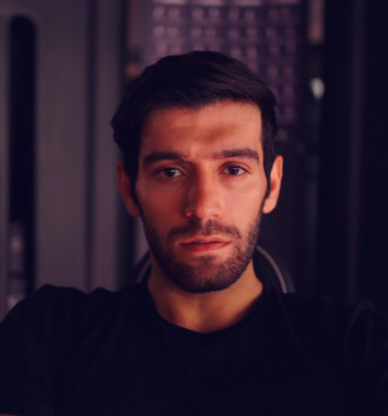 Steve is a certified trainer with more than 10 years of training experience and he holds a Master's in Sports Science. Prior to Boston Rock Gym, Steve worked for two years as a personal trainer.