For thousands of years, ever science has been used to traverse great lengths and as means of transportation for exploration, fishing, and warfare, rowing has been a great exercise that provides a full-body workout.
Nowadays, of course, we know it as a great cardio activity, one that improves cardiovascular health, increases muscle strength and endurance and works out several muscle groups at once. As a low-impact exercise, it is gentle on the joints and therefore an excellent choice for people of all ages and fitness levels.
Of course, the biggest problem with it is that it has to be done in the water, something not always possible. To combat that, modern rowing can also be done on a machine called a rowing ergometer or rowing machine to keep it simple.
It is a piece of gym equipment that simulates the motion of rowing a boat on the water and gives the exact same benefits to the body. The machine has a seat, a couple of footrests, and a handle that is pulled back and forth.
Benefits of Rowing as an Exercise
One of, if not the main benefits of rowing is that it provides the body with a full workout. It is very versatile because it engages the legs, arms, core, back, shoulders, and abs simultaneously. Not many other activities or exercises do this making rowing a great exercise for building strength, improving cardio, and burning calories. Rowing also improves posture and balance and increases overall stamina and endurance.
Depending on your fitness goals, experience, and other factors like age and sex, rowing should be done for a certain amount of time. For beginners, it is recommended to start with between 20 and 30 minutes of rowing about 2 or 3 times per week.
When you start getting the hang of it, gradually increase the duration and frequency as you become more comfortable. More experienced rowers can row for longer periods of time or incorporate rowing into their established workout routine.
As is the case with any exercise, it is crucial to use proper form and technique to avoid injury and get the most benefit from your workout. You may also want to consult with a fitness professional or your healthcare provider before starting a new exercise program. According to research, a person weighing some 155 pounds can burn about 260 calories in half an hour of rowing on a moderate setting intensity.
Types of Indoor Rowers
Just like with most other gym machines and equipment, there are several different types of rowing machines available for purchase. Each of them comes equipped with its own unique features and benefits that make it the right choice for the specific customer. The most important part that makes them fall under a certain category is their resistance mechanism.
Air Resistance Rowing Machines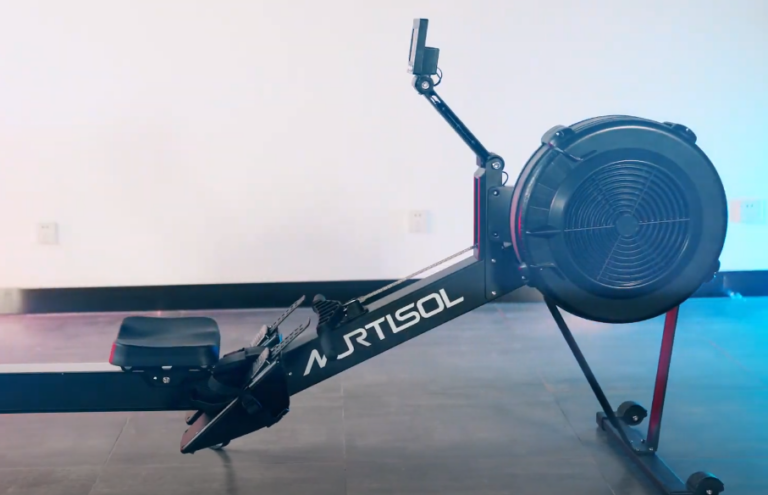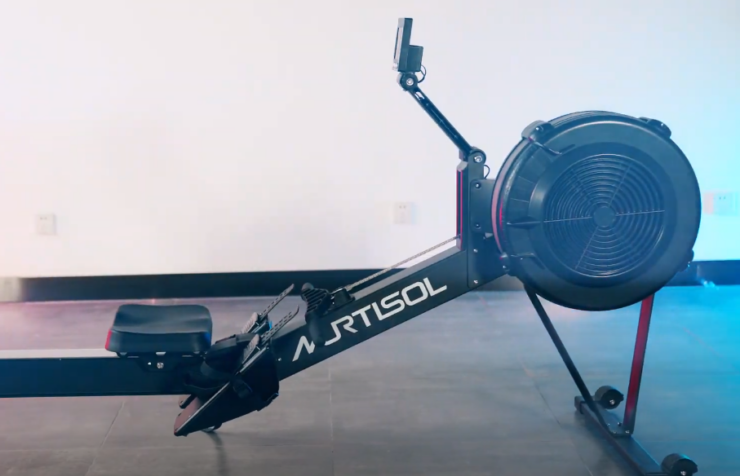 These machines use a flywheel to create resistance, which can increase the faster the user rows. They are known for their smooth and realistic rowing motion and are preferred by those looking for a more challenging option. They are not the quietest of the bunch, though.
Magnetic Resistance Rowing Machines
The second type of indoor rowing machine uses magnets to create resistance. They can be adjusted to simulate different water conditions and offer different challenges. They are known for their quiet operation and precise resistance control.
Water Resistance Rowing Machines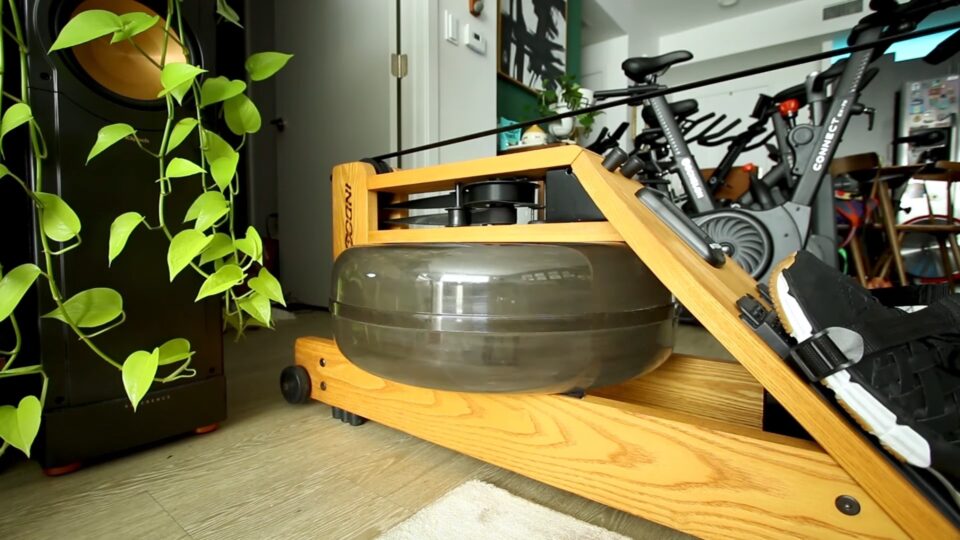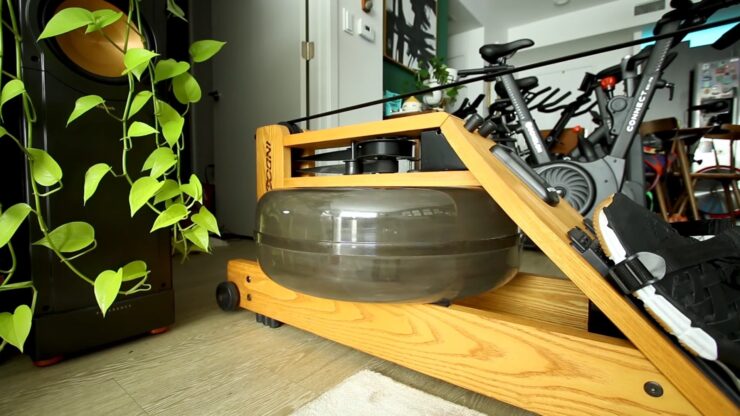 Together with air machines, water models are the most common of all types. These machines use water to create resistance, providing a realistic and natural rowing experience that is the closest to the real deal. They have a very smooth and quiet operation but are typically more expensive than other types.
Hydraulic Resistance Rowing Machines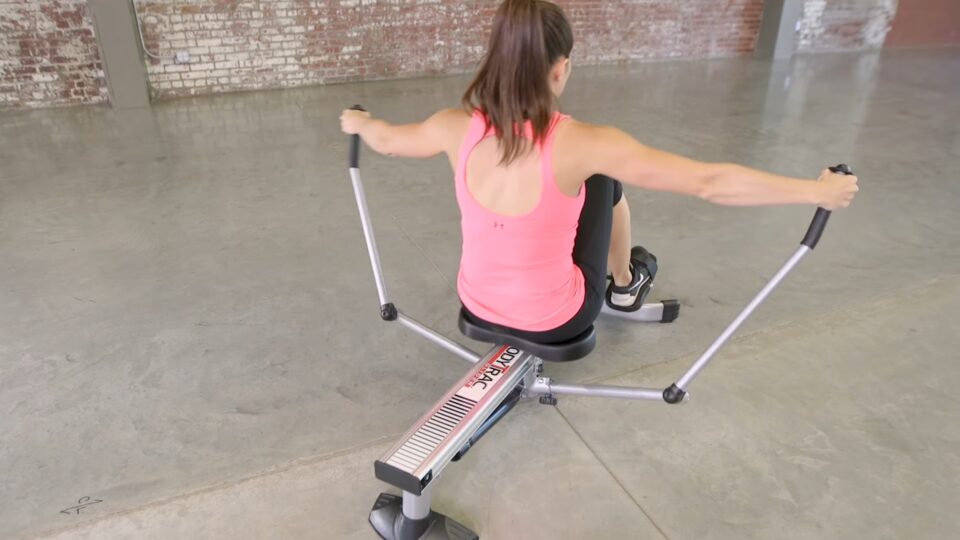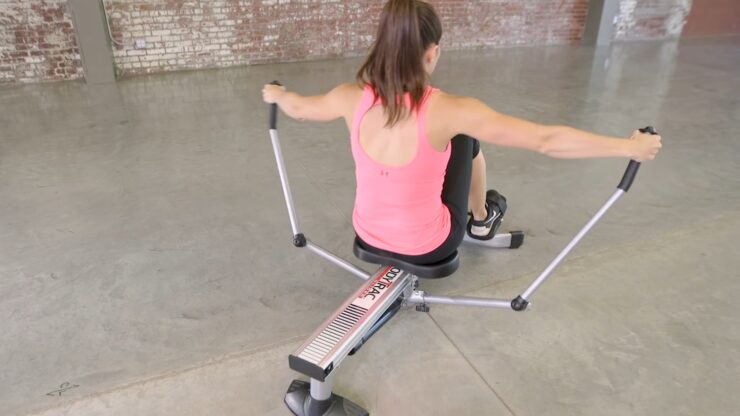 The final type of rower uses hydraulic cylinders to create resistance. They too are adjustable to vary the intensity of the workout depending on the users' needs. They are very compact in size as well as affordable, but they do not provide as smooth of a motion as the rest of them.
The Quietness Debate
Since this article guide is about the quietest indoor rowers out there, it is time to talk about this feature. Of the different types of rowing machines available, magnetic resistance models are generally considered the quietest.
The magnets that create resistance generate less noise compared to all other types of resistance systems, especially air. Water and hydraulic models are not as noisy as air, but they are not as quiet as magnets either.
On average, hydraulic resistance rowing machines are relatively quiet, but they may produce hydraulic hissing during operation. Air resistance rowing machines are very loud because of the flywheel that creates a whooshing sound as you row. Water rowing machines produce noise from their water tanks, but there are models with sound-dampening features.
Even the quietest rowing machine stills produces some noise during operation, especially when rowing at a high intensity. If you are concerned about noise, the rower should be placed on a mat or a rug to help absorb the sound and vibrations. Of course, it is always best to pick the quietest one on the market, which is where we come in to help you.
Buyer's Guide
If you are in the market for a rowing machine to use at home, or even at your fitness center/gym in case you own one, quietness should be of great concern. Nobody likes unnecessary noise so why should you get a model that is too loud to concentrate and clear your mind as you exercise? It can be an overwhelming experience to find the one for your specific needs and budget which is why this buyer's guide should help you.
Resistance Type: The first factor to consider when trying to pick a rowing machine is the type of resistance it uses. Apart from directly influencing the noise amount, air, magnetic, water, and hydraulic resistances all come with their own benefits and drawbacks for the actual workout. Choose the type that best suits your fitness goals, lifestyle, and personal preferences.
Price: Rowing machines are available in a wide range of prices, from a few hundred dollars to several thousand dollars. Before making up your mind and proceeding with the purchase, consider how much you are willing to spend and what features are important to you. Higher-end models have more advanced features like pre-programmed workouts and interactive displays but cost a lot more.
Size and Space: Rowing machines come in various sizes and it is important to think about how much space you have available in your home gym/workout area. If space is limited, a compact rowing machine easily stored when not in use is better. If you have room to work with, the size does not matter much.
Comfort and Adjustability: Last but not least, a good rowing machine must be comfortable to use and have adjustable features to accommodate different body types and fitness levels. Look for ergonomic seats, adjustable footrests, and comfortable handles. Adjustable resistance levels are also a must.
Product Reviews
1. Concept2 Model D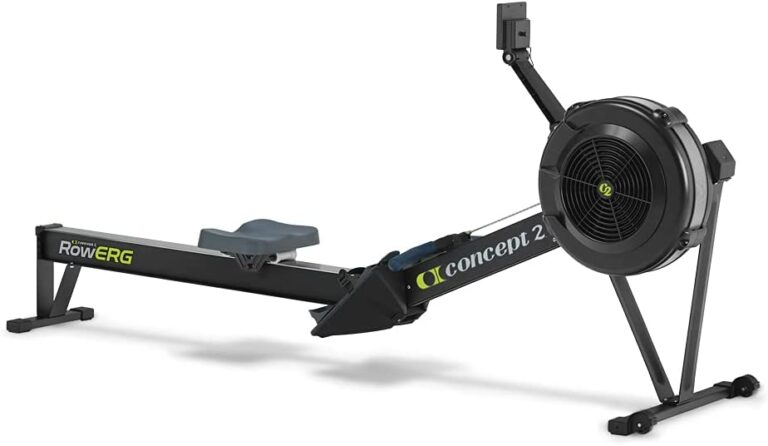 When unfolded, this machine is 96 x 14 x 24 inches. When folded, it is only 54 x 33 x 25 inches. The fact that it is foldable is great for every home gym as it means space saving and ease of storage. Its weight is 57.32 pounds and it is an air-resistance model with 10 damper levels. The max weight capacity it supports is 500 pounds.
This has been called the best overall rower for apartment use, which speaks a lot about its quietness. However, it is not the quietest on the list. Still, it offers a lot to make up for it. It has caster wheels for easy and smooth rolling, only 8 screws separate the two pieces it is made of, and you get all the tools in the box.
In charge of feedback and data is the Performance Monitor 5 Computer (PM5) with a backlit LCD screen. It shows time, distance, and intervals, and has wireless Bluetooth and ANT+ tech for fitness apps and heart rate monitor connection. Workouts can be saved on USB drives! Overall, a very useful house rower with great features.
Pros
Stable and solid
Fluid and consistent rowing motion
Quality features and construction
Cons
Not the quietest on the list
Needs to be unscrewed every time to store
2. Goplus Folding Magnetic Rower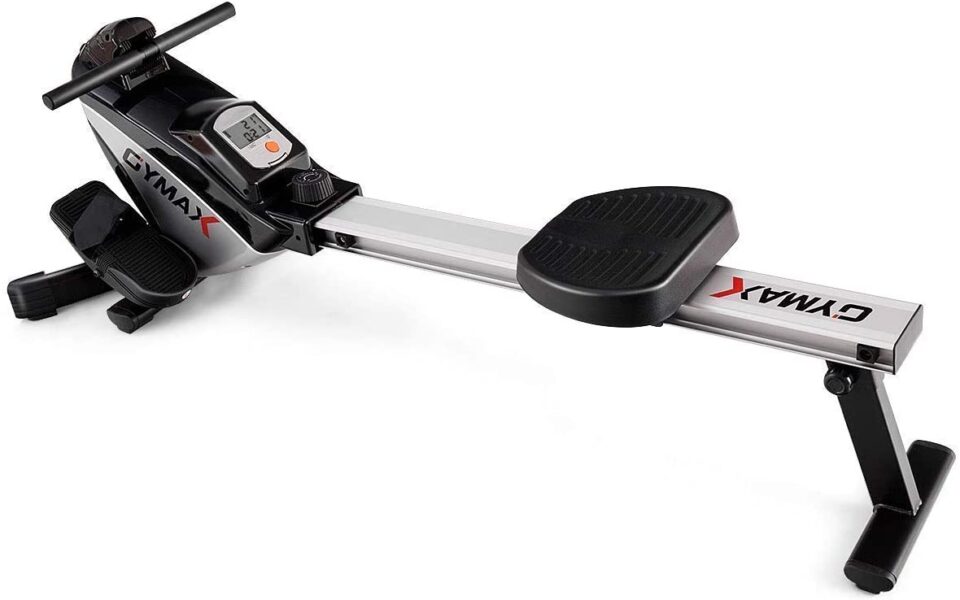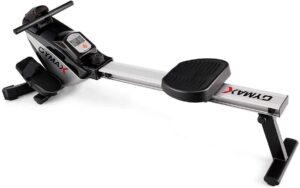 If you want a really quiet model for home use as well as something compact and light, how about this magnetic-resistance rower by Goplus? When unfolded, it is 70 x 21 x 19 inches. Once folded, it comes down to a modest 49 x 32 x 21 inches. It weighs 49 pounds and has 8 different resistance levels. Its weight capacity is not the highest at 220 pounds, but it is a side effect of its size and weight.
Sturdy, stable, and smooth, this machine is all about being quiet while the user exercises in the comfort of their home. It has a high-quality aluminum frame making it light to move around and store. The assembly process is a breeze and its black anti-rust paint is resistant to scratches.
Thanks to the magnetic resistance, there is little to no sound whatsoever as you use it. This means it is among the quietest on the market and therefore a great option for those looking for no distractions and loud noises. It remains quiet even on the hardest difficulty levels. The footrests are pivoting and the handlebar is ergonomic and foam-covered. The LCD screen tracks basic progress like calories burned, time, SCAN, and counts.
Pros
Very quiet, almost silent
Easy folding
Light but sturdy
Cons
Console LCD not backlit
Low maximum weight capacity
3. Stamina Body Trac Glider 1050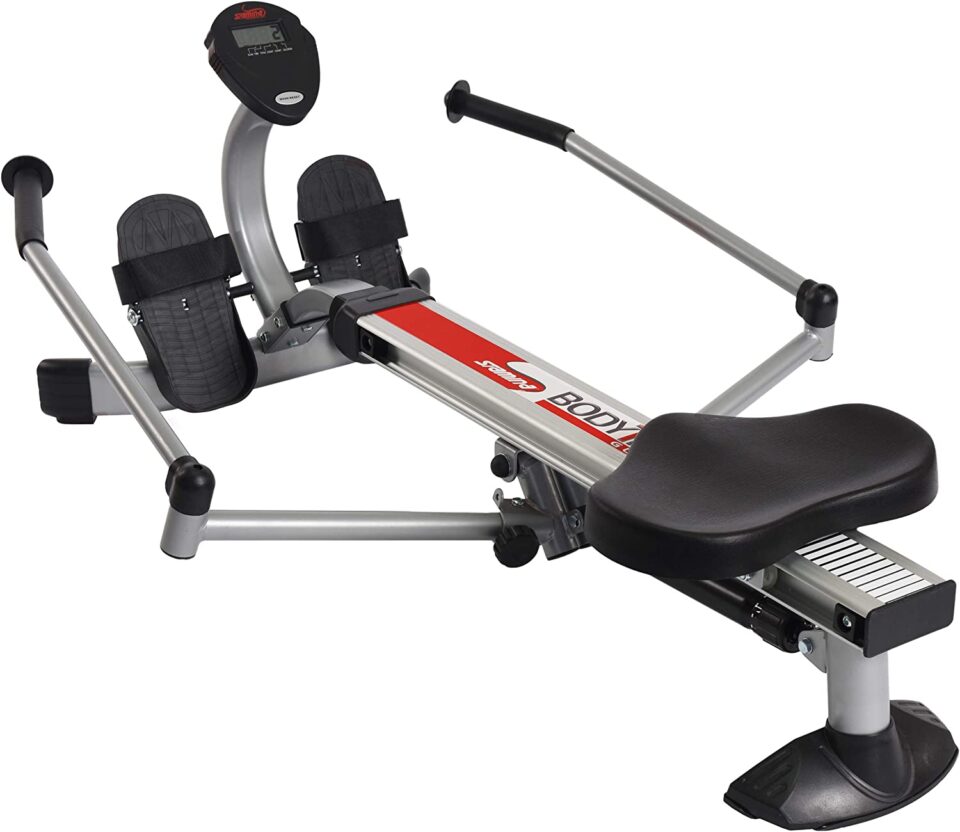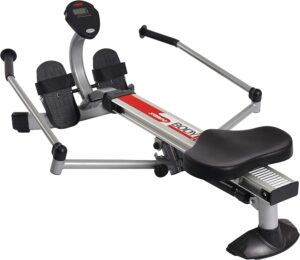 For users who favor compact sizes and as little hassle as possible with storage and moving, this hydraulic resistance rower is the best option possible. It measures 58.25 x 42.5 x 18.13 inches when unfolded and it is also very light at 37 pounds. Its weight capacities moderate at 250 pounds. It is not for the tallest of people as it has a limit of some 6 feet, but this adds to its compactness for smaller rooms.
Instead of the classic pull handlebar, this model has full-motion arms. The movement is very smooth that eliminates bumps (hang-ups) for a more efficient workout every time. The hydraulic resistance is quiet enough never to bother you and the arms can be folded for easy under-the-bed storage. Comfort could be better as the padded seat is not the best.
The footpads are large and textured with adjustable straps. The beam is aluminum which makes it so light and there are caster wheels included. A very space-friendly and portable indoor rower, it is all one needs if the space is limited and ease of use is prevalent.
Pros
Compact and lightweight
Foldable and easy to store
Sturdy, smooth, and quiet
Cons
Not for tall people
Non-traditional handles are not for everyone
4. Merax Magnetic Rowing Machine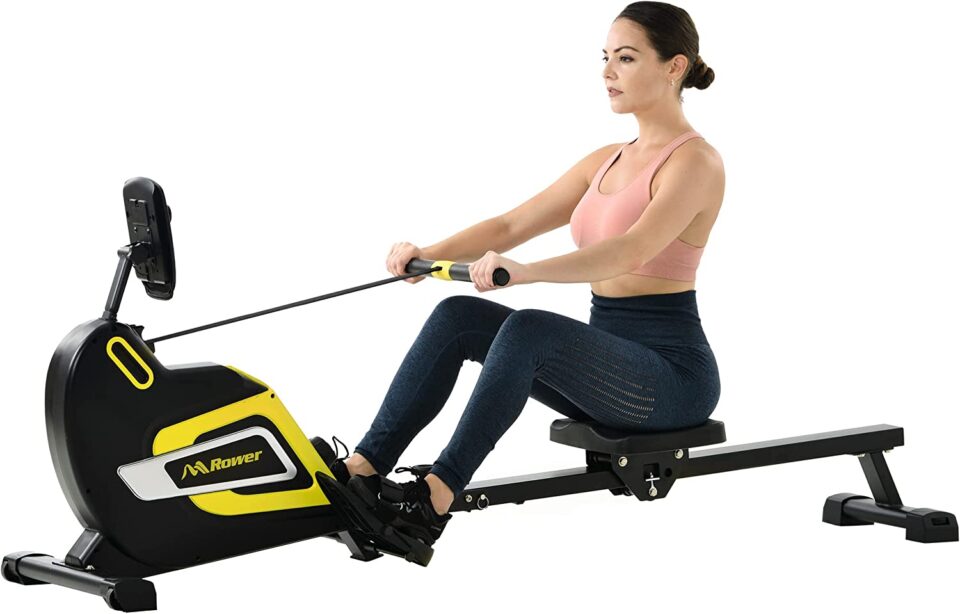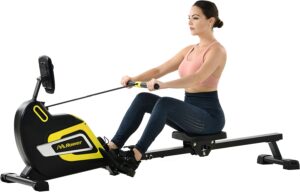 There is no point in saving it for later: this is the quietest machine on our entire list. Weighing only 37 pounds, it is also the lightest (together with the previous model). When unfolded and ready for use, it measures 73 x 16 x 21 inches. When folded for storage, it is 26 x 49 x 16 inches. It has 8 resistance levels, it is a magnetic resistance model, and it supports up to 264 pounds.
Whether or not you have paper-thin walls and rough neighbors or you just want peace and quiet as you exercise, this machine allows it. Do you have people sleeping when you work out? Worry no longer. The magnetic resistance is so quiet you would not believe it. Its frame is steel and very durable, and the whole machine is sturdy and easy to fold to stow away.
On the comfort front, it is also hard to beat this model. It has large pivoting pedals, Velcro straps for the feet, and a padded and cushioned seat. The handle has rubber grips for a solid but comfy hold. Overall, this is a very versatile rower that focuses on a lightweight design, comfort, and quietness. What more can you ask for from a machine meant for home use?
Pros
Very comfortable (seat, handle, footrests)
Stable, sturdy, strong, but light
The quietest on the list
Cons
No backlight or pulse tracking on the screen
5. Driftwood Water Rower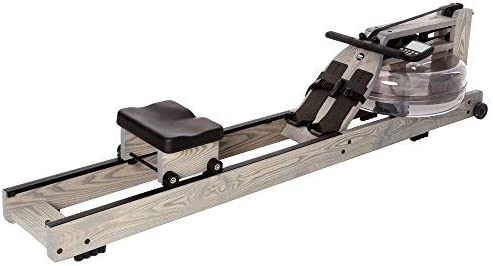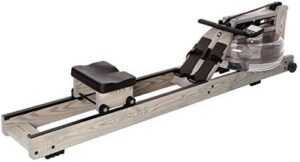 Last but not least, we have a rather big and heavy machine that is definitely not for everyone. As far as water machines go, this one is among the quietest out there, but it is still louder than most on the list. However, it makes up for it on other fronts. First, it is made of wood and it looks stunning. It is without any doubt the most beautiful, elegant, and appealing of all. Although not foldable, it can be put in an upward position for easier storage.
It weighs 108 pounds, very heavy indeed, but it supports 1000 pounds of capacity. It is perfect for taller users and it has a patented water flywheel. Workouts are smooth and consistent and there is a backlit S4 monitor with calories burned, speeds, times, and lots of other features. The machine is handcrafted and made of ash hardwood, long-lasting, stable, and sturdy. Unfolded, it measures 83 x 22 x 21 inches.
Pros
Quiet for a water machine
Beautiful and elegant wooden construction
Amazing weight capacity