Trying to learn how to deadlift on a Smith machine but can't find a decent guide? Don't worry, though. We got your back.
We know how difficult it can be to get into deadlifting—especially if you have no previous experience working out.
Making a small mistake can hurt your back permanently. So, you have to be careful.
We've made a simple guide about deadlifting on a Smith machine to make things easier.
Furthermore, we have three Smith machines you could get if you're building your own gym.
Smith Machine Deadlift Benefits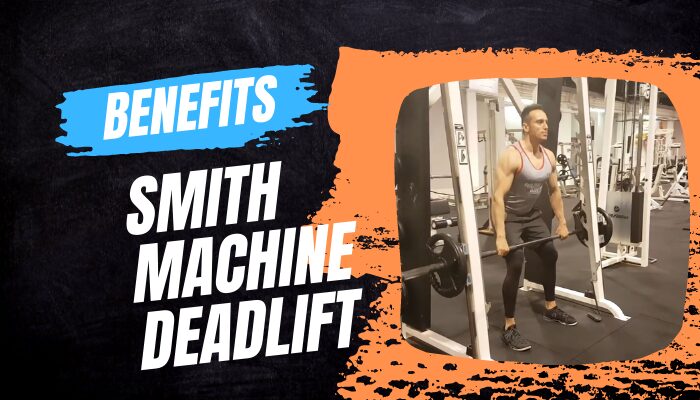 You Don't Need a Spotter
If you hate asking for a spotter, you'll love a Smith machine. It has safety hooks, which hold the bar if you get stuck lifting.
Beginner-friendly
Lifting free weight can be terrifying for beginners as they might hurt themselves.
While a Smith machine is not bullet-proof, it's good enough for beginners to avoid significant injuries.
It Boosts your Self-Esteem
Injuring yourself when working out lowers your self-esteem since it makes you feel as though you're not making progress.
On the other hand, a Smith machine will make you feel good about yourself as it's relatively easy to use and make progress.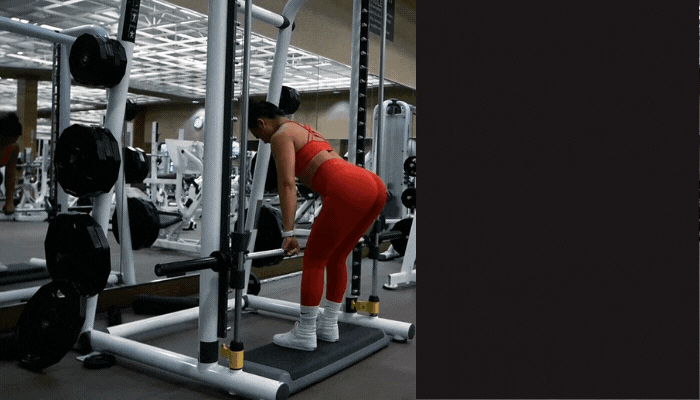 It's Great For Your Upper Body
As much hate as Smith machines might get, they're still pretty useful if you're trying to get more muscle definition.
Bubble Butt
If you want to add mass to your butt in no time, the Smith machine-only booty workout is perfect for you.
You Won't Skip Leg Day Anymore
For many, working on your legs seems like a tedious task, and we can't blame you.
However, using a Smith machine is relatively easy and motivates you to work on your legs.
How to Deadlift on A Smith Machine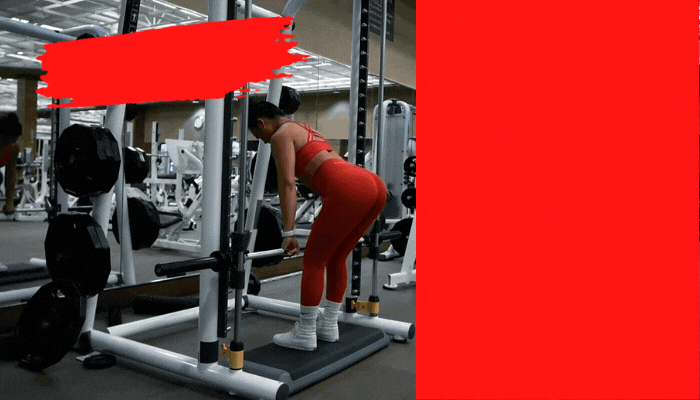 Before getting started, you should know a couple of tips to deadlift on a Smith machine like a pro.
Skipping these steps can lead to major injuries, so make sure to read from top to bottom to stay safe.
01. Safety Hooks
Before deadlifting on a Smith machine, become familiar with the hooks on it. They will help you catch the bar if you get stuck.
Simply twist the bar forward to rack your bar back up. Untwist your bar, and it should be free again.
02. Watch Out For the Direction of the Track
Take a closer look at your Smith machine. It probably does not go vertically perfectly. Instead, it is angled slightly.
As you go down, the bar tends to drift away from you, and as you go up, the bar comes towards you.
That said, if your Smith machine is angled, make sure the barbell gets closer to your body. If you don't, your back will feel it.
03. Wear Compression Pants
Having fancy equipment is not necessary for deadlifting. It does help, but what matters most is your position.
Still, you should always avoid wearing shorts. Instead, wear compression pants. That way, you will not hurt yourself when lifting the barbell.
04. Deadlift Shoes
Shoes are going to be an essential element when deadlifting on a Smith machine.
Always wear flat-soled shoes as they provide the best support for deadlifting.
For example, wearing running shoes might make you feel uncomfortable when deadlifting.
Steps to Deadlift in a Smith Machine


Now that we're on the same page, follow these steps to understand how to deadlift with Smith machine:
1. Start with the Lightest Weight Possible
If you're just getting started, we suggest starting with the lightest weight possible to avoid possible injuries.
As you feel more comfortable with the movement, increase the weight — that is, if it does not comprise your form.
2. Achieve the Correct Form
When doing deadlifts, make sure that your feet are shoulder-width apart, and your toes should be pointed straight forward.
3. Place Your Hands on the Barbell
Drop your arms straight down. When placing your hands, place one hand over and the other under the barbell.
Your hands should be outside of your legs when holding the bar. They shouldn't be too far away, but they shouldn't be in the same direction as your legs are pointing.
4. Lift the Barbell
Now spread your chest and stick your butt out. Next, take a big breath in, inhale, and hold it. Now stand up, and then exhale.
When lifting the bar, the only thing that should raise is your chest. Do not raise your butt, or you will hurt yourself.
5. Slowly Drop The Barbell
Bend at your hips and slowly drop the barbell. Now repeat it all over again. If you got stuck somewhere, we suggest watching this awesome.
3 Best Smith Machines for Deadlifts
Need a Smith machine but can't find one after scrolling through countless machines on Amazon? Then check our three best picks:
01. Deltech Fitness Smith Machine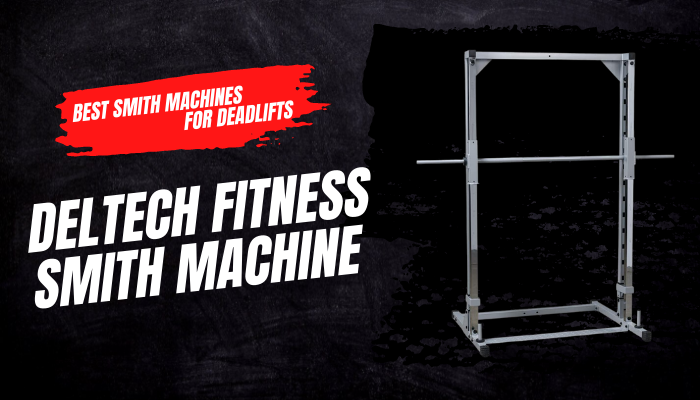 Highlighted Features
Steel bar
Adjustable bar
Solid lifting bar
700-pound capacity
Trying to put some muscle on your body but can't find a decent Smith machine that allows you to do so? We got you. Deltech Fitness is our top pick for working out on the weekend.
With a maximum capacity of 700 pounds, this is the perfect Smith machine for those bodybuilders trying to push their limits.
Furthermore, this model is an excellent option if you're a beginner. It has safety hooks, which allow bodybuilders to hook the bar onto them, preventing major injuries when working out.
Better yet, if you're trying to go super heavy and don't have a spotter, you can hook the bar onto the safety catches to help you out if you get stuck.
The bar does not move forward or backward. Instead, it just moves up and down, meaning it'll keep you stabilized when doing squats or working on your upper body.
For beginners, this comes in handy as they might suffer injuries.
"As much as we love this model, we wish they would've added a bench press. Unfortunately, this brand did not include one, meaning you need to purchase it individually. Other than that, this is the perfect Smith machine."
Pros
Easy to use
Perfect for working on upper body
No need to ask for a spotter
Has safety hooks
Cons
Does not include a bench press
02. Body-Solid SCB1000 Smith Machine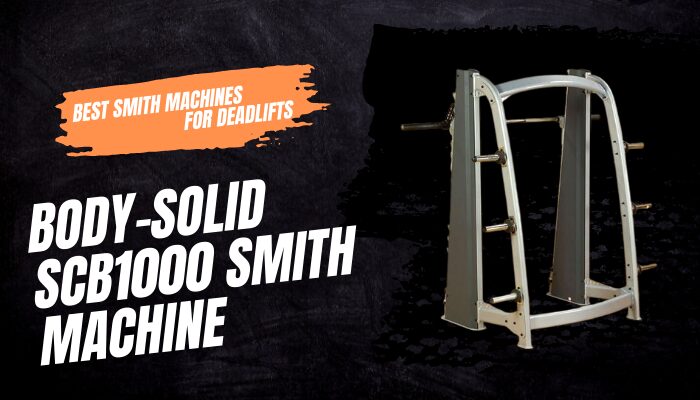 Highlighted Features
Adjustable bar
Safety hooks
Olympic-sized plates
Steel bars
Body-solid is one of the most well-known brands in the fitness world, and there's a reason for that.
They know a thing or two about building muscle using a Smith machine.
Working on your body with this machine feels pretty comfortable. The bar moves up and down, eliminating the need for a spotter.
Furthermore, it won't move backward or forward as you're working out.
Unlike the previous machine we just went through, this one can handle up to 1,000 pounds, making it an excellent choice if you're trying to go super heavy.
Furthermore, we love how versatile this machine is. You can either do squats or work on your chest as long as you have a bench press.
We'd say it's pretty small in terms of size, but this makes it an excellent choice if you're setting up your own gym at home.
"Don't get me wrong, this machine is pretty good, but they had a hard time explaining how to set it up. It'll take several hours before you can get this thing up and running. Other than that, it's pretty good."
Pros
Makes lifting comfortable
Safe to use for beginners
Can handle up to 1,000 pounds
Built-in storage for weight plates
03. MiM USA 1001 Smith Machine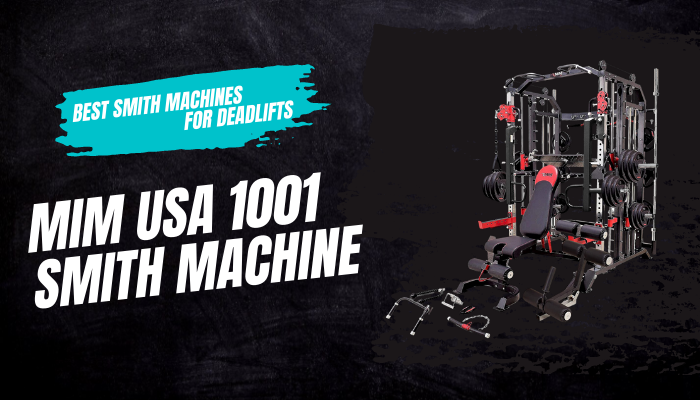 Highlighted Features
Storage compartment
Steel-bar
Adjustable bench
Vertical leg press
If you need one of those Smith machines you see in professional gyms, then you'll love this model from Mim USA.
Although it's more expensive than the previous ones, it's worth the money if you want to step up your game.
This is the ideal Smith machine for design if you want to get the perfect training session. It has everything that you need to work on your body.
Like the previous machines, you don't need a spotter. It has linear bearings, meaning you can move the bar up and down freely.
If you get stuck, simply hook the bar onto the safety hooks, and you're good to go.
Better yet, this machine includes an adjustable weight bench, meaning you can work on your upper body after doing some legs.
Although this machine might look hard to assemble, they've included a set of instructions with everything you need to set it up.
"Unfortunately, this Smith machine does not include any free weight, a little bit disappointing considering the price tag. But if you don't mind that slight inconvenience, you'll love this model."
Pros
Professional Smith machine
Includes storage for barbells & weight plates
Easy to set up
Cable length can be adjusted
FAQ's About Deadlift With Smith Machine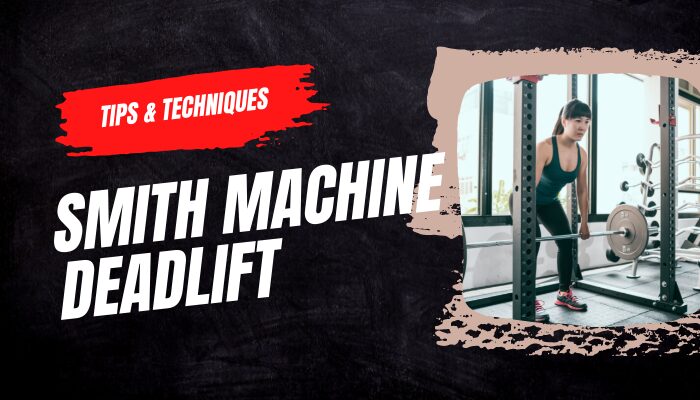 Need more information on how to deadlift on a Smith machine? Then check this out:
Can you deadlift on a smith machine?
Yes! You can deadlift on a Smith machine if you can't deadlift without it.
Is Deadlifting on a Smith machine bad?
There's a lot of controversy around the Smith machine. You either hate it or love it. But as much hate, as it might get, we still believe that it's better than no squats at all. Sure, it's nowhere as effective as free weight, but it's good enough if you're getting into deadlifting.
Are you allowed to deadlift at Planet Fitness?
No, you cannot deadlift at Planet Fitness. If you have heard about this company, you probably know that they hate obnoxious loud sounds. Unfortunately, deadlifting can be noisy, and it will trigger the alarm they have. Instead, use a Smith machine.
Is it bad to squat on a Smith machine?
No, it is not harmful to squat on a Smith machine. Squatting on a Smith machine is an excellent option for you to grow more comfortable with standard squats. It's not the most efficient way to work on your body, but it's perfect for beginners.
Why are deadlifts not allowed in some gyms?
Unfortunately, some people don't understand that gyms are meant to be loud. And as you would expect, deadlifting is pretty noisy and can be disturbing for some customers. As a result, gym owners have taken strict actions against deadlifting.
Does deadlift reduce body fat?
Yes! Deadlifting will reduce your body fat. It's one of those exercises that will rapidly improve your body.
Pros and Cons of Smith Machine Deadlift
Pros
Aesthetics — if you care about mass and aesthetics, go crazy on a Smith machine. It's one of the easiest ways to get more muscle definition.
Great for building back and leg muscle — another great thing about deadlifting on a Smith machine is that it's great for defining your back and legs.
It is easy to use — you don't need to be a professional bodybuilder to use a Smith machine.
It is not as loud — many gyms hate deadlifting as it can be super loud. Meanwhile, Smith machines are nowhere as noisy as lifting free weight.
Cons
You're missing a big part of the game — many bodybuilders hate Smith machines. It feels wrong and almost feels like cheating on your body.
You won't make as much progress as lifting free weight — part of the reason bodybuilders prefer free weight is that it actually follows your body's natural movement, which allows you to make more progress.
It can be expensive — getting a Smith machine can be pretty expensive considering that you won't make as much progress as you'd do lifting free weight.
Verdict
Had fun going through our how-to deadlift on a Smith machine guide? We hope you can now comfortably deadlift at your local gym. But remember, don't let pride take over.
We know how easy it is to get carried away, but you shouldn't try to lift more than you can.
It'll ruin your posture and possibly damage your back even if you're working on a Smith machine. As long as you follow all our steps, you will be OK.
Also, any of the three machines we covered above were carefully chosen.
We did plenty of research and figured they'd be the very best for anybody who wants their own Smith machine.
Take a look at these Smith machine from Amazon also: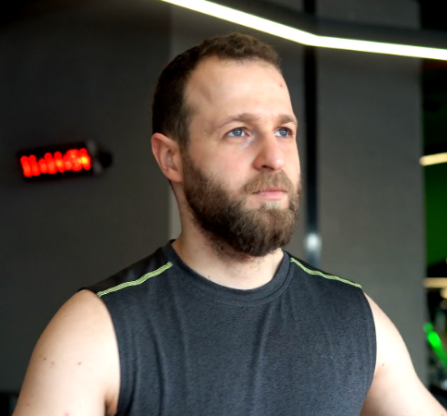 Working out is my life. I love to help others see the potential of their bodies as they transform into their best selves.