Working out, exercising, being active, going to the gym… all of these are just different names and terminology for one and the same activity.
Being healthier means being physically active and the most popular way to do so in the modern world is to join a fitness center like a gym and start regularly exercising there. However, it is not the only way. More and more people are willing to purchase exercise machines and/or equipment for their workouts at home.
Whatever the case, one thing is certain. The machines you are using need to be of high quality, offer proper workouts and be comfortable and suitable for your physique and preferences.
In this article, we focus solely on the exercise of rowing. What was once a means to propel ships and boats and used in warfare, exploration, and fishing is today a very beneficial cardio exercise.
It engages numerous muscle groups at once and is a fan favorite. In order to do it, you need to know about the indoor rower, or a rowing machine, which is what we talk about as well.
Rowing as a Modern Exercise
Rowing is a popular exercise because it offers a full-body workout that engages multiple muscle groups at once, on top of being an amazing cardio workout.
It is also a low-impact exercise, unlike many other cardio activities, and it is very easy on the joints. This makes it suitable for people of all ages and fitness levels, even those with injuries and chronic pain.
Rowing primarily engages the muscles of the upper body including the upper back, shoulders, arms, and chest.
However, it also involves the lower body and engages the lower back, legs, glutes, and core muscles. This means that it provides a comprehensive workout that can help improve strength, endurance, and cardiovascular fitness all at once, something that cannot really be found elsewhere.
In addition to being such an effective overall workout, rowing is also popular because it can be done in a variety of different settings, including both indoor and outdoor. Indoor rowing machines, also known as ergometers or ergs, are found in every gym and fitness center.
They can also be purchased for home use, either as solo machines or as parts of home gyms. Outdoor rowing is the real deal and practically a completely different experience, but you do need a body of water like a river, lake, or ocean.
When done on an indoor rowing machine, rowing is done while sitting on a sliding seat and pulling a handlebar towards the body while pushing with the legs. This motion simulates the movement of actual rowing and engages the muscles in a way similar to the real thing.
Some indoor machines come with features like adjustable resistance levels, interactive screens, and heart rate monitors, which make them versatile and customizable workout tools.
Overall, rowing is a very popular and widely sought-after exercise due to its effectiveness, versatility, and accessibility.
It is incorporated into most workout regimes and fitness routines for its overall effect on the body. Such a full-body workout helps improve strength, endurance, stamina, and cardio and it is great for people who are looking for a low-impact high-intensity workout.
A Good Brand Makes All the Difference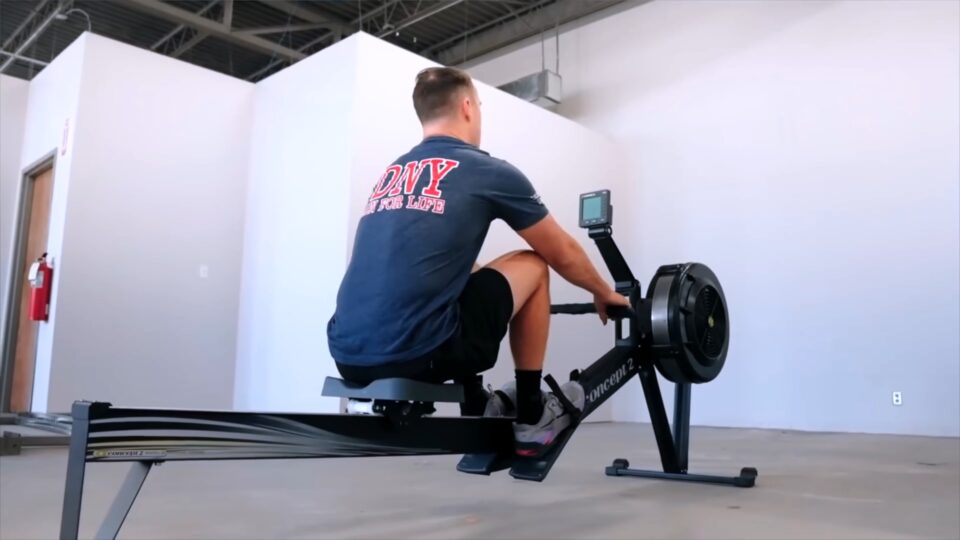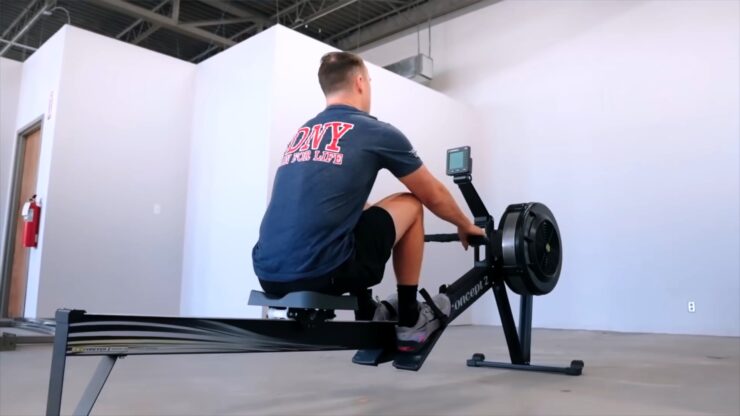 So now that you are more familiar with the activity and the machine it is done on, let us turn our focus to one of the best fitness brands that make indoor home rowers.
Bowflex is a brand of fitness equipment first introduced in 1986 by Nautilus, Inc. The brand is best known for its recognizable home gym equipment, particularly the resistance-based machines that use patented Power Rod technology to provide resistance.
The Bowflex line of products includes a wide range of home gym equipment like treadmills, ellipticals, dumbbells, and adjustable benches.
Their most popular product however is the Bowflex Home Gym, a versatile and adjustable machine that allows users to perform over 60 different exercises using a single machine.
Their resistance-based technology is made to provide a smooth and natural feeling that is similar to free weights. The Power Rods, the heart of all of their systems, are made from a high-tech composite material that offers resistance without the need for constantly changing bulky weight plates.
The Bowflex brand has gained popularity among people who want to work out in the comfort of their homes, particularly those who have limited space or prefer the convenience of never leaving their homes for the gym. The brand is famous for its innovative and effective products and the high level of customer service and support.
Under the Nautilus brand, Bowflex is actually one of three different companies. There are also Schwinn and Universal companies that together with Bowflex make up the bulk of Nautilus' range of products.
Overall, this is a well-respected brand in the fitness industry whose products have helped many people achieve their fitness goals from the comfort of their own homes.
Our Top Picks of Bowflex Rowing Machines
Bowflex has a few different products that allow the user to row. They are not necessarily rowing machines as you may expect them to be, but rather complete home gyms.
Rowing is simply one of the exercises that can be done on them, making them the ultimate solution for anyone serious about fitness from the comfort of their home.
There will be a single rowing machine reviewed too, but it is a Schwinn model. Since it is also under the Nautilus umbrella, we decided to include it anyway.
1. Bowflex PR 1000 Home Gym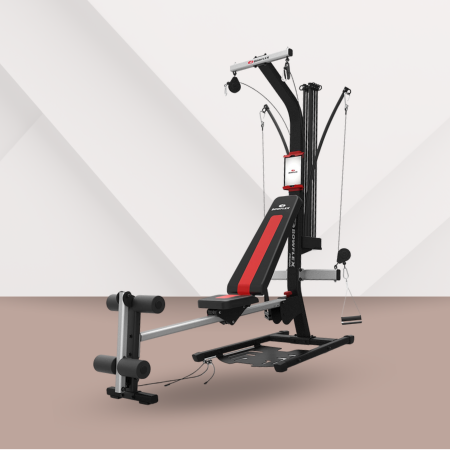 Right now, this is one of the most popular Bowflex products overall. You simply cannot go wrong with a contraption like this that allows a full-body workout in so many different ways. Those who decide to purchase this home gym will never have to go to a fitness center again because of the number of exercises that can be pulled off on it.
Weighing 144 pounds and measuring 103 x 80 x 82 inches, it is not a small machine. However, it is an entire home gym that allows you to do more than 26 different exercises that cover the entire body.
The Power Rod resistance is more than 200 pounds, more than enough for all of the exercises. While some of the more experienced fitness enthusiasts could end up wanting more, it is a nice above-average weight.
The PR 1000 has multiple cable pulley positions that allow easy changes of angles and resistances. All of the exercises are effective and the position you do them in is comfortable.
The bench converts to a rolling seat, which is how the machine becomes a rower. You then simply take the cables and do the usual rowing motion like anywhere else.
The machine also looks cool and modern. It is mostly black with some red, white, and silver details. It will turn any room into a fitness fan's dream home gym in no time. When it comes to muscle groups that can be exercised, it is a neverending list.
Rowing engages the usual muscles like any other, including the legs, arms, back, and core. Other useful exercises include leg extensions, hamstring curls, kickbacks, bench presses of all kinds, lat pulldowns, bicep curls, tricep pushdowns, lateral raises, shrugs, abdominal crunches, trunk rotations, and oblique crunches. Overall, a very sturdy, strong, useful, versatile, and affordable machine for home use.
Pros
Sime yet effective design
Affordable
Versatile and effective
Great rowing potential
Cons
The 200+ pounds of resistance are not always enough
Somewhat limited for advanced users with under 30 exercises
2. Bowflex Blaze Home Gym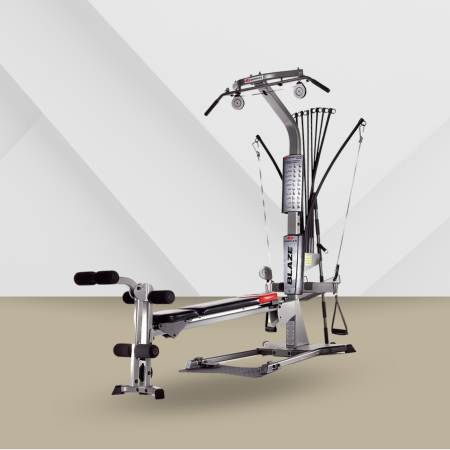 Similar to the PR 1000 and yet quite different, this is a smaller, heavier, and more versatile home gym machine. It is a strange combination of numbers when compared to the previous machine, but it makes sense in the long run.
First off, the machine itself weighs 191 pounds which is quite heavy. However, it only measures 90 x 38 x 83 inches. When folded, it is 52 x 38 x 83 inches.
In terms of Power Rod resistance, it is the same as the PR 1000 at around 210 pounds max. However, it is upgradable to 310 pounds and even 410 pounds.
Features like this are always welcome for the more advanced users to pick and choose what they need. More than 60 different exercises can be done on it meaning a full body workout in the comfort of your home.
When it comes to rowing, the seat slides on a rail and allows great aerobic rowing and leg presses. There are plenty of cable pulley potions for custom workouts where you want to isolate and target specific muscles.
The lat and squat bar comes in the package and so do the triple-function hand grip ankle cuffs. The machine also has wheels for easier storage and movement.
Pros
More than 60 exercises
Compact size, great design
Upgradable resistance options
Great rowing potential
3. Bowflex Revolution Home Gym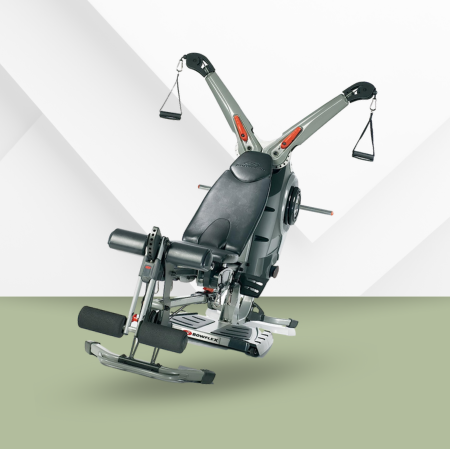 Although officially discontinued, it is still widely available for purchase. An older model than the previous two, it is a much smaller yet much heavier home gym solution that has its own benefits.
A different model from the previous two, it is aimed at a slightly different customer base. This home gym is not as tall and it looks like a usual rower on steroids. Despite this, you can do as many as 100 different exercises on it.
This is one heavy home gym at 230 pounds. However, it is quite compact at only 3819 x 72.83 x 64.96 pounds. It looks cool and modern thanks to its black and silver colors with a few red and white details. Revolution uses the SpiraFlex technology that works independently of gravity.
This provides resistance without inertia, very important for a bunch of different exercises. It also has independently moving arms with 10 positions and 170 degrees of adjustment.
Like the other two, the bench can do so much. It sits on top of a railing where you will be doing all of your rowing. The bench also folds vertically for easier storage and a few exercises that can be done while it is up.
Overall, it is an older model by the Bowflex brand and it makes use of some classic solutions like the oval weights that are removable. However, it is an amazing machine with more possible exercises than you will know when to try out.
Pros
Amazing range of 100 possible exercises
Great resistance of 600 pounds
Good for advanced users and novices alike
Cons
Very heavy at 230 pounds
Very expensive compared to others
4. Schwinn Crewmaster Rower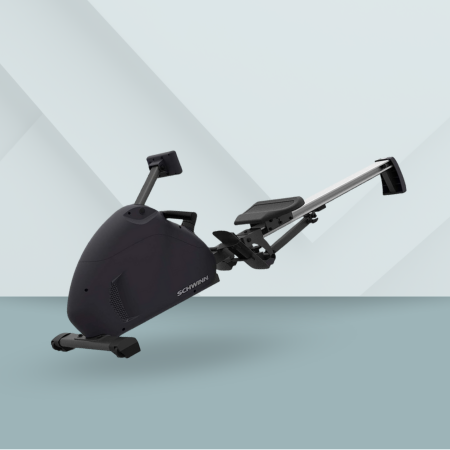 Last but not least, the already-mentioned classic rower by the sister brand Schwinn, one of the companies just like Bowflex that are owned by Nautilus.
If you do not want an entire home gym or lack the space for anything bigger, this classic indoor rower will do you great. All black and with a magnetic resistance mechanism it is a cool and quiet option to palace anywhere in the house.
The machine is 10.5 x 57.5. x 38 inches and it weighs just under 100 pounds, a compact solution for smaller apartments and narrow rooms. The maximum weight capacity is 300 pounds and it has 10 resistance levels. There are transport wheels for easy movement and it is foldable for storage.
The Crewmaster has a tilting adjustable backlit LCD that displays time, count, distance, strokes, calories, recovery, and pulse. The display runs on 2 AA batteries that are included in the package.
It is very comfortable thanks to the oversized saddle, oversized deluxe pedals, and padded handle. Best of all, it is affordable. Overall, this is a great indoor rower that will last you a long time and allow you to get in shape in no time.
Pros
Affordable
Simple design, easy to store
Quiet magnetic resistance mechanism
Conclusion and Takeaways
As you can see, the Bowflex (Nautilus, Schwinn, etc.) brand has some truly amazing products for home fitness. No matter if you are an avid fitness freak or a beginner who wants to develop a workout routine, these four amazing machines are all viable choices.
All that is left to evaluate is your personal preferences and whether or not you need the individual benefits and features that they come with. One thing is certain: whichever one you choose, you will be rowing without the need to leave your home for years without any issues.