With all the different quality brands of shoes out there, you might be interested to know why nearly every gym person will swear by their Converse shoes for their daily workouts. In this article, we'll give you insight into Converse shoes and why they are preferred by trainers – especially lifters.
Why do people wear converse to the gym?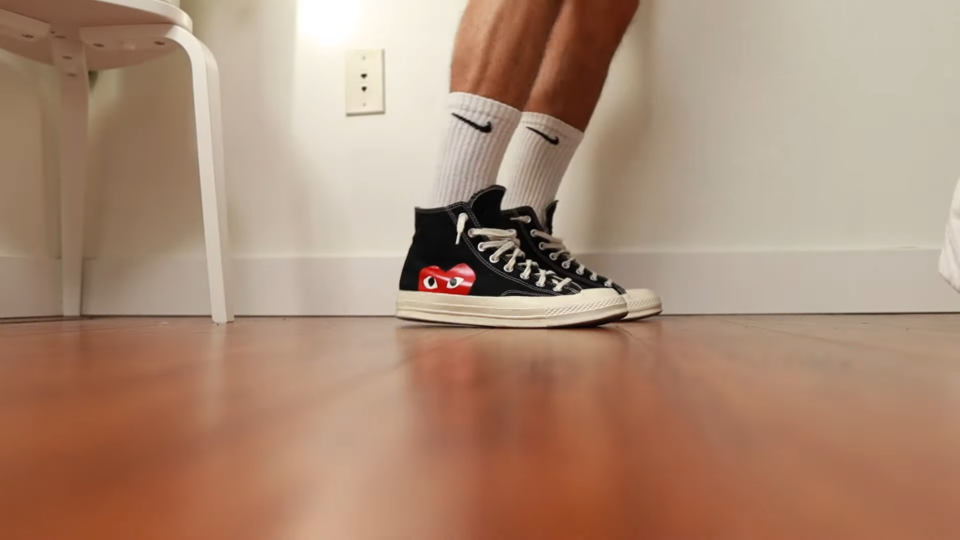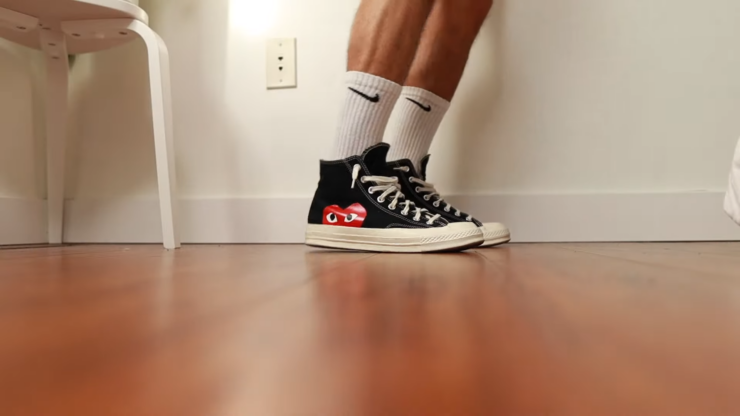 Here are the reasons why gym goers, trainers, and lifters alike wear Converse shoes when they do workouts:
Better grip and traction
This is especially true for weight lifting – you get a ton of traction and grip whilst wearing Converse shoes in general. They have this specific design underneath – their outsole was meant for clinging onto something (the ground, in this case) while helping you keep your balance and form.
You will mostly feel the benefits of wearing Converse to the gym during leg workouts and less likely during upper-body days. Either way, grip, and traction translate to safety during your lifts as well as other leg-related exercises.
Aside from that, Converse shoes typically have flat outsoles. This means you get the additional traction that you need. It's not just the design of the rubber outsole but also the flatness that makes it more suitable for lifting and gym exercises compared to other shoe brands.
If you are doing push-and-pull workouts, Converse shoes provide excellent grip to help you push your body better and in a safer way. They are also suitable for low bar squat exercises due to the traction that they provide.
They're budget-friendly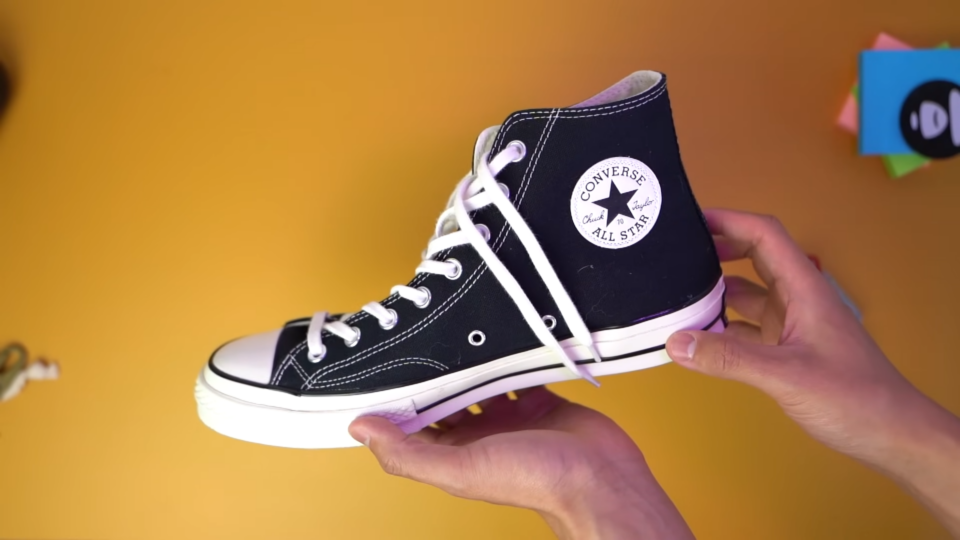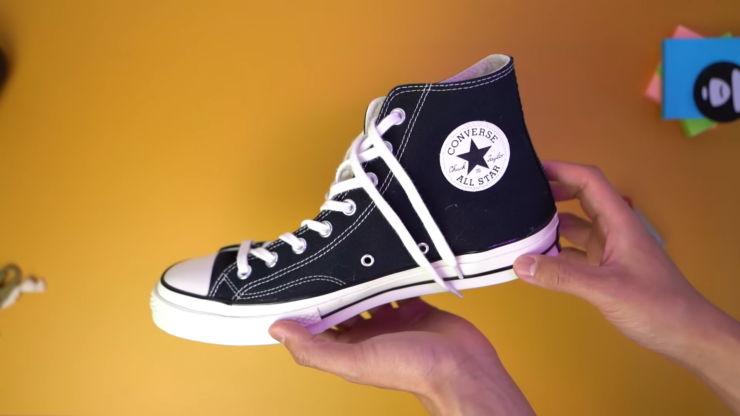 Compared to most quality shoe brands, Converse is slightly more affordable without compromising quality so you can use them for your daily workouts. They can be used for 2 to 3 years depending on your needs.
If you are looking for a great gym shoe brand then you can't go wrong starting with Converse. Even though they are a mainstream brand, Converse just does the job when it comes to most gym workouts – specifically involving lifting.
Converse shoes are especially good for beginners or those looking to return to the gym after a long hiatus. You don't need to spend hundreds of dollars just to get the perfect shoe for an everyday workout – maybe except if you are already at a professional level.
Converse shoes can even be cheaper than your fancy work, running, or party shoes, which makes them a fan favorite for people around the world. The bottom line: Converse shoes aren't as flashy or as cool as other professional workout shoes but if it works, then it works!
Less cushioning, better lifts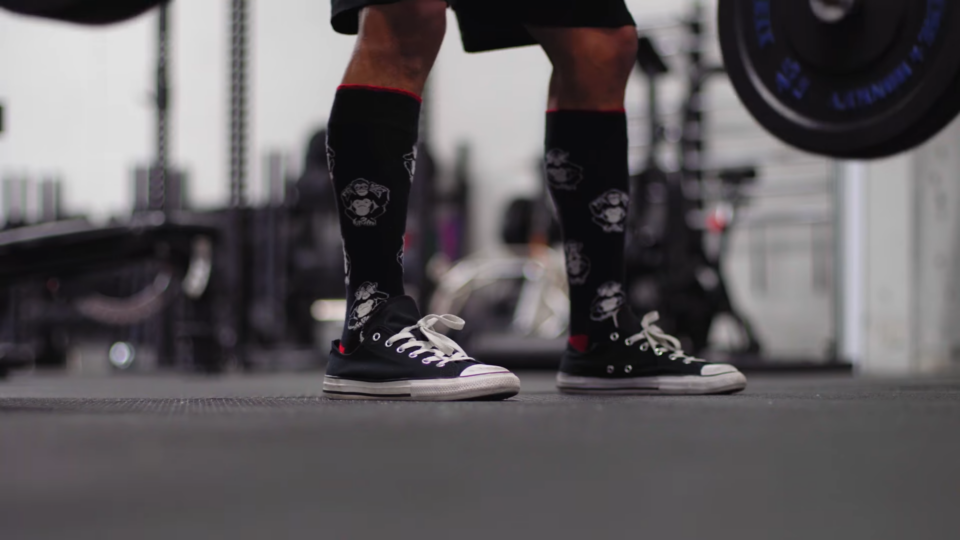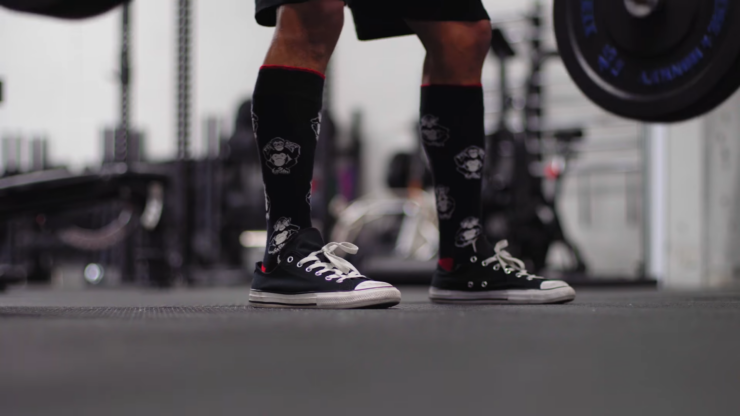 If you are into deadlifting, the last feature you want from a shoe is cushioning. While cushioned shoes are great for all-day running, they are a nuisance when it comes to deadlifts and squats. That's because you are losing connection with the ground.
The instability in holding weight is a common error when you're lifting with shoes that have too much cushioning. With Converse shoes, that won't be a problem since you will keep your form and your feet closest to the ground, unlike any other shoe brand.
In any lifting exercise, the connection to the ground is very crucial, so having both a flat shoe and a low-cushioned shoe is hitting two birds with one stone. Converse shoes seem to do just the trick – by providing you with sufficient traction and connection to the ground to maintain balance.
They are simply comfortable
Most of the Converse shoes in the market that are meant for the gym are typically breathable and made with lightweight material, such as canvas. This means that you will less likely feel discomfort after a hard training session or a hot day.
If you find that your weightlifting shoe is just too uncomfortable after a session of deadlifts, you might want to change it to Chucks instead. Due to the material and the design, they provide sufficient comfort for nearly every gym person.
Comfort is a huge factor when you want to train at the gym and perform your workouts. With a comfy pair of shoes, you won't maintain good form and you will also feel too fatigued at the end of the day. Save your feet from discomfort while keeping in tip-top shape by buying a good pair of Converse shoes.
Converse shoes are everywhere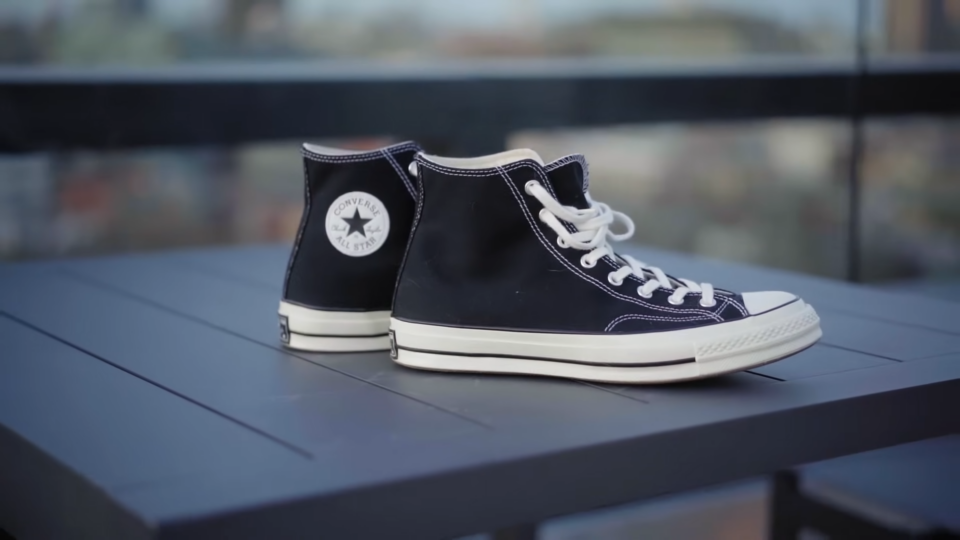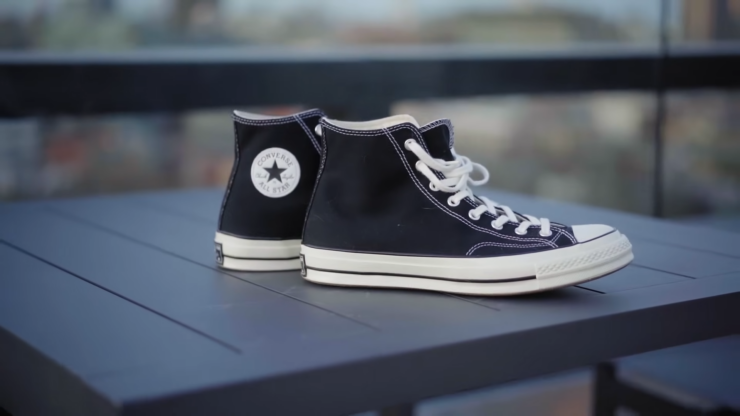 We already mentioned before that it is one of the most popular shoe brands in the world. One great reason to buy Converse shoes for going to the gym is that they're widely available. They cater to all kinds of people and fitness levels so you are bound to find a style and size that best suits your needs.
You have no excuse to not get into the gym due to a lack of budget for shoes because Converse Chucks are almost anywhere – online and in-store.
A variety of colors and styles
Converse shoes aren't just simple and monotonous – you can choose from a plethora of styles that match your aesthetic. If you simply don't like your regular weightlifting shoes because they look weird and unfashionable, why not try Chucks?
What people like about wearing Converse when going to the gym is that they don't have to pack another set of shoes just to have something that suits workouts better while keeping their preferences for their style on point.
They help in squat exercises
If you need to do squat workouts but for some reason, you aren't allowed to go barefoot at the gym, why not try Converse shoes? They are about as close as you can get to the ground because they don't have enough cushioning unlike other types and brands of shoes.
Either way, Converse shoes are also suitable for nearly any workout that involves a better connection with the ground. Anything slippery could not only put you at risk for accidents but will also tend to ruin your form.
Best Converse Shoes for the Gym
Now that we know why people wear Converse going to the gym, let's take a look at some worthy choices if it's your first time shopping for workout shoes. Here are some of the best Converse shoes to wear for the gym:
1. Converse Unisex Hi-Top Trainers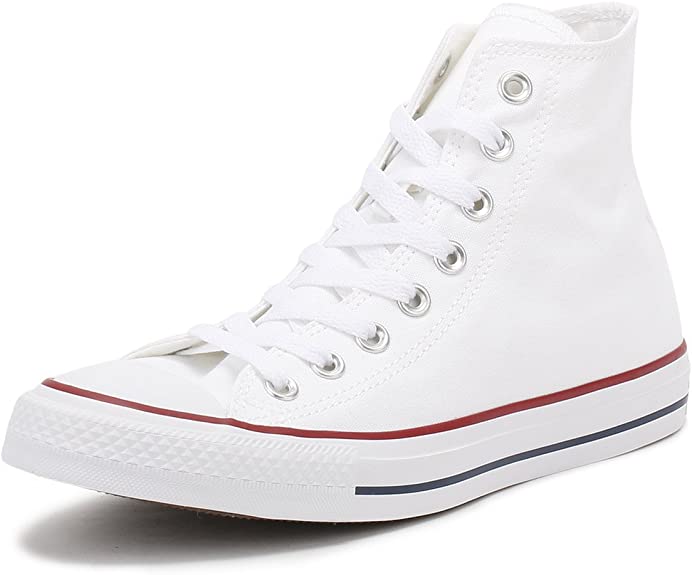 For general lifting, we recommend the Converse Unisex Hi-Top Trainers, which come in a plethora of color and size choices. The design is suitable for powerlifting as it is made with simple yet effective canvas material. Not only do they give off a classic vibe but they provide excellent traction when lifting.
The rubber soles give you a solid grip – perfect for any lifting workout that you need to do. What's more, since the cushioning is quite low, it's not going to keep the ground away from you as you lift, providing stability when you do your workouts.
The colors vary from black to shades of blue, gray, brown, green, and much more – ideal for those who want to combine style and gym-going at the same time. They have sizes for both men and women, as well as both US and UK sizes so you can send one as a gift to your friend or family member.
2. Converse Men's Chuck Taylor All Star '70s Low Top Sneakers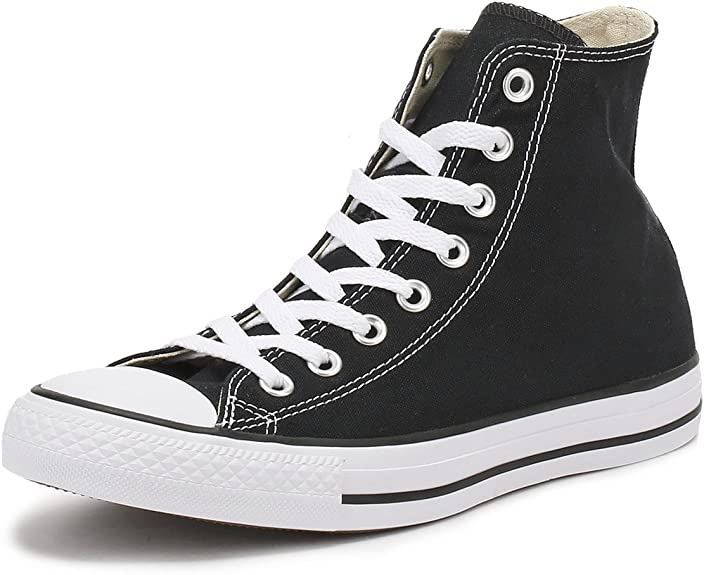 A cult classic and a favorite for most American wearers and gym buffs, the Converse Men's Chuck Taylor All-Star '70s Low Top Sneakers are suitable for both attaining a fashion sense and safe yet efficient lifts at the gym.
They have US and UK sizes for the pair of shoes, as well as a variety of colors to choose from (black, blue, white, and maroon), as well as strong color combinations.
It has a flexible outsole, which is important for attaining powerlifts as well as doing other exercises that require you to bend your feet while gaining traction to the ground. It doesn't have a lot of padding, which is good if you are mostly lifting.
Hailed by trainers for use during leg day, it has a flat feel so that you have a better connection with the ground once you start lifting. It also has good ankle support, which will help you fight fatigue at the end of the day.
3. Converse Men's Chuck Taylor All Star Canvas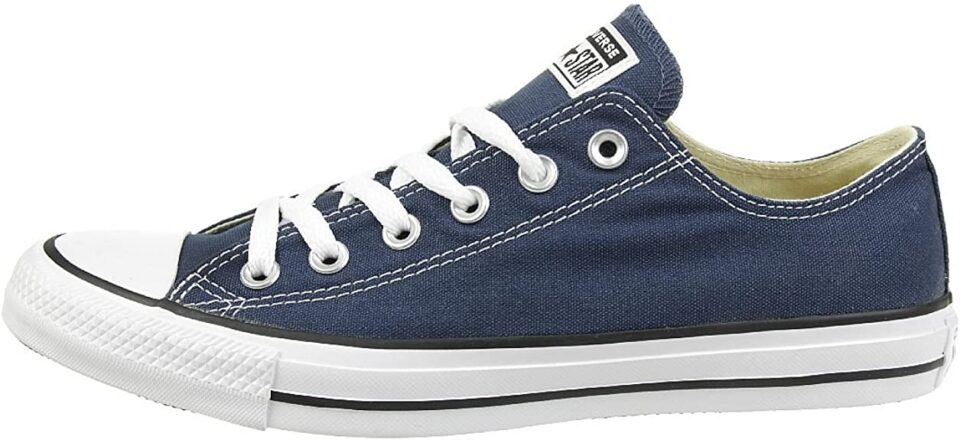 The Converse Men's Chuck Taylor All-Star Canvas is a low-top sneaker for those who want a low-profile shoe for the gym – especially lifting and similar exercises that require traction on the ground. It has a rubber outsole and a combination of synthetic materials for the construction.
Because it has low cushioning, it will be suitable for those who are into deadlifting. You can also use the shoes for other exercises such as squats. The rugged design allows you to feel more flexible throughout the day. Due to the very flat design, it is good for lifting since you can feel the ground better.
They have sizes for EU, UK, and the US, as well as a plethora of color choices such as black, blue, red, white, and more. Since they look very casual and fashionable, you can use them throughout the day aside from going to the gym and doing your lifts.
4. Converse High Top Sneaker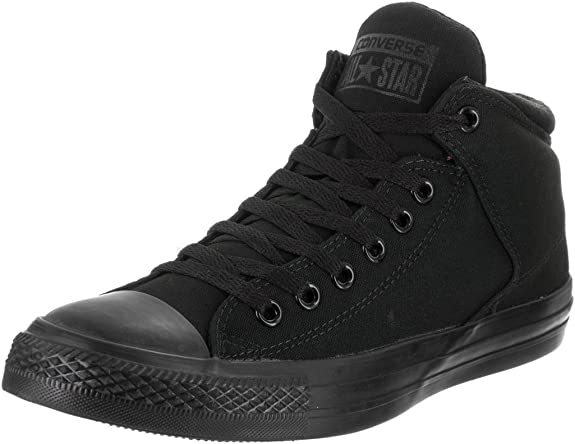 With a wide variety of choices for color combinations and styles, the Converse High Top Sneaker makes great gym shoes even after many washes. Made with cotton twill and leather for the upper material, it comes with a rubber outsole for good traction.
They have size choices up to 13 so there is a lot to choose from. We also like the elastic tongue, which makes putting the shoes on and off easier, which is perfect for when you need a change of shoes throughout the day.
If you like going to the gym wearing shorts, this is a good pair of Converse shoes for you since they not only make you feel more comfortable and protected but also don't make you look too awkward since they are high-top sneakers. Keep in mind that like all Chuck's All-Star models, you should order half a size down since it might run large.
5. Converse Men's Chuck Taylor All Star 1T405 Sneakers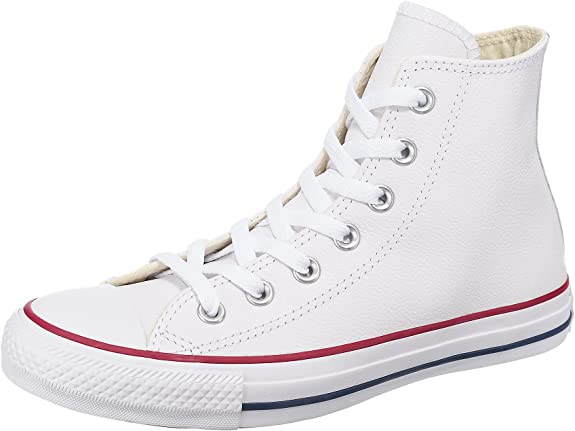 Made with a high-top design, the Converse Men's Chuck Taylor All-Star 1T405 Sneakers are made with pure leather with a rubber outsole. You can choose from black, white, red, and other colors and designs for the shoes in a variety of sizes. They are great alternatives to canvas Chucks.
Since they look very casual, they will work as an all-around shoe that's not just for going to the gym. If you are in a hurry and need to do your workouts right away after work (and don't have time to change), you can simply walk into the gym with these.
Unlike regular Converse Chucks, they can be cleaned easily with mild soap and water thanks to having a leather upper. Since you can take out the orthotic insole, you have room to make it into lifting shoes. Be wary, though, that leather shoes like these need a longer break-in time so be patient.
Conclusion
Always remember to look after your feet each time you exercise because they are the foundation of your form. The right choice of gym shoes will lead to better workouts and a healthier body.
Converse shoes are simply ideal for going to the gym thanks to their overall comfort, budget-friendliness, availability, and flat feel. When you are doing workouts, such as lifting and squatting, you will need a pair of shoes that won't get you down but keep your feet grounded as much as possible.
With that, we end our guide on why people choose to wear Converse shoes when going to the gym. We hope that you consider the choices above the next time you lift at the gym!