I think we can all agree that almost everyone loves the flavor combination of bananas and almonds. This flavor combination is therefore my favorite way to upgrade my standard oatmeal. By throwing bananas into your cooking oatmeal they soften up and sweeten up your whole oatmeal. Love it!
This whole meal can be eaten at any time of the day. But I mostly eat it as breakfast. This oatmeal recipe is super healthy! It is packed with healthy nuts, seeds, fruits and grains. You should try it!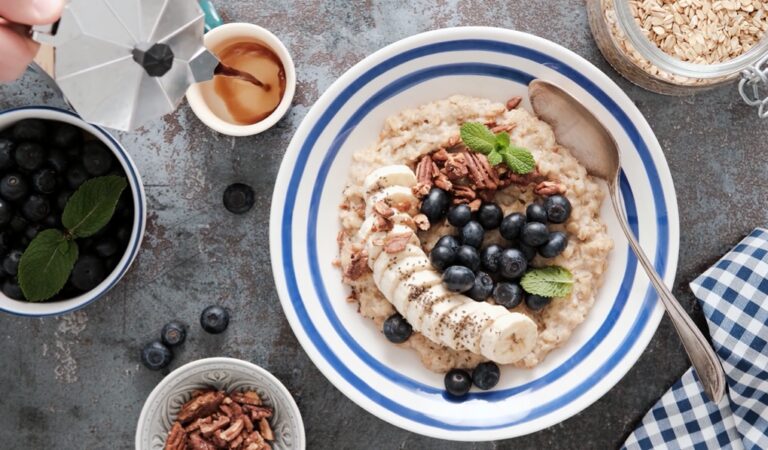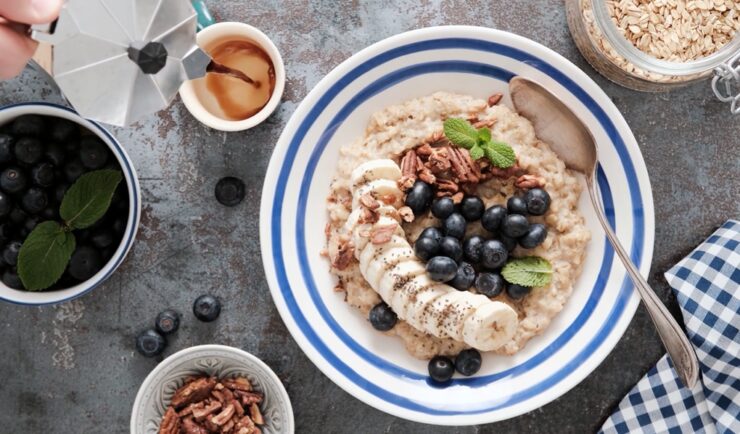 Ingredients
1/3 of a cup of oatmeal (30 grams)
1 cup of almond milk (250ml)
2 tablespoons of peanut butter (30 grams)
Half a scoop of your favorite protein powder (I used soy because it has almost no flavor and blends really well)
1 tablespoon of chia seeds
One banana
3 tablespoons of almond bites (or pecans)
Handful of blueberries

Instructions
Slice your banana
Grab a saucepan and put it over a medium heat
Pour in your almond milk and bring it to a boil
When your almond milk is boiling, stir in the oats and reduce your heat
After 3 minutes of cooking, add your peanut butter and protein powder and half of your banana. Let it cook for another 2 minutes, stirring occasionally.
Now your oatmeal is done, pour it into a bowl and add the chia seeds, almond bits (or pecans), blueberries, and banana as toppings.
Serve up!
| | | | | |
| --- | --- | --- | --- | --- |
| Item | Calories | Protein | Fat | Carbs |
| Total | 779 | 29.6 | 39.5 | 74.3 |
| Oatmeal | 120 | 4 | 0 | 20 |
| Almond milk | 31 | 1 | 3 | 0 |
| 2 tablespoons of peanut butter | 190 | 8 | 16 | 5 |
| Half a scoop of your favorite vegan protein powder | 60 | 11.3 | 0.5 | 1.8 |
| Tablespoon chia seeds | 70 | 3 | 5 | 7 |
| 3 tablespoons of almonds (30g) | 174 | 6 | 15 | 6 |
| One banana | 105 | 1.3 | 0 | 13.5 |
| 50g of blueberries | 29 | 1 | 0 | 21 |