We're back with a high calorie protein smoothie. This time we have the classic flavour combination of peanut butter and bananas. This smoothie contains a whopping 812 calories and has 41.2 grams of protein. It is perfect for the hard gainers who love a good tasting smoothie.
Ingredients
2 banana's
250ml of vegan milk, I used almond milk.
1/2 avocado
4 tablespoons of peanut butter
Scoop of your favourite vegan protein powder, I used a neutral soy protein.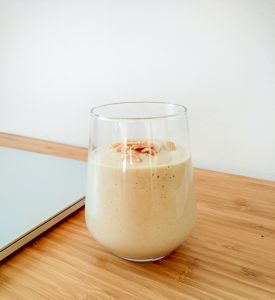 Instructions
Throw all your ingredients in a blender
Turn the blender on and blend until smooth
Pour your smoothie in a glass and garnish it with some peanuts
Serve up!
| | | | | |
| --- | --- | --- | --- | --- |
| Item | Calories | Protein | Fat | Carbs |
| Total | 812 | 41.2 | 44.6 | 48.2 |
| 2 bananas | 210 | 2.6 | 0 | 27 |
| Half an avocado | 160 | 2 | 14.7 | 8.5 |
| 3 tablespoons of peanut butter | 282 | 12 | 24 | 9 |
| Protein scoop | 120 | 22.6 | 0.9 | 3.7 |
| 500ml of almond milk | 40 | 2 | 5 | 0 |