Whether you want to build some muscle, get more athletic, become stronger or looking to gain some weight because of health conditions, we have collected some calorie-packed protein bars for you!
By now, you're probably familiar with protein bars; it's an easy way to add some extra calories and protein to your daily diet. Eating a protein bar is as easy as grabbing a snack and it's super tasty! It's also very time efficient. We know that you have a busy life, that's why it's very convenient to just grab a healthy bar, instead of prepping a whole meal.
However, if you have tried some protein bars, you probably know that the calorie content can differ a lot in these bars.
This is why Planthlete has created a list of the best high-calorie protein bars. We actually have tested them all ourselves and love them individually! As with all our tests: Since there are a ton of protein bars out there, we couldn't test them all. So please let us know if you have a contender for these protein bars.
1.

GoMacro MacroBar Organic Vegan Protein Bars – 260 calories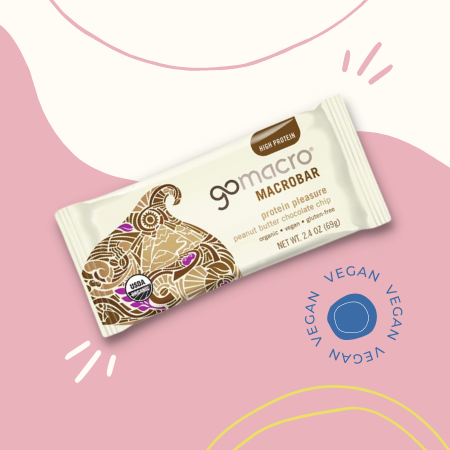 One of the best bars out there, the GoMacro Macrobar. It contains 270 calories, which is on the high-side for a protein bars. It also contains  10 grams of plant-based protein, based on organic sprouted brown rice. This high calorie vegan protein bar is also Certified Organic, Vegan, Gluten-Free, Kosher, Non-GMO, C.L.E.A.N., R.A.W. and Soy-Free. What we love about this brand is that it's produced with 100% renewable wind and solar energy and it's also 100% recyclable or compostable. The bar is a little chewy, that we really like!
Available flavors:
Banana + Almond Butter

Blueberry & Cashew Butter

Breakfast Variety

Cashew Caramel
Coconut + Almond Butter + Chocolate Chip
Dark Chocolate & Almond
High Protein Variety
Maple Sea Salt
Mocha Chocolate Chip
Oatmeal Chocolate Chip
Peanut Butter
Peanut Butter & Chocolate Chip
Sunflower Butter & Chocolate
2.

Garden of Life Organic Sport Protein Bar – 270 calories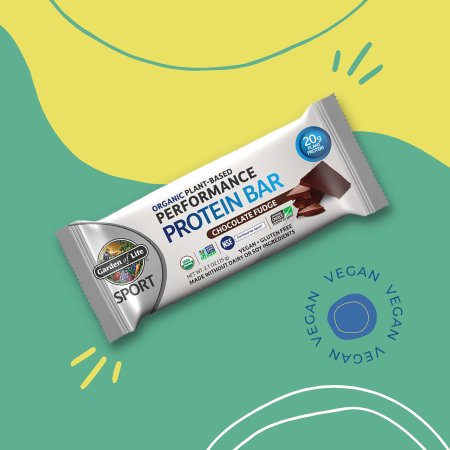 The Garden of Life Sports bar is one of our favorites. While it doesn't contain the most calories out of this list, it still has 270 calories. Besides it tastes great and has a high protein content. This bar is certified USDA Organic, Non-GMO Project Verified, NSF Certified for Sport, Informed-Choice for Sport Certified, Certified Vegan, Gluten Free, Dairy free and Soy Free.
The bar contains both brown rice protein and pea protein. With a total of 20 grams of protein and 10 grams of fiber per bar, which is a lot for such a small bar. This is at cost of the taste, it does not taste super grea, so youre proabably not tempted to  I am not tempted to overindulge like you would with a more candy-like bar.
Available flavors:
Chocolate Fudge
Chocolate Mint
Peanut Butter Chocolate
Sea Salt Caramel
3.

Vega Sport Protein Bars – 300 calories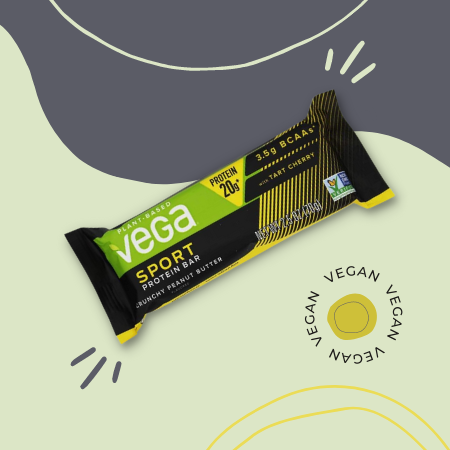 This bar is very high in both calories and protein. With only 300 calories, and a whopping 20 grams of protein. It's in the top 3 of this list. It's an easy way to reach your macronutrient goals. The protein consists out of brown rice protein and pea protein.
It also contains 3.5 grams Branched Chain Amino Acids. isoleucine, leucine, and valine. It's also Informed Choice Certified, vegan certified, gluten free Non GMO Project Verified. This bar is available in two different flavors, that we both love! 
Available flavors:
Crispy Chocolate Mint

Crunchy Peanut Butter
4.

PROBAR – Base Protein Bar – 290 Calories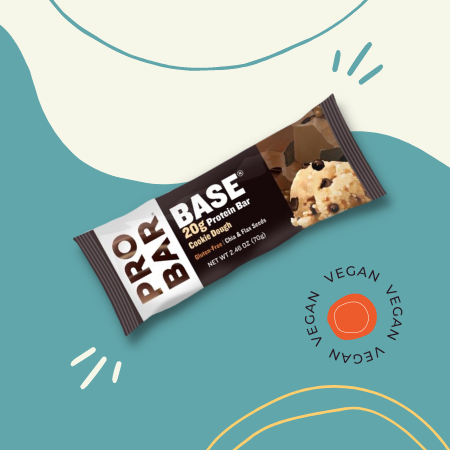 This bar has the same amount of the previous Vega Sport Protein bar, 20 grams in total. This protein consitst of both soy and rice protein.  It also contains a large amount of calories, namely 290. It contains 4 grams of fiber, to help you keep satisfied longer. And it contains both chia and flex seeds, which we love. These are both great sources of OMEGA-3 fatty acids and natural fiber, which are very good for you.
Probar tries to create great tasting, delicious, convenient, healthy and plant-based high calorie protein bars from non-gmo sources. We think that they're doing a great job! The bars taste really great and we also love the soft and slightly crunchy texture, which crumbles a little bit. It's great!
Available flavors:
Chocolate Bliss

Coffee Crunch
Cookie Dough
Frosted Coconut
Frosted Peanut Butter
Mint Chocolate
Variety Pack (New)
5.

Organic Food Bar – Protein Bar – 330 calories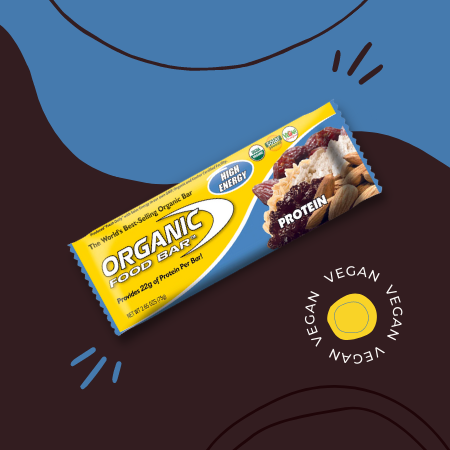 This high-calorie protein bar has the highest amount of calories and protein of this whole list. The Organic Food Bar contains not only 330 calories, but also 22 grams of protein! The protein powder used in this bar is made out of organic brown rice. They're non-dairy, non-soy, gluten-free, non-GMO, 100% raw & organic, & contain no refined sugar This protein bar is the winner of Men's Health magazine 'Best Bar', which says a lot.
The bar is not too sweet, we really like that. Although it can be a little bit dry, but we didn't really mind that. The bars are made by machines that are solar powered. The high amount of calories and high amount of protein in each bar make these an appropriate meal replacement or mid-afternoon snack.
6.

Clif Bar – Energy Bar – 290 Calories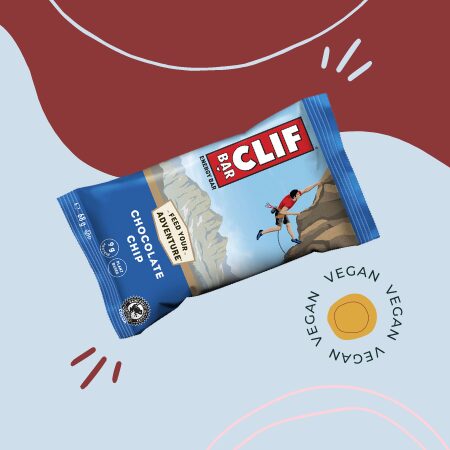 One of the most well known brands of this list: Clif. Clif is a more popular brand that is very well known amongst a lot of athletes, especially climbers. The bar contains 290 calories and around 10 grams of protein in each bar. This bar is meant as an energy bar, which are perfect for fueling up before, or during, activity.
They keep up your energy for a long time. The mission of Clif to create a healthier and more sustainable food system, these are created with real chocolate, along with wholesome non-GMO ingredients. There are a lot of available flavors, since we love them all. Our favorite is the variety pack!
Available flavors:
Chocolate Bliss

Coffee Crunch
Cookie Dough
Frosted Coconut
Frosted Peanut Butter
Mint Chocolate
Variety Pack (New)
7.

Rise Pea Protein Bar – 260 calories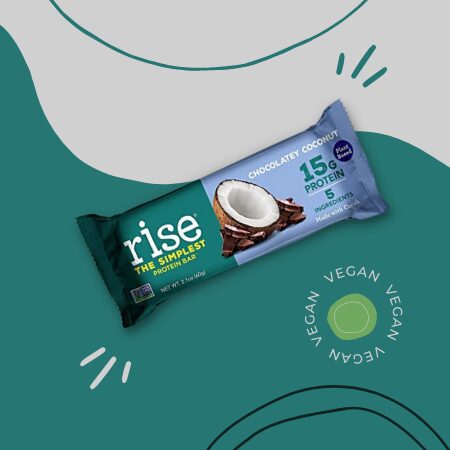 Rise creates both vegan as non-vegan bars. Their vegan bars are created with pea protein, and they taste really good. They are both high in calories and protein, 260 calories and 15 grams of plant based pea protein. It's a great high-quality snack made from whole food ingredients. These bars contain very limited ingredients, for instance their Lemon Cashew Protein Bar contains only 4 ingredients: Cashews, Coconut Nectar, Pea Protein Isolate, Lemon Extract.
These ingredients are all-natural and non-GMO. Rise recommends you to eat this high protein bar for a pre-workout energy boost, post workout performance recovery, afternoon snack, or a meal replacement when you're on the go. In summary: These bars are a fantastic snack. Great protein, low sugar and very reliable and wholesome ingredients. 
Available flavors:
Chocolatey Coconut
Lemon Cashew
Sunflower Cinnamon
8. Think Vegan High Protein Bar – 240 Calories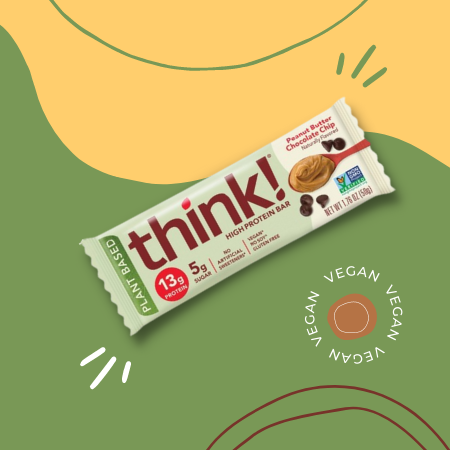 Another very popular brand, think! Although they contain one of the lowest amount of calories on this list, it's still relatively high. With 240 calories and 13 grams of protein it's still far above average of the vegan protein bar market. The plant based protein bar is a blend of  pea, brown rice, and pumpkin protein. This bar is meant for consumers that are looking for a multipurpose nutritional bar that can go from an energy boosting snack to a meal replacement when paired with a piece of fruit.
It contains no artificial sweeteners – does not contain sucralose, saccharin, aspartame, acesulfame potassium, neotame or advantame. Great for those watching their sugar intake (Low GI). In total it has 5 grams of sugar. Looking for a bar that is low in sugar? Check out our list of low sugar vegan protein bars. Every package contains 10 protein bars. We love the fact that there are a lot of available flavors!
Available flavors:
Berries and Crème

Brownie Crunch
Chocolate Fudge
Chocolate Mint
Chunky Peanut Butter
Coconut Cake
Cookies and Crème
Creamy Peanut Butter
Double Caramel Bliss
Lemon Delight
Maple French Toast
Peanut Butter Chocolate Chip
Sea Salt Almond Chocolate
Variety Pack
White Chocolate
Check out some other protein bars from Amazon also: