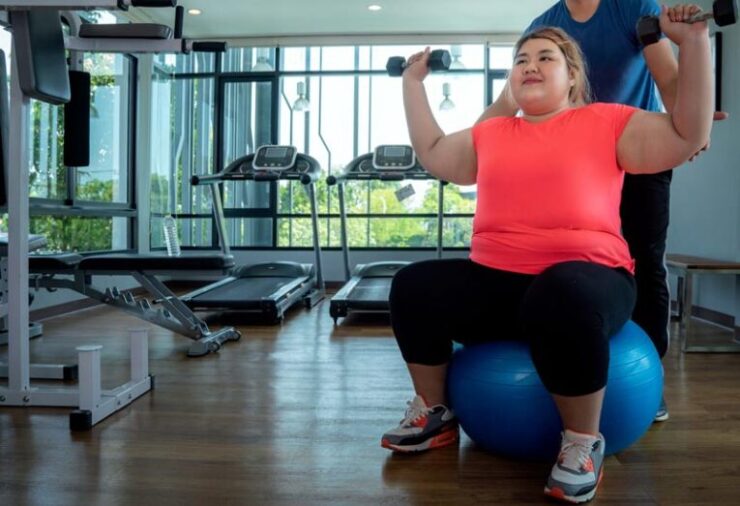 Are you feeling shy and awkward at the gym because of your weight and appearance? Do you feel that people intimidate you because of your size? Are those problems keeping you from going to the gym? Don't worry – we got you. We've written some guides in dressing up to the gym if you are overweight.
First, let's be honest – fat-shaming has always been there, making many of us feel less confident about ourselves. However, the only way we can fight back is if we can build confidence in ourselves. Confidence starts with the proper clothing.
The gym is likely full of people who are fit and might laugh at you for your extra weight – but if you're determined enough, you can eventually prove them wrong! Gyms are for everyone regardless of size and fitness level!
You might find it hard to fit in a gym at first due to the fear of people looking at you. However, you will soon realize that most people in a gym will only bother to look at themselves! Gym sessions are all about focusing on your body and how you want to improve it by working out.
Gym Clothes for Plus Size
The most important tip when going to the gym is to believe in yourself – never compare to others and just build yourself first. With that in mind, here are some tips to dressing up when going to the gym if you are overweight to help you build confidence, motivation, and a good mindset:
A properly-fitted sports bra
Plus-sized women need to take care of their breasts, which is why they need a properly-fitted sports bra. This will help you get the right amount of support while doing your workouts without feeling uncomfortable and fatigued at the end of the day.
By using a sports bra with proper fitting, you will look more confident despite your size. Not only that – surely, you don't want to run and jump around with your jiggling assets in the way, right? That's what a sports bra is for – to keep them in place.
There are many styles of sports bras available in the market – just choose the one you like best. As long as you like the style, you can rock it, and that will give you a mood boost when you go to the gym. Just consider sports bras that are moisture-wicking for all-day comfort.
Try yoga pants
Most people who are just starting at the gym prefer yoga pants because they are both fashionable and comfortable. You can pair them with your sports bra so you look and feel good while working out. Yoga pants come in a variety of styles to choose from.
With whatever yoga pants you choose, make sure they are made from moisture-wicking material and are comfortable enough for you to go throughout the gym session. If you like double-purpose yoga pants, why not try something casual yet fashionable that's easy to pair with any top?
Half-sleeve shirt
A half-sleeve shirt is something that helps you hide your fat deposits in your arms but also helps you become more flexible with every workout. If a normal t-shirt restricts movement and going sleeveless makes you feel uncomfortable due to your arms, consider a half-sleeve shirt instead.
Wearing a half-sleeve shirt is good for upper body workouts and you are too shy to flaunt your arms in full. Not only does it make you feel more confident since you have some part of your arms out – but it also allows you to move in a wider range than if you were just wearing a regular and restrictive t-shirt.
Wear dark gym colors
As most of us know, wearing black and dark colors helps you look less chubby, so why not do the same when going to the gym? If you want to go with a pair of gym tights or leggings, consider black ones that make you look sexier and avoid bright patterns.
What we like about black and dark colors, aside from hiding the fat, is looking fashionable. Black is the easiest to pair with anything and also the simplest to toss in the laundry compared to white and bright colors out there.
Shorts on a hot day
If you don't want to wear gym tights or yoga pants and if the weather is extra hot, why not try knee-length shorts? Don't go for shorts that are too long because your range of movement will be limited. Look for shorts that are breathable, moisture-wicking, easy to wear, and don't restrict your movement.
For ladies who don't have a lot of worries with shorter shorts, you can wear something above the knee. As with gym tights, we recommend black instead of gray or other colors because it would define your crotch area too much.
Choose a lightweight and breathable material
Polyester and cotton are the most common choices for breathable gym clothes that won't weigh you down. They are good for a hot day and especially if you are not used to working out yet. Workouts will get sweaty and intense so you will need clothes that won't make you feel gross.
Motivational shirts
Some people who are just getting started at the gym may also want to wear statement or motivational shirts to get them all pumped up. These shirts are great mood boosters when you're having a bad day and push you to focus more on your gym workouts. You will likely not miss a day at the gym with them.
Conclusion
Going to the gym isn't a fashion show – you do you. Workouts are all about maintaining a proper form and pushing yourself to the limits, which means you will need comfortable clothes that properly fit your size. At the end of the day, it depends on what makes you look and feel good.
No matter which clothing you choose, the most important factor is your confidence – be proud of who you are and never compare yourself to someone else. Just stay focused and motivated – and we're sure whatever comfy gym clothes you wear will look good on you.