In this article, you will find out how many calories are burned on the recumbent bike during your workout sessions. As an active person, a recumbent bike ensures you exercise in a relaxed position, thanks to the support it gives to the back and how comfortable you feel when you sit on it.
To ensure you burn calories when you use a recumbent bike, it may be of great interest to integrate some techniques into your routine.
In addition to this, ensure you fuel your body appropriately at specific intervals. When your body is adequately fuelled, you can steer clear of excessive burnout or fatigue.
What is a Recumbent Bike?
If you are trying out cardio for the first time, using a recumbent bike may be a fantastic way to start.
Many active people believe that recumbent bikes offer more comfort than other training equipment because of their relaxed position. The inclined position offers riders or users optimum back support.
This exercise bike allows users to sit close to the ground, and the seat is more comfortable than the regular exercise bike.
Asides from having a larger seat, it also supports the back by making it easy for users to sit back as they engage their legs and perform cardio.
What is a Recumbent Bike Good For?
Although working out on a recumbent bike may appear very easy, but do not be deceived by the looks. When used rightly, recumbent bikes can provide outstanding outcomes.
The riding benefits of a recumbent bike include the following:
Enhances cardiovascular fitness.
Improves muscular strength.
Your range of motion is restored.
Since a recumbent bike is operated in a relaxed body position, it is easier on the lower back. This makes this training equipment an excellent choice for people suffering from low back injuries and discomfort.
A recumbent bike is safe and effective equipment for exercise and rehabilitation after an injury.
When you use a recumbent bike during a workout, it builds up your lower body muscles, strengthens your heart, and improves your cardiovascular system.
This equipment relieves stress and lifts your mood.

How Many Calories Burned On Recumbent Bike?
Many people engage in a recumbent bike workout routine intending to shred Fat. In this part of the article, you will find out the number of calories you burn whenever you ride on a recumbent bike during your workout sessions.
Several factors contribute to how many calories burned on a recumbent bike. Below are some of these factors:
Male & Female
The number of calories an individual can burn with a recumbent bike may be attributed to their gender. In many instances, men are believed to burn calories faster than women, and there are supporting details.
To illustrate, when men use recumbent bikes, they are always very aggressive, which makes them burn a significant amount of calories.
Women, when you study their approach to exercising with a recumbent bike, they engage in it slowly. In the end, they may end up burning a small number of calories when you make a comparison with men.
Age
This is another significant determinant in the number of calories burned on a recumbent bike. Take, for instance, a young person working out on a recumbent bike.
Obviously, there is a great determination and commitment to keep pushing for an extended period. This clearly shows why younger recumbent bike users may burn calories faster than older users.
The type of Recumbent Bike
The bike you use also determines the number of calories you will burn when you exercise. Some brands of recumbent bikes are designed to provide efficient and faster outcomes.
If you want to burn many calories faster and efficiently, make sure you go for one of the best brands of recumbent bikes available on the market.
Your Body Composition
This is another exciting factor that determines the number of calories an individual who operates this equipment may burn. Expectedly, obese or overweight people will burn much more calories than someone with normal body weight.
At a moderate intensity (5.5 miles/Hr.), an individual with a bodyweight of 130 pounds or 59kg will burn about 3.5 calories every minute. On average, that is about 210 calories per hour.
Suppose this same person decides to pedal at a higher intensity (9.5 miles/Hr.). In that case, he will burn more calories than when pedaling moderately (5.25 calories/Min and 315 calories/Hr.).
In summary, when you pedal your recumbent bike at a slower pace or with less than moderate intensity, you will burn fewer calories.
Recumbent Bike: MARCY and EXERPEUTIC
Although these recumbent bikes are different in design and build, they are both known for performance and quality.
1. Marcy Recumbent Bike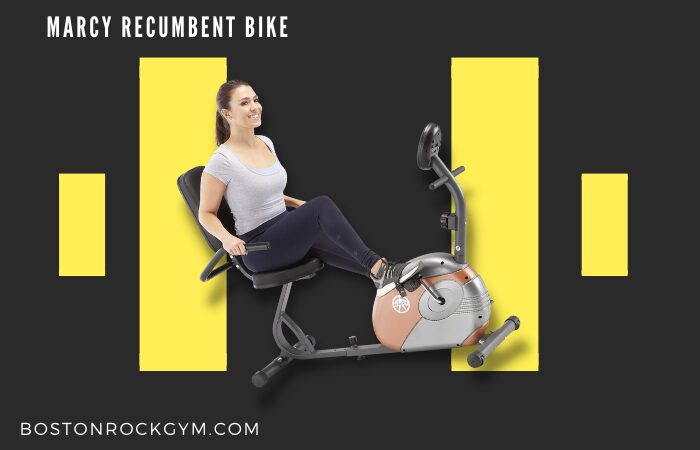 Marcy recumbent bikes are popular amongst users because of their wide range of features. These fantastic features ensure users get the best out of their workout sessions.
Marcy is easy to use, and it guarantees users an effective and enjoyable workout experience. The notable features of this equipment are the counterbalanced pedals and 8 resistance settings.
Overall, the walk-through design makes it easy to achieve a workout that's suitable for your body.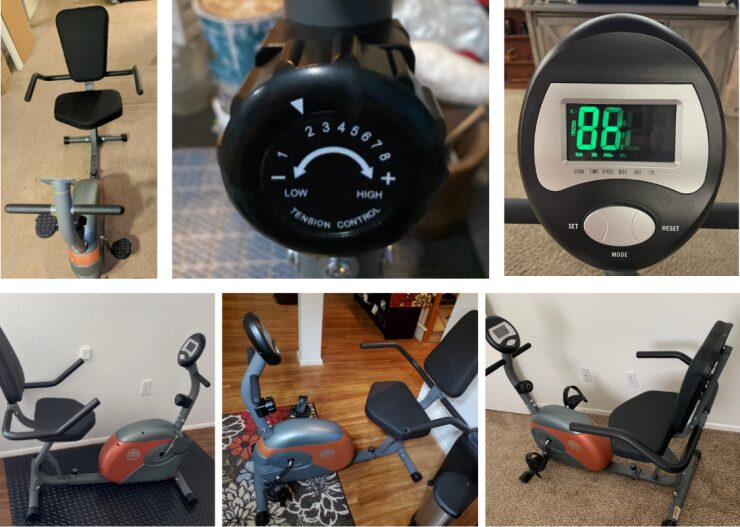 2. Exerpeutic Recumbent Bike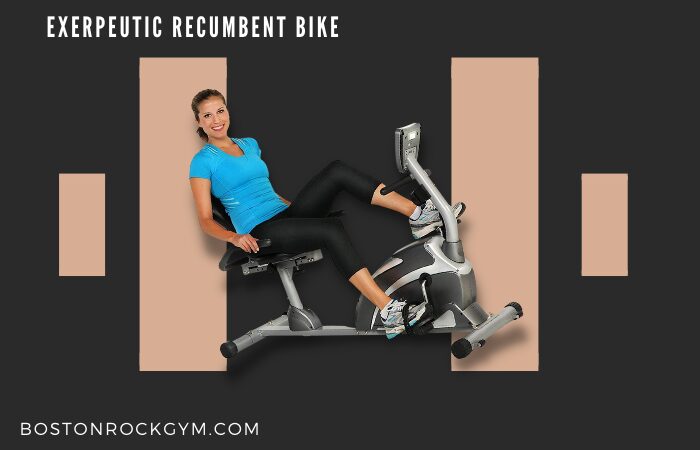 Exerpeutic recumbent bikes are built to offer comfort and support to users during their workout sessions. This exercise bike is popular for its amazing effectiveness in weight loss and burning calories.
The step-through design allows users to get on and off the bike with ease, and it doesn't stress the back.
Overall, Exerpeutic recumbent bikes offer a great option for fitness at home, thanks to its large size, adjustable cushioned seat, and ease of storage.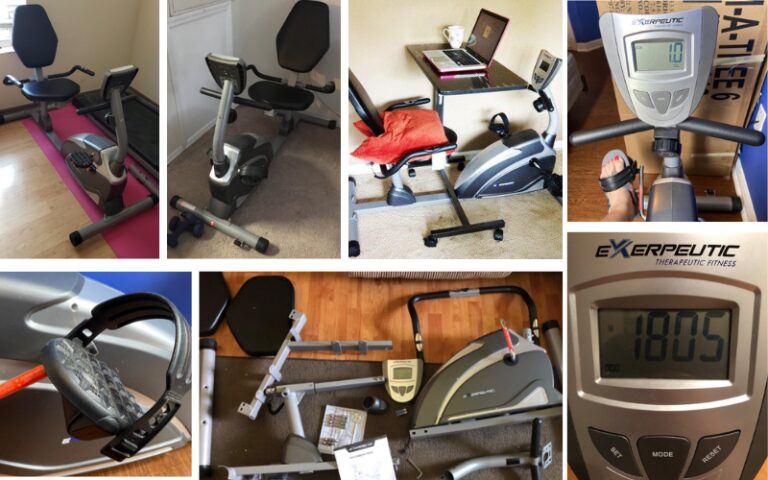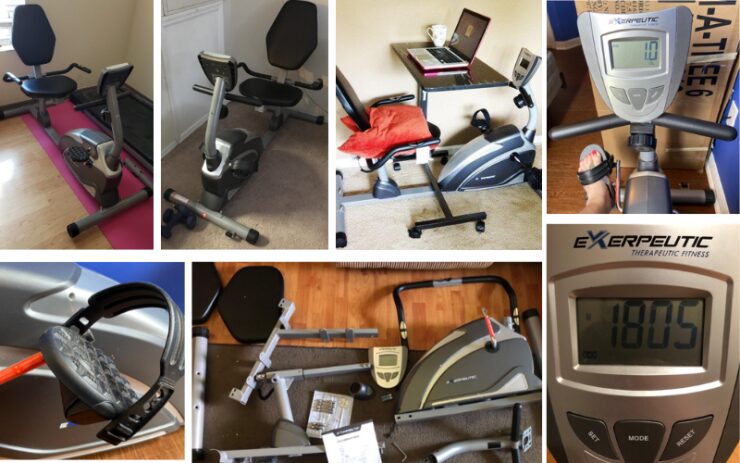 Calories Burned Stationary Recumbent Bike
| | | | |
| --- | --- | --- | --- |
| Bodyweight (Pounds) | Intensity (Miles/Hr.) | Calories (Minute) | Calories (Hour) |
| 100-130 | 5.5 | 3.5 | 210 |
| 100-130 | 9.5 | 5.25 | 315 |
| 170-200 | 5.5 | 5.35 | 321 |
| 170-200 | 9.5 | 9 | 540 |
How To Use Recumbent Bike?
To achieve the best results with your bike, you must put it into proper use. This part of the article will reveal some fantastic ideas you can adopt to put your bike to the right use. We believe you will find these ideas helpful, especially for people using a recumbent bike for the first time.
Make sure you perform some dynamic stretches before you ride on your bike. You can spend a few minutes, let's say 5 performing simple stretches like leg swings, walking lunges, and side bends. This little exercise prepares your muscles and lower body parts ahead of using the bike.
Ensure all the parts of the bike are correctly set up before you start pushing the pedals. Make sure you check the seat for necessary adjustments to attain the right posture and position.
Make sure you start your workout session slowly. We advise you to increase the intensity or pace as you continue your movement.
It is important to ride your recumbent bike for an extended period. Make sure the length and frequency of your exercise are long enough. To attain an outstanding fitness level, we advise you to operate your bike for about 30 minutes, 5 times a week. For weight loss, target at least 60 minutes, 5 times every week.
As you get better at using your recumbent bike, you may need to increase the resistance. Increasing the resistance makes it difficult to control the pedals, which challenges your leg muscles and eventually enhances their strength and endurance. This is a great sign of progress.

Difference Between a Recumbent Bike and a Regular Exercise Bike
If you haven't operated or used a recumbent bike before, you must know a few things about how this equipment, especially the main features that distinguish it from a regular exercise bike.
Recumbent bikes come in a relaxed position, while regular exercise bikes are designed in an upright position.
Another point is that the way you operate the pedals of a recumbent bike is totally different from an upright bike. Pedaling an upright bike means you are pushing your feet vertically.
This is not the same as a recumbent bike. While pedaling a recumbent bike, you are expected to push your feet horizontally.
Why recumbent bikes are perfect?
When you make use of a recumbent bike, it guarantees you better spinal posture. For anyone with a neurological condition, this bike is a great option.
Besides providing a workout for people of various ability levels, it is also considered safe and comfortable to use, thereby providing a low impact total body exercise.
What is the best recumbent bike on the market?
Although there are several great options on the market, our top picks are MARCY and EXERPEUTIC because of their amazing performance, features, and quality.
How many calories can you burn on a recumbent bike in 30 minutes?
On average, an individual can burn 210 calories for a moderate intensity 30 minutes ride on a recumbent bike, which can make a great contribution to an overall weight loss goal.
Conclusion
A recumbent bike provides extra comfort and support to users. This, in turn, results in effective lower-body resistance and cardiovascular workout sessions.
Suppose you are looking at a flexible and safe way to challenge yourself and improve your fitness level. In that case, a recumbent bike is ideal equipment for you.
To get the best out of your exercise, irrespective of the equipment you use, it is important you invest your time and energy into every session.
At every point in time, you must be committed to doing your best at every session to achieve the physical, emotional, and mental rewards of being active.
References:
https://www.livestrong.com/article/303132-calories-burned-on-recumbent-stationary-bikes/
https://healthyeating.sfgate.com/burn-calories-recumbent-bike-11474.html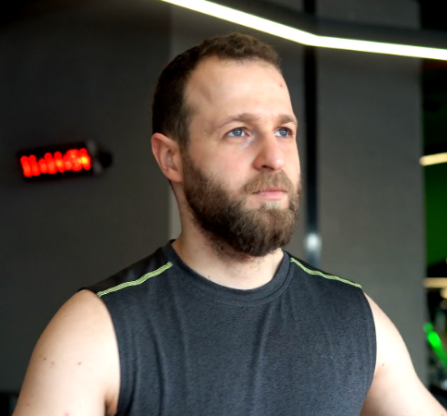 Working out is my life. I love to help others see the potential of their bodies as they transform into their best selves.