Whether you dislike sweet protein bars or are cutting back on sugar, we have found the perfect low sugar vegan protein bars for you.
By now, you're probably familiar with protein bars; it's an affordable supplement that adds 20 grams of protein to your daily intake as easy as grabbing a snack. But if you've tried protein bars before, you've probably noticed a common theme: most bars are sweetened and full of sugar.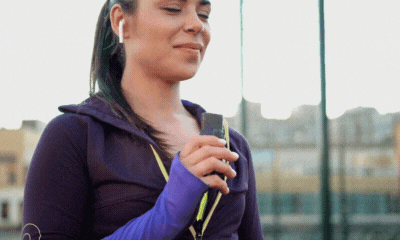 There are multiple reasons why someone may want a sugar-free alternative. If someone is on a vegan diet, they tend to consume a lot of sugar through fruits. This is why it can be wise to watch your sugar intake.
Another reason can be, that you're not a sweet tooth. A lot of people actually prefer savory over sweet. And since most protein bars tend to be sweet, it can actually be very hard to find the right protein bar.
This is why Boston Rock Gym has created a list of the best low sugar protein bars. We actually have had them all ourselves and love them individually! Since there are a ton of protein bars out there, we couldn't test them all. So please let us know if you have a contender for these five protein bars.
Top Reviewed Protein Bars
1. Raw Rev Glo Protein Bars – Best Low Sugar Vegan Protein Bars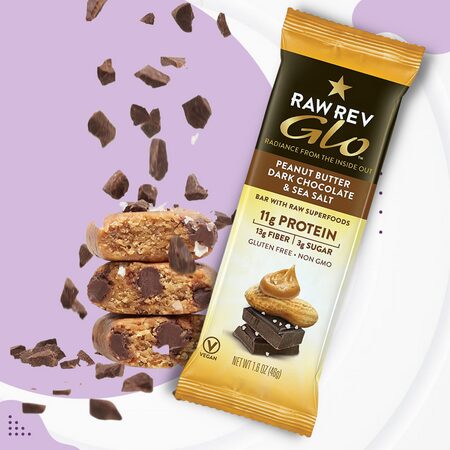 Let's start with our favorite! One of the best sellers for the Peanut Butter and Chocolate lovers. This protein bar is delicious and moist. It contains 2 grams of sugar and is loaded with protein and fiber! It carries a whopping 11 grams of protein and is the perfect vegan snack.
The protein bars are created with ethically sourced plant-based ingredients that support a healthy & active lifestyle. As we told it's your favorite, and when we say that this stuff is good, it actually IS good. We love the crunchy peanut butter one.
These bars are chewy with some large chunks of peanuts, which make them also chunky. The bar doesn't taste chemical-like like other protein bars. And is actually really suited for a keto diet as well.
Available flavours:
Birthday cake
Cruncy peanut butter and sea salt
Creamy peanut butter and sea salt
Chocolate chip cookie dough
Dark chocolate cashew and mint
Dark chocolate espresso mint
Mixed Nuts Caramel and Sea Salt
Double Chocolate Brownie Batter
Peanut Butter, Dark Chocolate and Sea Salt
2. NuGo Slim Protein Bars – Best Protein Bars for Weight Management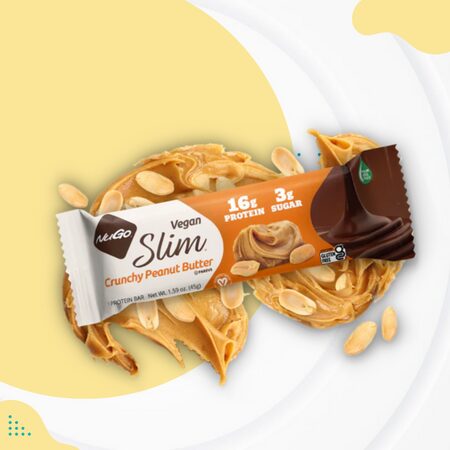 Another great contendor. This protein bar is meant for weight management, consumers avoiding sugar
and people living with diabetes who need to maintain steady blood sugar. These bars will keep your satisfied and energized. This bar has 18 grams of protein, which is a lot for protein bars. With only 2 grams of sugar! Which is relatively low. These bars are vegan and are free of gluten and sugar alcohols. 
With this low sugar vegan protein bar you have a quick meal that doesn't need to have negative impact on your fast-paced lifestyle. When you keep a nub bar nearby, you can bid farewell to unhealthy alternatives. It's free of of Artificial ingredients, NuGo is a low glycemic snack that's perfect for people monitoring their blood sugar or looking to maintain a healthy weight. They smell exactly like Thin Mint girl scout cookies and don't disappoint in taste.
! If you're looking to buy a Nugo, pay attention! Only 4 flavors out of 7 are vegan: crunchy peanut butter, toasted coconut, Chocolate Mint, and espresso. The others are not. !
Available vegan flavours:
 Chocolate Mint
 Crunchy Peanut Butter
 Espresso
 Toasted Coconut
3. IQ Vegan Protein Bars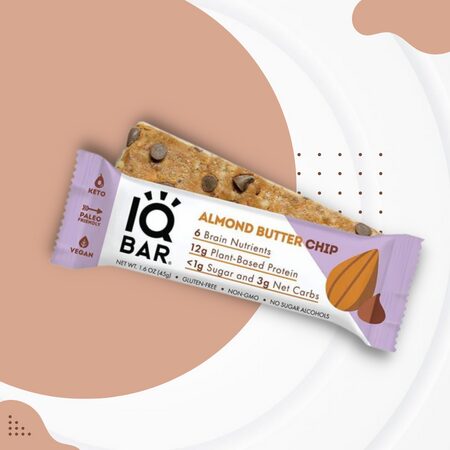 We love IQ BARs. These low sugar protein bars are called nutrition bars. That means that they are formulated with clean-label ingredients rich in compounds shown to benefit the brain and body. Each bar contains, 10-11g plant protein, 4g net carbs, and <1-1g sugar. Which is very low for a protein bar. IQ BARs are keto, paleo friendly, vegan, kosher, and free from GMOs, gluten, dairy, soy, and sugar alcohols. In summary: Very very good for you. 
The beautiful thing about these bars is that they comply  with virtually every diet. Whether you are keto, vegan, vegetarian or eat meat. They will suit you.
These bars are a perfect 'on the go' choice, instead of processed snacks and provide a great balance of macros and NON-SOY plant-based protein. Our favorites are Peanut Butter Chip and Blueberry. However, the new banana flavor reminds me of my grandmothers Banana Nut Bread.
Available flavours:
Almond Butter Chip
Banana Nut
Blueberry
Chocolate Sea Salt
 Fruit Lovers Variety
 Lemon Blueberry
 Peanut Butter Chip
4. Orgain Organic Plant Based Protein Bars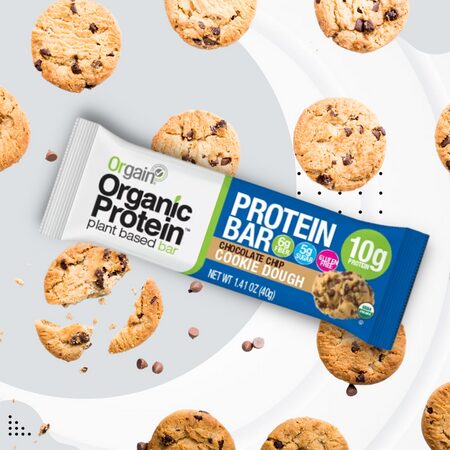 The orgain organic protein bar provides essential amino acids that help build and maintain muscle mass and facilitate lasting energy.Each serving of Orgain Organic Protein Bar contains 10 grams of protei, which is the average for a protein bar. It's perfect for a pre or post-workout boost. It also contains just 3 grams of sugar. Which is great for people who are looking to cut down on sugar. 
Our favorite is the Orgain Organic Peanut Butter Chocolate Chunk Protein Bars. The bars taste great, chocolaty and chewy. The texture is like raw sweet cookie dough while acting as a protein shake. However it doesn't stick in your teeth and doesn't have a weird after-taste. it also contains no artificial flavors, colors, or preservatives.
Available Flavours:
Peanut Butter Chocolate Chunk
Peanut butter
S'Mores
Chocolate chip cookie dough
5. Aloha Plant Based Protein Bars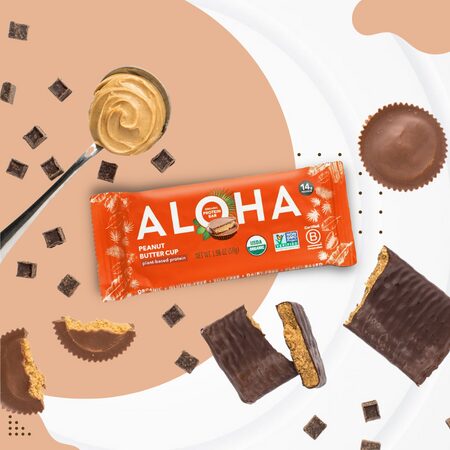 Aloha believes that plants are the ultimate source of nourishment and that real foods should be really convenient. We share that same opinion here at Boston Rock Gym. That's why we love these bars. And what makes them even greater is that they not only contain 14 grams of plant-based protein but also only 4 grams of natural sugar!
And it doesn't stop there because it's packed with tools that our body needs to perform optimal: iron, fiber and healthy fats. The protein is sourced from a balanced mix of organic pumpkin seeds and organic brown rice. It's the perfect protein bar for when you're between meetings, warming up for the gym, cooling down and on the road.
At Boston Rock Gym we think that you shouldn't have to sacrifice taste for nutrition. Luckily Aloha ticks all the boxes. The structure of the bars is a little dry, but the taste is great. Some people dislike the taste of soy in protein bars. That's why these bars are perfect for them! 
Available flavours:
Caramel Sea Salt
Chocolate Chip Cookie Dough
Chocolate Fudge Brownie
Chocolate Mint
Peanut Butter Chocolate Chip
Vanilla Almond Crunch
Things You Need to Know Before Buying Low Sugar Vegan Protein Bars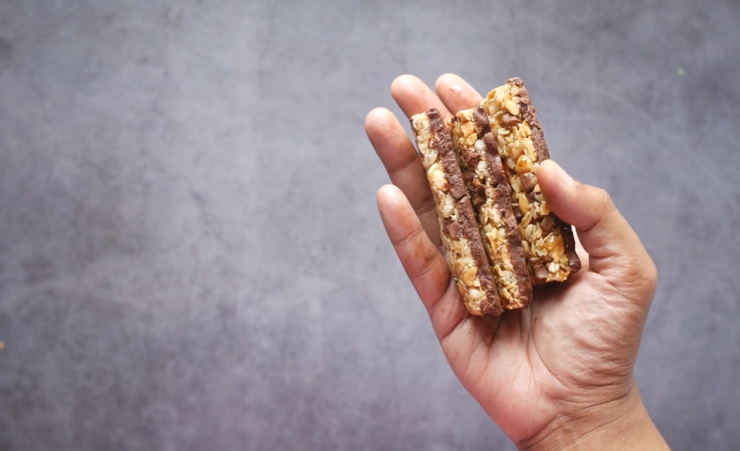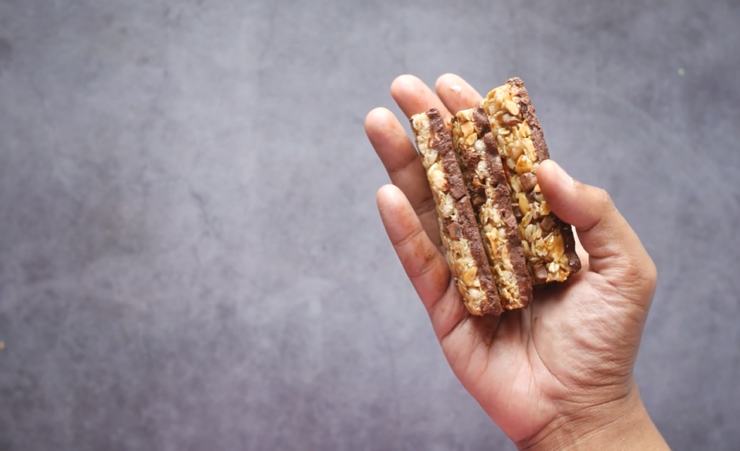 With countless vegan protein bars manufacturers and brands available in today's market, it may be challenging to pick the one that will suit your needs best. We want to help you with this choice, so we have put together a brief list of guidelines you should follow to get the best value for your money's worth.
Dairy
When it comes to labels, it is important to know that plant-based and vegan are not the same things, and protein bar manufacturers often like to use protein-heavy dairy ingredients like whey and casein in their bars. Just because the main protein source of the bar is plant-based, it does not mean that all the protein is, so check the labels carefully.
Sugar Levels
Some plant-based protein bars contain more sugar than others. The sugar-to-serving ratio can often be so high that it can mess with your blood sugar levels and even cause weight gain, so again, make sure to read the manufacturer's labels carefully and check just how much sugar their bars contain.
It is also important to note that even natural sugars and sweeteners like agave syrup, agave nectar, and stevia can lead to unhealthy spikes. Pick a bar with 10 grams of sugar or less, and avoid bars with sweeteners listed among the first three ingredients.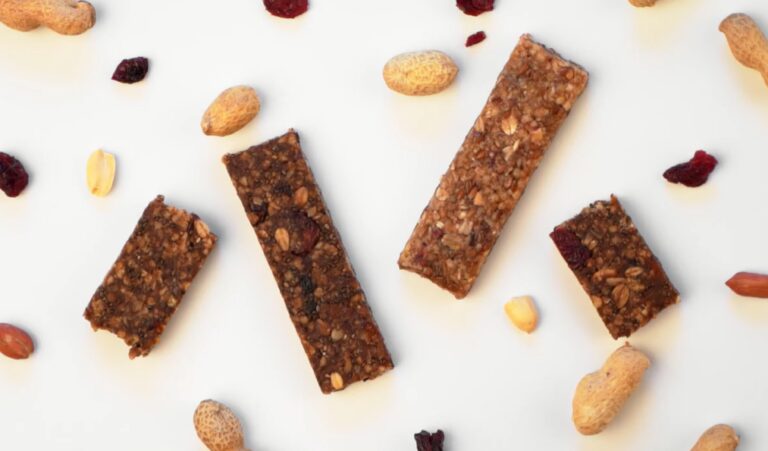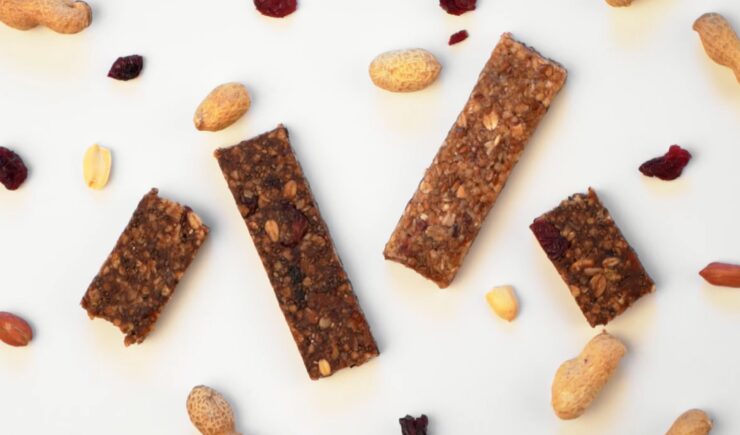 Oils
Added oils, even the healthier ones like canola, are not sources of healthy fats the way almonds, coconut, flax, hemp, chia, and other whole nuts seeds are. This is due to the fact they lack the benefits of the healthy vitamins, minerals, and fiber that these whole food fats contain.
Protein Amount and Where Does It Come From
Unless you are a professional athlete that prepares for his next big game or marathon, you should be very careful about your protein intake. The current recommendations for daily protein intake are 0.36 grams per pound of body weight.
Most recommend picking protein bars with 8 to 10 grams of protein for snacks and 15 to 20 grams if you want to use protein bars as a meal replacement. You should also ensure that the protein in your plant protein bar has a complete amino acid profile, and the best ones for this are:
Pea protein
Sprouted brown rice
Chia seeds
Spirulina Hemp seeds
It is important to know that pea protein and chia seeds contain lectins, which are considered unhealthy for some individuals. You should also avoid heavily processed soy proteins since they are the source of GMOs.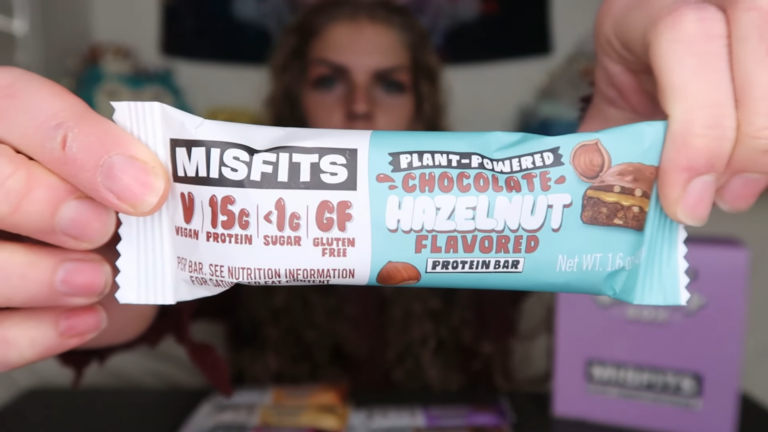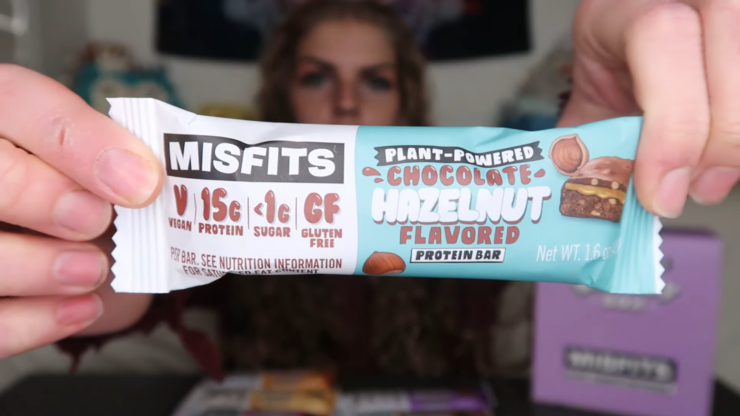 Fiber
You should opt for a bar with a carb-to-fiber ratio of 4 to 1 or less. Take the total number of carbs on the nutrition label, and divide it by the amount of fiber listed. In case the total is four or less, you have found a quality bar that will serve your purposes.
Ingredient Quality
Ingredient quality is one of the essential things you need to consider before opting for a low-sugar vegan protein bar. Look for bars that are minimally processed and limit artificial flavors, sweeteners, and preservatives. This way, you will get the healthiest product available.
Frequently Asked Questions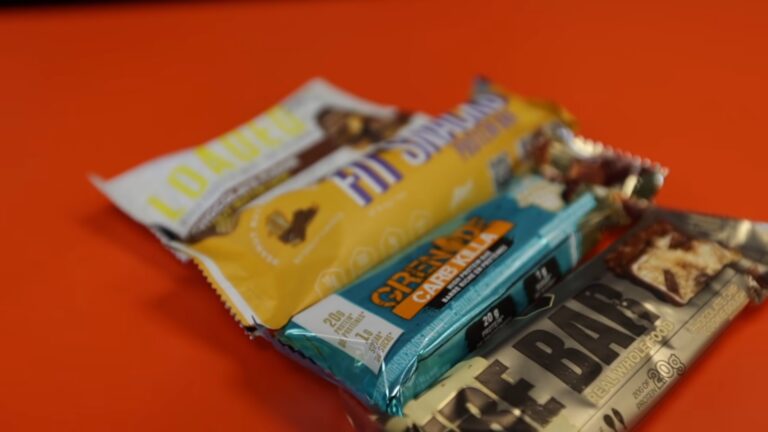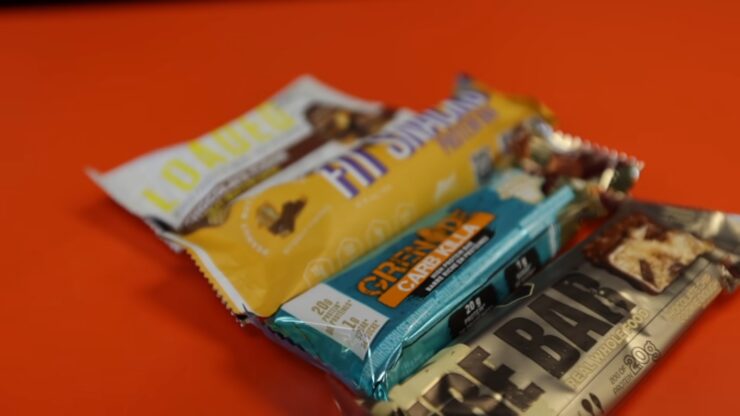 1. What are the characteristics of vegan protein bars?
Traditional protein bars often use whey protein from dairy, while vegan protein bars source their protein from plant sources such as peas, brown rice, beans, nuts, and seeds. Also, vegan protein bars avoid animal-derived products like eggs or honey.
2. Are vegan protein bars healthier than traditional ones?
The healthiness of a protein bar depends on multiple factors, including caloric value, protein, added sugar, fiber, and ingredients used in the manufacturing process. To put it simply, you should opt for a protein bar that meets your specific lifestyle or dietary requirements.
3. Why are ingredient ratios important?
The first thing you need to know is that these ratios are not particularly important if you are just looking for a healthy snack. However, if you follow a keto lifestyle or want to lose some weight, these ratios become highly important to your success or failure. These ratios determine if the bar is truly ketogenic or if it can help you meet your weight loss goals.
4. How many grams of sugar should a protein bar have?
Although the maximum permissible limit of sugars can be up to ten grams, the average sugar content in a protein bar ranges between six and eight grams. Nevertheless, you should opt for a bar with the lowest possible sugar content and look for the one with natural sweeteners to make a healthier choice.
5. Are vegan protein bars gluten-free?
This is something that entirely depends on the ingredients and the type of protein you want to opt for. Gluten is a general name for the proteins found in wheat, rye, and barley, and it can be suitable for the vegan diet, so make sure to read the manufacturer's description of the product, as most of them specifically declare that their product is gluten-free.
6. When is the best time to eat a protein bar?
Although you can eat protein bars any time of the day, they are especially helpful when you require protein for an energy boost on the go. They make a quality snack and help you bridge the gap until your next meal. You can also use them as a meal substitute when you do not have time or access to a nutritious and well-balanced meal.
Conclusion
At Boston Rock Gym we are always looking for new products to test. So let us know, what is your favourite vegan protein bars? And what do you dislike in low sugar vegan protein bars? We love to hear your opinions!
Here are some other interesting models that you might like: