If you're interested in performing resistance-band exercises but you don't know how to start, you came to the right place! Discovering how to use a resistance band is simple, and this type of strength training is ideal for people of all fitness levels due to its low impact.
We're here to walk you through all the info you need regarding resistance-band workouts, including what they are, how to use them, and what benefits they provide. Once you learn this, you'll be able to start working out like a pro in no time! Continue reading to learn all about resistance bands the easy way!
The Equipment You'll Need for Resistance-Band Exercises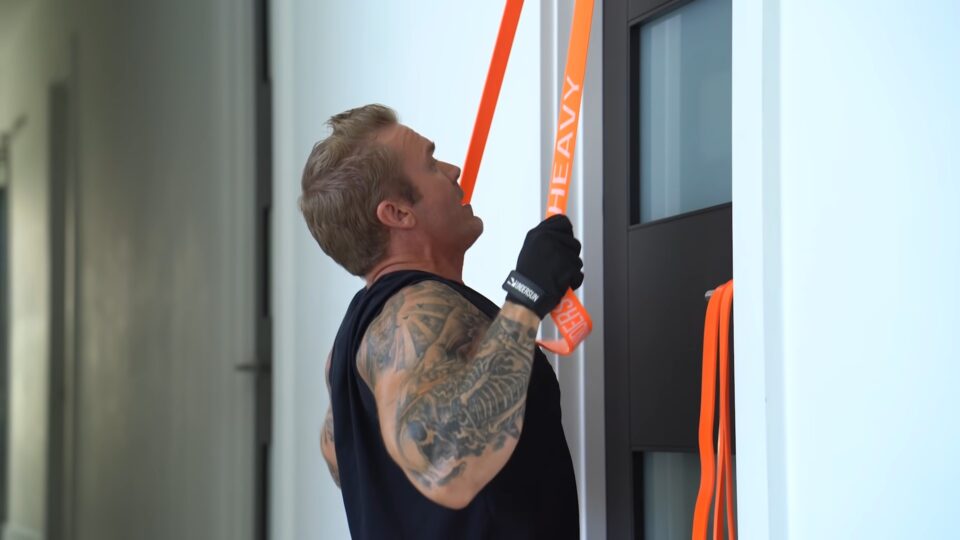 Resistance bands are a simple method to get started with strength training. They are adaptable and begin with extremely little resistance, assisting you in building strength. There are bands for every degree of physical strength, whether you are healing from an injury or gaining muscular strength.
Loop bands are the most convenient for total-body workouts. These bands are frequently marketed in sets and come in a range of resistances based on the length and thickness of the band. A resistance band exercise requires very little when it comes to equipment and attire. These are a few items you'll need:
Resistance Bands—This one should be apparent, right? Having many resistance bands with varying degrees of resistance is ideal (or stretchiness). There are several different styles, including looped, ribbon, and more. Pick the one that is most convenient and pleasant to use. You can make this decision by considering the workouts you could perform with the bands.
Comfortable Outfit—Prepare yourself by wearing lightweight, breathable clothing that's easy to move around in while your body warms up.
Moreover, while certain accessories and equipment are optional, they could make some exercises simpler to complete. Take a look at the list below for more details:
Sneakers—Several resistance band workouts may be performed without shoes. Nonetheless, think about lacing up if you are in a place where you may slide or if wearing shoes makes you feel more confident, stable, and balanced.
Yoga Mat—If you're performing workouts on the ground and you're on a hard surface, it can offer some cushioning and assist in preventing sliding.
How To Use Resistance Bands Properly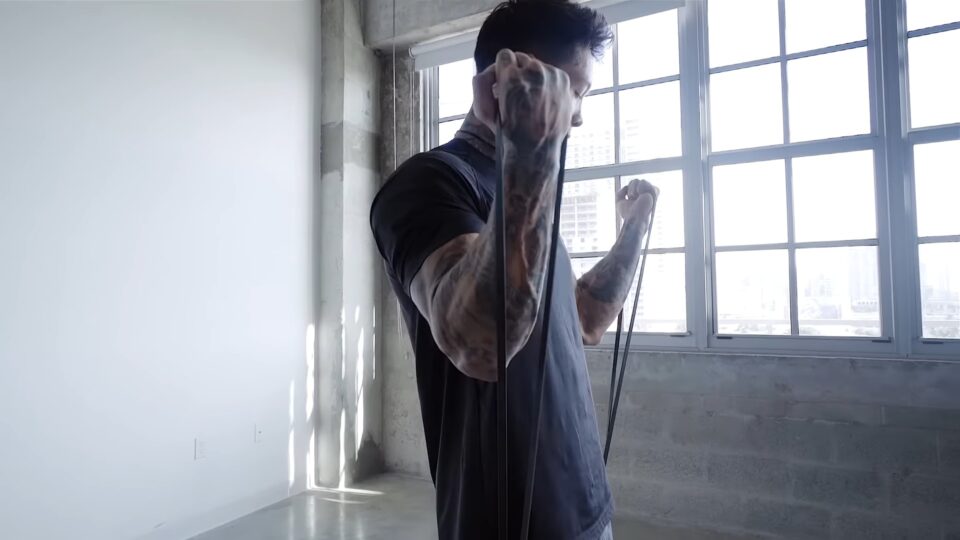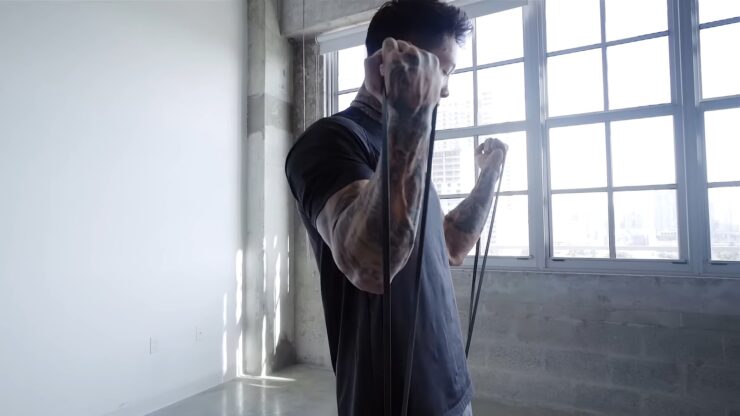 As a beginner, you should perform these resistance band exercises with moderate resistance one or two times. Then, as you improve your technique and comprehension of the exercise, you may gradually raise your resistance. When you begin, pay close attention to how you're feeling and avoid pushing your body too far.
To execute a bicep curl, wrap a resistance band around your legs or arms (for squats and/or arm raises), or you can stand in the center of one and pull up against the resistance. These, like weights, offer varying resistances that can make your workout easier or harder per your preference.
You may also tie a band to an anchor point, such as a tree outside or a beam within your house. But make sure whatever you select is robust enough to stay in place – chair legs, for example, are not a smart choice since once you start stretching the band, the chair will most likely come with you.
If you currently perform other types of strength training, you can begin by substituting one resistance band exercise for one of your strength workouts. Be careful to schedule these exercises on nonconsecutive days to allow your body to rest and recuperate.
Also, be sure you perform both upper and lower body exercises regardless of how you plan the program. A perfect upper and lower body exercise would include at least one kind of squat (to engage the lower body), a push exercise (such as a pushup to engage the chest and shoulders), and a pull exercise (such as a seated row to engage the biceps and back).
Resistance-Band Workout Benefits
Resistance bands assist you in improving muscular strength while decreasing your chance of injury. Because these bands are so adaptable, you can target any portion of your body. They aid in weight reduction, the development of leg and core strength, and the expansion of your range of motion in order to progress to other types of exercise.
Resistance bands are not only simple to use, but they also provide several exercise advantages. Here are just a few of the numerous benefits of a resistance band workout:
Resistance-band workouts can help with greater coordination by allowing you to exert strain on your muscles, making it a type of strength training. This repeating action improves coordination and balance while also utilizing diverse muscle groups.
You can do various exercises (legs, arms, chest, etc.). This piece of equipment allows you to modify your placement in a variety of directions, including side, overhead, behind, below, and more, to offer you a more complete exercise.
You may do the same exercises you would do with free weights. The options for what you can do with resistance band training are boundless, whether it's bicep curls, triceps, chest presses, pull-ups, or shoulder rotations.
Resistance bands are affordable and easy to bring with you whenever you need to. Compact resistance bands are available at most sports stores or online, and they may be conveniently transported in your gym bag, vehicle, purse, or even by hand. If you prefer to exercise at home, they don't take up much storage room and are simple to store after use.
Conclusion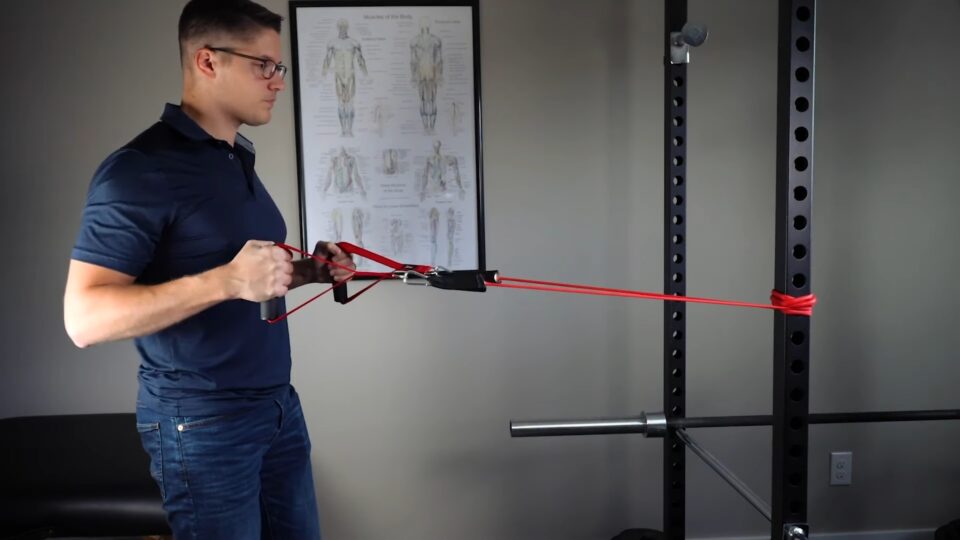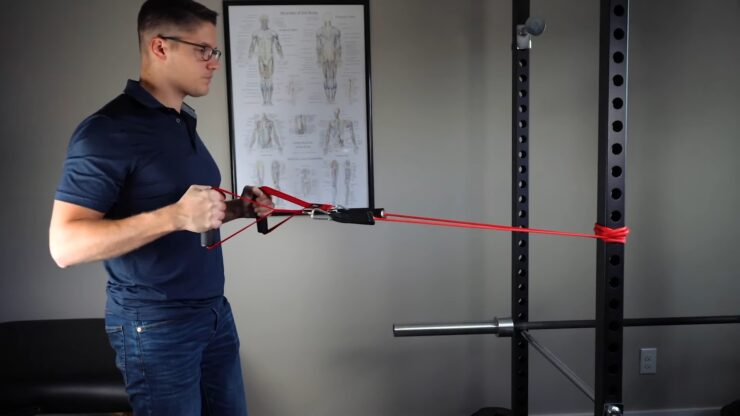 The purpose of these resistance band workouts is to enhance mobility and muscular strength. If you encounter pain when using resistance bands, immediately stop. You will probably be able to gradually resume your workout once you rest for a bit, but if the discomfort persists, do not force it.
It would also be a good idea to consult a doctor about starting to perform resistance-bands exercises if you have any underlying medical issue or condition. A medical professional should be able to provide you with valid information about whether you should do this type of exercise or not.