I am absolutely in love with Indian cuisine. It often uses exotic ingredients and has tongue-tingling flavors, it really excites me.
One of my favorite dishes from Indian cuisine is Dahl. Dahl is used as a term and as a name for a dish. It literally means dried lentils. And that is also what the main ingredient is for this meal. Lentils have a great number of benefits.
They are inexpensive and are packed with vitamin B, zinc, magnesium and potassium. They are over 25% of protein, which is great for gains! They also contain a lot of iron, which we vegans really need, because this mineral is often lacking in vegan diets.
This dahl is very authentic and uses classic Indian spices. It is creamy, spicy, hearty and delicious. It really is comfort food and perfect pairs with autumn.
Ingredients
1 1/2 cups red lentils
3 1/2 cups of water
1 teaspoon salt
1 teaspoon ground tumeric
1 teaspoon chili powder
1 pound of spinach
1 big onion
2 teaspoon ground cumin
2 teaspoon mustard seeds
2 teaspoon garam masala
1 cup of coconut milk
Rice or Naan bread for serving
2 spring onions for garnishing
Few cilantro leaves for garnishing
Piece of lime for garnishing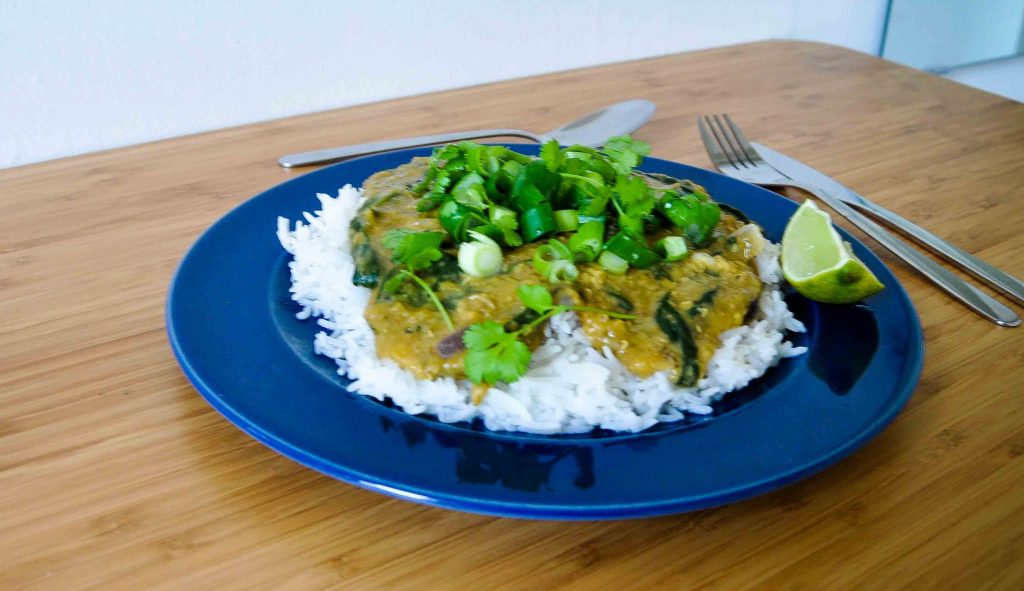 Directions
Rinse the red lentils and let them soak for 20 minutes

In a large saucepan, bring water to a boil

If the water boils, stir in the salt, turmeric, chili powder and lentils. Cover the pan and let it simmer for 15 minutes

Stir in the spinach and let it cook for 5 more minutes, or until the lentils are soft. Feel free to add more water if necessary.

Grab a small saucepan and put it on medium heat. Put in some oil and saute the onions together with the cumin and mustard seeds. Stir often.
Let it cook until the onions are transparent and then combine it with the lentils.
Take your coconut milk and garam masala and stir it in until everything is combined and heated through.
Plate it with some rice or naan bread
Garnish it with the spring onions, cilantro and lime part.
| | | | | |
| --- | --- | --- | --- | --- |
| Items per serving | Calories (Per portion) | Protein | Fat | Carbs |
| Total | 388 | 25.4 | 15.5 | 54.8 |
| Lentils | 265 | 20 | 0.7 | 45 |
| Spinach | 26 | 3.5 | 0.5 | 4 |
| Coconut milk | 103 | 1.4 | 14.3 | 3.3 |
| 1/4 onion | 9 | 0.5 | 0 | 2.5 |
References:
https://www.bbcgoodfood.com/recipes/spinach-sweet-potato-lentil-dhal
https://www.delicious.com.au/recipes/red-lentil-dhal-spinach/7e444c62-a5e1-4d19-9bea-46518cda73be